Part two of my weekend double header was at Summerhayes and we were on Longs this time. There was a decent turnout for this one with 16 anglers fishing including Chris 'Gappy' Parr, Paul Purchase and Steve Jackson along with all the usual suspects. Pete got the draw underway and when my name came out, peg 39 was my home for the day, it wouldn't have been my first choice but I still fancied it for a few.
Birthday boy, Roy Hughes (45 again), was on 36, Glynn Wickham got drawn 34 and I felt sure he'd be getting his nugget back today. Rob Birch was on 19 and happy with his draw while Jacko got peg 9 and didn't look very impressed. We decided to have a nugget on silvers to give us something to fish for.
Plumbing up it was around three foot everywhere so two identical Guru 0.3 gram AR's were set up. I was going to feed lots of lines so I could keep swapping if carp became a big problem which I was expecting. Both rigs had size 20 F1 Pellet hooks to 0.08mm (just brilliant hooks and expertly tied by Somerset Rig Company). On the side tray I had maggots (dead and alive), casters, micros, 2mm and 4mm expanders plus some Bait-Tech Special G Green and The Juice groundbait.
On the whistle, I fed groundbait on the top two line, top two plus two, ten metres straight out, the same distance angled to my left and lastly micros at 11.5 metres down the middle to the right. I started on the top two with maggot on the hook and after a few minutes, the float sunk from view and a nice 4oz skimmer opened my account. No more indications there so I went to the 10 metre line on the left and had a couple of small fish.
Bill 'The Paste' was my left hand neighbour on peg 2 and was getting the odd better skimbob down the middle and Roy on my right was catching a few on the waggler. I did manage one 8oz skimmer on double dead red maggot but the first hour was slow for me. Next stop was the 10 metre line straight out but it wasn't really happening there either and I only added a couple more blades to my meagre tally.
I'd been keeping the longer right hand line topped up and also trickling in some micros on the top two plus two line but wanted to leave them to later. Roger Russell came for a look round and said Glynn had just caught his first decent skimmer of 12oz so with two hours gone it sounded like it was fishing hard. I tried soft pellet on both the 10 metre lines and did lose what felt like a better fish and then hooked and landed my first carp.
Glynn was now catching well and had landed several big skimmers, Roy was still getting odd fish and I was well behind as we approached the halfway point. I had another 8oz fish but with less than 2lb of silvers in the net, I was banking on my other two lines coming good. My first look on the 11.5 metre line was a massive anti-climax and after waiting twenty minutes, I had my first bite which I missed! The top two plus two line was similarly unproductive and I was going through the motions somewhat and didn't know what to try next.
Bill was starting to get some smaller skimmers down the middle on paste but it looked like Glynn and Roy were now struggling apart from hooking the odd carp. I kept thinking about that match in November when I was on peg 17 and struggling until I copied Adie on 19 and went across with 2mm expander over micros and caught really well for two hours to finish second in the silvers with 12lb odd. So with nothing to lose, I plumbed up at 13 metres to the island and then fed a third of pot of micros.
First put in with a 2mm expander on the hook, the float buried and a carp tore off up towards Bill, I had it on for ages before it went between my keepnets, under the pallet and snapped me. After putting another hooklength on, I decided to have one more go and if the next bite was a carp, I'd give it up as a bad job. Shipping back across, I tapped in literally 10-12 micros and after a short wait the next bite resulted in solid resistance but I knew straight away it was a skimmer and gratefully netted a 10oz fish.
For the remainder of the match, I've caught quite steadily and would get a couple of nice skimmers before hooking the inevitable carp. I added another seven decent skimmers between 8oz and a 1lb plus a few blades. For the last ninety minutes, Bill was catching small skimmers one a bung on little bits of paste. At the all out, I'd finished up with 30 silvers and two carp.
Jacko came up and was admitting to 4-5lb, I thought I might have a little more, maybe 5-6lb. After packing up, I went to watch the weigh in which started with Roy who had 5lb 10oz of silvers plus 6lb 10oz of carp, Glynn thought he might have 10lb but weighed 8lb 15oz which I still thought would be enough. Kevin on 32 had 29lb 8oz of mainly carp, John White on 30 weighed 15lb 12oz before Chris Parr went into the overall lead with 36lb from peg 27.
Toby Burrell on 24 had 18lb 2oz and then Craig on 21 just pipped him with 19lb 5oz, Rob B didn't weigh on 19 and Paul Purchase had 22lb 14oz of carp and 4lb 12oz of silvers on 17. Mark Vigar on the helipad weighed 34lb 4oz, Shane R had 19lb 12oz on 13 and Roger C was next on 11 with 23lb 14oz.
Then we got to Jacko and he had 5lb 1oz which included some quality roach, Jim Jenner on 7 had some big skimmers for 5lb 10oz before adding 39lb 5oz of carp and his total of 44lb 15oz put him in the lead. Bill was next and had a nice net of skimmers to go into second place in the silvers with 7lb 1oz. I was last to weigh and thought it might be close but hoped I might sneak second and was pleasantly surprised when my fish actually went 10lb 7oz.
Back at the results and Jim was the overall winner with Chris second and then I won the silvers with Glynn in second. I picked up a very nice £60 plus nuggets off Jacko and Glynn saw the charity Nugget-O-Meter rise to £27.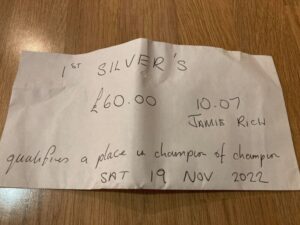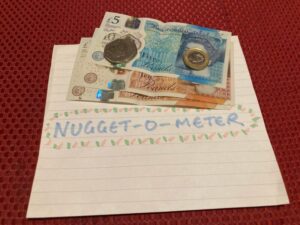 Overall
1 – Jim Jenner (Summerhayes) – 44lb 15oz
2 – Chris Parr (Taunton) – 36lb
Silvers
1 – Jamie Rich (Against Men and Fish) – 10lb 7oz
2 – Glynn Wickham (Summerhayes) – 8lb 15oz
Pete is running some silvers only matches on the first Wednesday of the month, starting 1st April.
If you would like to fish, book in with Pete on 07866 557896
There's still a great offer running if you fancy treating yourself to some new fishing gear, use the exclusive discount code AgainstMenandFish10 to get 10% off when you shop online at Somerset Angling
If you don't fancy getting out on the bank in this awful weather, you can still get your fishing fix with a copy of my book from eBay here or Amazon here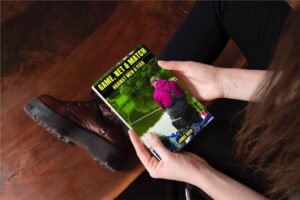 And if you could spare five minutes to leave a nice review on Amazon, it would be very much appreciated.
Next up – Revels
Coming soon – Lots more match reports
Check Out – My last match (below)