As I had a week off work, I wanted to get out somewhere on Thursday so asked The Tart if he knew of anything and he said they were having a match at Lakeview if I fancied it and he invited Terry as well. I'd only fished it once back in 2019 and that day I'd been unfortunate to draw next to The Tart at the wrong end and we both struggled although I did bring a Torquay nugget back to Somerset.
With it being a bit of a trek and breakfast required, I was up at the ungodly time of 5:15 to meet Terry an hour later. Loading the car, it was bloody freezing and we were in for a chilly day. After stopping off in Tiverton for food we headed to the fishery (via a couple of U-turns!). There were seven of us fishing and the peg everyone wanted was number 4, The Tart got Smithy to draw for him and he pulled out 3 (close but no cigar). Terry was on peg 1 and Smithy got 2, I had a look at my little disc and the number 4 was staring back at me! The best swim on the lake (or the best peg in Devon according to The Tart). So the dinosaur had worked its magic, now it was down to me.
We could park behind our pegs and mine looked great, on a very prominent point at the end of a causeway, there was a lot of water to go at. My only concern was the wind which was bitterly cold and gusting from left to right with The Tart getting it straight in his chops and I almost felt sorry for him!
I set up a 0.3 gram MD Munter Hunter to fish banded pellet at 11.5 metres and a margin rig for the left hand side where it was a bit deeper than the right. On the side tray I had meat, 6mm Bait-Tech Carp and Coarse pellets, micros and some Scopex corn.
Smithy got us underway and I started at 11.5 metres pinging pellets but as expected it was a slow start. After 15 minutes without any indications, I was beginning to think it might be really hard going when the float buried and I landed my first fish, a decent carp around 5lb. Then Smithy had one followed by The Tart and it was looking like we might be in for a good day after all.
I got to three fish quite quickly and was doing okay but then pulled out of three on the trot. The Tart had a couple of fish on the feeder and I'm not saying he was poaching but I had to move my pole rig to avoid tangles! I was still getting quite a few indications and landed two more carp but both Smithy and The Tart were on similar numbers of fish. Martin was behind on peg 5 and catching quite well but as I couldn't see him and had to rely on The Tarts commentary which of course is never very reliable.
I was playing a carp and needed to land it to go level on numbers with Smithy on six and one ahead of The Tart but disaster struck when it snagged not far out and I could feel the line grating against something before it snapped me. Of course The Torquay Mafia found this highly amusing and things got even worse when I've gone back out and couldn't get a bite! They've both pulled ahead of me by a couple of fish and then the whole lake seemed to switch off.
Every now and again, the wind dropped, the temperature felt a couple of degrees warmer and it was actually quite pleasant but it would only last a little while. I did hook a carp but it came off and the rig came back with a scale on the hook. The Tart was getting the odd fish on the feeder and that's what I should have done (if I had any rods with me!) as in the gusty wind you could achieve a modicum of presentation instead of struggling to hold the pole.
I just couldn't seem to close the gap on Smithy and Brenda but then in a lull in the windiness, I hooked a carp and made sure I played it to the right, away from that snag and safely netted number six. Next chuck I was into another and thought I might still be able to get a result but then this one found a snag on the right and the hook pulled! My head was starting to have a wobble at this point and I wasn't enjoying myself at all.
Smithy was now getting odd carp from his margin line and Terry down the bottom was beginning to put a run of fish together. Alan and Hadley on my left were catching odd fish but I couldn't really tell how they were doing. With around two hours to go I had my first look down the left hand margin with 6mm meat on the hook, the trouble was it meant me turning face on into the wind and in no time my eyes were streaming and I was shaking with the cold. No indications after quarter of an hour and I was just about to come off it when the float flew under and a carp tore off.
I felt I really needed this fish only for it to come off and I had another scale to add to my collection which did nothing to improve my mood. Another quick look long was fruitless and with Wing Commander Smith still catching down his edge (although he was losing a few as well), I had to try mine again. After a short wait a positive bite result in carp number seven and when I added three more (and a decent rudd) in quick succession, things were getting interesting again but it was short-lived. I snagged up and lost a hook length so I replumbed the other side and gave it ten minutes but no bites.
With literally only a few minutes left I went back to the left but tight to the grass and had two in two chucks to finish up with twelve carp. Martin was playing one on the whistle which he landed safely and said he'd had around fourteen carp. I packed up and went round to watch the weigh in which started with Terry, he weighed 35lb 4oz, Alan on peg 7 had 26lb and then Hadley plonked 13 carp on the scales for 51lb 8oz to go into the lead.
Martin's fish went 47lb and then we got to my peg, I knew I wouldn't be troubling the leaders but there were still nuggets up for grabs. My 12 carp and a rudd weighed 41lb and then we got to The Tart and he had 37lb so those two late fish were crucial! Last to weigh was Brigadier Smith and I thought he'd won it easily but it was really close and after two weighs his fish went 52lb 8oz, so it was a case of deja vu as I've been here twice and Smithy has won both times off the same peg.
1 – Mike Smith (Torquay) – 52lb 8oz
2 – Hadley (Torquay) – 51lb 8oz
As we all gathered back at the car park, Smithy handed some lovely muffins around and I collected nuggets from Terry and The Tart (another case of deja vu!) so the charity Nugget-O-Meter now stands at £30. It was actually a lot closer than I thought it was going to be and with the carp averaging 3lb+ apiece I was only three fish off framing (and I lost seven!) although to be fair, Smithy lost a fair few too.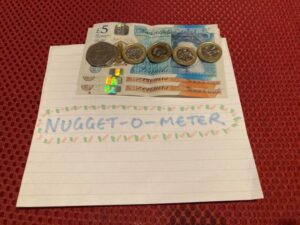 After the long drive back (with the heater on), I got home and was absolutely pole-axed! As I write this, it's still bloody freezing and it might not be much fun on Sunday either!
There's still a great offer running if you fancy treating yourself to some new fishing gear, use the exclusive discount code AgainstMenandFish10 to get 10% off when you shop online at Somerset Angling
I still have copies of my book available from eBay here or Amazon here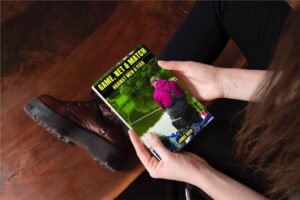 And if you could spare five minutes to leave a nice review on Amazon, it would be very much appreciated.
Next up – Landsend
Coming soon – Lots more match reports
Check Out – My last match (below)