After a really enjoyable first visit for ages a couple of weeks ago, I was back again for a Stoke match. I had to defrost the car in the morning and it was a decidedly chilly start, the Ilminster posse met at the garage and headed off in convoy (10-4 rubber duck!). We had breakfast at the fishery and then the 16 anglers assembled ready to see where on lake 2 the draw bag would put us. Norts called out my name and then the number 5 so I was close to where I was last time.
For company I had Jake Berkley on my left with Dave Hilton the other side and opposite were Andy D and Norts. The Guru 0.3 gram AR's were assembled, one for two lines at 11.5 metres and the other for top two plus two. Both had size 20 F1 Pellet hooks to 0.08mm. Once again the side tray had a familiar feel with maggots (dead and alive), casters, micros, 2mm and 4mm expanders plus some Bait-Tech Special G Green and The Juice groundbait.
Norts got us underway and I cupped in some loose groundbait at 11.5 metres straight out and on the short line before potting in some micros on the other longer line angled to the left. I started on the groundbait line with double red maggot and after a few minutes, the float tip sunk from view and the strike was met with solid resistance. It was obviously a decent fish but it didn't give me too many problems as it plodded around and after about fifteen minutes I chip panned a common carp of around 8lb.
Jake flew out of the blocks with several nice carp fishing across to the island and on the opposite bank there were quite a few fish being hooked so despite the frost this morning it was looking like we might be in for a good match. My next bite was from a nice roach and I started getting a few indications. With just over an hour gone, there was that horrible, unmistakeable sound of a pole section breaking next door as one of Dave's cracked when he was shipping back. He couldn't telescope it and with no spare number five, he had to fish short for the remainder of the match.
I was getting odd roach and then hooked another decent fish which turned out to be a nice F1 around 1.5lb. Jake had slowed right up after his great start and from what I could see nobody to my right on our side was catching much. In the other section, Andy Saunders and Josh were both hooking carp regularly, Andy D had landed a couple although Norts was yet to get off the mark. I kept trying the micros line and did have a skimmer around 8oz but it wasn't hectic.
As we approached the three hour mark, Steve P and Nick provided the half time entertainment when Parker 'The Pole' hooked a big fish on his light rig that tore through Nicks swim, collecting his rig in the process. What followed kept us amused for some time, with two anglers playing the fish, it didn't know whether it was coming or going and neither did Steve, Nick or the rest of us! We dubbed them 'The Chuckle Brothers' as there was much 'To me, to you' going on and eventually after Steve added some sections, Nick netted a double figure carp and fair play to him, he returned it straight away.
With around two hours remaining, I had my first look on the short line and started getting the odd roach and perch, I did hook what felt like a much better fish, only for the hook to pull out. Bites slowed up then so I went to the left on the inside where I'd also been feeding some maggots as a bit of a throwaway line and first drop in, had a nice roach but it was a one off. That pretty much set the tone for the rest of the match, swapping between the two short lines, I would get a bite or two before having to rest one line and move to the other.
It wasn't fast and furious but I was catching roach of a decent stamp and a couple of little tench, then I struck into a better fish which I knew wasn't a carp and a lovely big skimmer around 2.5lb slid into the landing net. There wasn't a lot happening on our side, Dave was catching a few small silvers on the short pole while Jake and Toastie were getting the odd carp but losing a few as well. The main action seemed to be coming from the other section where Andy D, Josh and Andy S were all catching well and looking good to frame although I couldn't really see how Dave Chidzoy was doing on the end.
I was having to wait a while for bites but they were decent fish and I added several more good skimmers, a couple of F1's to 2.5lb, a lovely little crucian and I got beat up by a carp. After losing several carp, Andy D opposite packed up just before the end and I think Norts was relieved to shout the all out after a tough day!
Andy Burns had the scales on our side and when I caught up with them it became apparent how hard it had been on our side, Burnsey weighed 17lb 9oz from peg 12, Dave P had 13oz, Rob C on 8 weighed 1lb 15oz and then Grand Wiz had one carp for 4lb 13oz and 5lb 1oz of silvers. Dave H weighed 3lb 13oz of silvers and then I was next, my single carp was 8lb 2oz and my silvers added 15lb 9oz. Jake weighed 32lb 14oz and the last peg on our side was Terry who had some lumps for 25lb 13oz.
In the other section, Dave C had bagged towards the end to weigh 77lb 9oz on peg 13, Andy S had 59lb 4oz and Josh next door weighed 42lb 1oz before Norts had 11oz (mainly small fish). Andy D weighed 40lb 11oz so packing up early may well have been costly! Andy L had 30lb 3oz, Nick P weighed 21lb 5oz and then Steve P had 28lb 5oz. Thanks to Nick Payne for the photos*
1 – Dave Chidzoy (Stoke AA) – 77lb 9oz
2 – Andy Saunders (Stoke AA/Sharp MG) – 59lb 4oz
3 – Josh Tucker (Stoke AA) – 42lb 1oz
Sections
A – Andy Downton (Stoke AA/Tackleuk) – 40lb 11oz
B – Jake Berkley (Stoke AA/Tackleuk) – 32lb 14oz
Silvers
Jamie Rich (Stoke AA/Against Men and Fish) – 15lb 9oz
So another cracking match with lots of laughs, I picked up £20 for winning the silvers but had a bad day as far as the nuggets were concerned losing to Andy L, Andy S and Terry. The far side seemed the place to be with the top four coming from there. I did notice we seem to have a lot of Andy's fishing, four out of sixteen anglers were called Andy, that's a 1:4 Andy ratio or 25% of our anglers were called Andy. I'm going to start an Andy spreadsheet and see if that percentage goes up or down as the season progresses. Is Stoke AA a particularly Andy friendly club?
There's still a great offer running if you fancy treating yourself to some new fishing gear, use the exclusive discount code AgainstMenandFish10 to get 10% off when you shop online at Somerset Angling
I still have copies of my book available from eBay here or Amazon here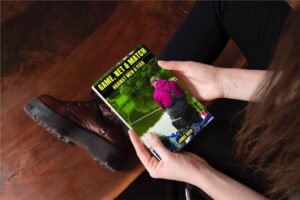 And if you could spare five minutes to leave a nice review on Amazon, it would be very much appreciated.
Next up – Revels
Coming soon – Lots more match reports
Check Out – My last match (below)