I've absolutely loved fishing twice a week with the last five Tuesdays spent at Revels but with my annual leave used up, this would be the last one for a little while. In four of those I've drawn good silvers areas and enjoyed myself so much I didn't want the matches to end, culminating in my best day yet last Tuesday when I had 20lb of quality silvers, just superb.
Nick P was joining us today and I met him and Steve P for breakfast in Yeovil before heading down to Dorset. Once again, the carp park was already busy and Tony C was back for another go. We decided to all bung a nugget in the pot for the top silvers weight. With 19 anglers fishing, Main and Dead Tree were the lakes being used.
The draw was announced and we all assembled by the shop to find out our pegs for the day. I've mentioned it before that I've loved fishing the different lakes and swims and so far the only peg I've drawn twice is number 14 behind one of the islands on Main. The first time I won with 33lb of accidental carp and the second time I really struggled for two carp and only 1lb 13oz of silvers. Now I don't profess to know the venue intimately but in the matches I've fished the better silvers pegs on Main seem to be from 18 round to 7 and then pegs 8-16 seem to be preferred for carp.
You're probably thinking I've set this up nicely (and you'd be right!), Tony C was one of the first names on the list and got number 16, the peg he fished on his first visit and had a bit of a 'mare, losing carp and also snapping a pole section. A few of the silvers pegs I fancied went and then my name came out and it was only peg 14 again (was my lucky dinosaur starting to lose its magic?), I have to admit I was gutted and knew I wouldn't be winning the silvers today. Steve P got 49 on Dead Tree and Nick drew peg 6 on Main.
Taking my gear to the peg, I had a quick chat with Tony and there were quite a few small fish topping which was hopefully a good sign. Despite my earlier moan, all was not totally lost as a couple of weeks ago there was a 7lb 15oz of silvers off my peg which was third in silvers so I thought if I got my head down, it might be possible to sneak in depending on whether anglers fished for carp on the good silvers pegs and vice versa.
You all know the rigs and bait by now (if not see my last post!), I plumbed up several lines, 11.5 metres in line with the point of the island, then a section past it, a 13 metre line in the open water on the right and lastly a top two plus two line down the edge to my right. On the whistle I fed groundbait at 11.5 metres and the right hand long line before starting down the edge with single red maggot.
I didn't have to wait too long for the first bite which resulted in a carp tearing off before the hook pulled, not the ideal start! Next put in, I had a little perch to get me off the mark, then another lost carp followed by a little perch and a pattern was beginning to form! The float sailed away again and the strike was met with solid resistance. After a lengthy battle I've netted a carp that looked to be around 10lb. The next three bites were from a small perch, a carp that snapped me and a gobie, so quite an eventful first thirty minutes but I hadn't put much in my silvers net and it was time to look on the longer line.
First chuck, a positive bite saw me net a nice skimmer and when I've shipped back out and had another straight away followed by a third, it's taken me by surprise a bit, as when I'd drawn the swim twice previously, I'd only managed two skimmers each time. I was catching some gudgeon and perch as well and just before the first hour was up, I've hooked a better fish and I could see it was a decent skimmer before landing a nice fish around 2lb, what a start!
The second hour was similar with more skimmers, gudgeon, roach, perch along with hooking the odd carp. I was keeping the right hand 13 metre line topped up as well as feeding casters short. Bites started to slow on the 11.5 metre line so I had look past the feed but didn't really get the response I'd hoped for with just a couple of small fish. Then it was the 13 metre line next and I was expecting to catch straight away after feeding it for over two hours but I never had a bite there!
I could see Tony landing silvers as well as hooking carp and Terry Dell on 12 to my left was catching some decent skimmers. After no bites on the 13 metre line, I was back at 11.5 and it wasn't happening there now either, so after a great start it was fizzling out as the halfway point approached. I tried starting another line at 13 metres between my two original lines and began getting bites again, regularly toss potting in a little loose groundbait seemed to improve things and I was getting some more nice skimmers along with the odd tiny little carp between 1-3oz.
Every time it went a bit quiet again, I knew what was coming and I hooked several more carp with the score 6-5 to the carp going into the last hour. My silvers catch rate was still ticking over nicely and once again, the time had flown by. I'd been feeding casters short all day and with half an hour to go, I decided to have a quick look. After a few minutes I missed a bite and then next put in, the float slid under and yet another carp made a bid for freedom, after a spirited scrap I netted a four pounder to level the scores at 6-6.
That was enough of that so back out long for the final ten minutes, the next bite resulted in elastic streaming from the pole tip and it seemed like carp 'o' clock had arrived with a vengeance. I decided to try and make it count as it would be the last fish of the day, I was starting to get the upper hand and caught a glimpse of the fish, a small carp. Down to the top kit, it briefly came to the top and wasn't a carp, it looked like a massive roach! I now really wanted to land this fish, the next time I saw it, I could see it was actually a big hybrid around 1.5lb which was a lovely fish to end the match on as I netted it.
I did have time to ship back out but that was the last of the action, I finished up with six carp (plus a few mini carp) and 63 skimmers, roach, rudd, perch and gudgeon. At an ounce apiece that would be 4lb, so 2-3oz would give me somewhere between 8-12lb, another fantastic days fishing. I packed up and took my kit back to the car, Tony said he'd had a nice days silvers fishing despite some carp issues. Neil Saxby on 20 said it had fished quite hard and six carp would be there or thereabouts today!
The scales arrived on Main after weighing Dead Tree and I caught up with them as they got to Terry Lenny on peg 10, he had 20lb of carp and two nice chub for 3lb 1oz. A quick look at weigh board and Adrian Hayes was leading with 31lb 10oz from peg 7 and Dave Burford was in second spot with 23lb 15oz from peg 8 while Dave Stanbridge had the best silvers weight with an excellent 14lb 11oz from 42 on Dead Tree. Steve P had also done well with 9lb 5oz of silvers (taking some nuggets off his neighbours in the process) and Nick wasn't far behind with 7lb 6oz. Thanks to Dean Hodder for the photo*
Paul Wyatt on peg 11 had 19lb 12oz of carp and then we got to Terry Dell on 12, he had some good skimmers for 7lb 6oz. I was next and I weighed my carp first, they went 31lb 14oz which actually put me in the lead and then my silvers went 12lb 8oz to give me a total of 44lb 6oz.
Tony had 7lb 2oz of silvers plus 3lb 8oz of carp, Neil weighed 6lb 15oz of silvers and 7lb 9oz of carp and then peg 21 didn't weigh. Back at the results and I'd actually won and picked up £45 plus as a nice bonus I collected the £4 side bets as well so the charity Nugget-O-Meter now stands at £34. Steve P finished second in the silvers and both Tony and Nick weren't far off third as once again there were loads of really close weights, which is why I love it here so much. There were seven weights between 6lb 15oz and 7lb 15oz (which was third in the silvers).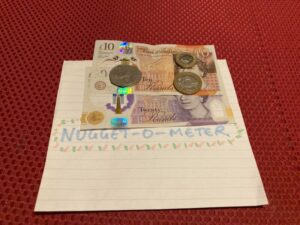 Overall
1 – Jamie Rich (Against Men and Fish) – 44lb 6oz
2 – Adrian Hayes (Revels) – 31lb 10oz
3 – Dave Burford (Revels) – 23lb 15oz
Silvers
1 – Dave Stanbridge (Revels) – 14lb 11oz
2 – Steve Parker (Ilminster) – 9lb 5oz
3 – Jerry Bracey (Revels) – 7lb 15oz
There's still a great offer running if you fancy treating yourself to some new fishing gear, use the exclusive discount code AgainstMenandFish10 to get 10% off when you shop online at Somerset Angling
I still have copies of my book available from eBay here or Amazon here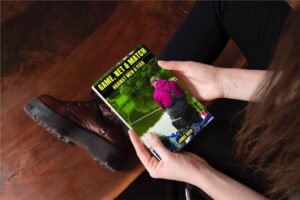 And if you could spare five minutes to leave a nice review on Amazon, it would be very much appreciated.
Next up – Summerhayes
Coming soon – Lots more match reports
Check Out – My last match (below)