It was back to Summerhayes for another match on Sellicks this week and after a frost with 20 anglers fishing, I felt it would fish hard like the last time we were here with around 60lb to win overall and 8lb to take the silvers. I met Nick in Taunton for breakfast before we headed to the fishery and very nice it was too. The Tart was also fishing and very kindly brought me on a couple pints of maggots – cheers mate.
The draw time arrived and I was hoping for a peg on the far side again, first the golden ball was drawn which today was number 22. My name was fifth or sixth on the list and Pete delved into the bucket and pulled out 22! Not only a peg on the far side but the golden peg and one away from where I'd won the silvers last time, had my lucky dinosaur worked it's magic yet again? It wasn't all good news though, as I had end peg Brenda next door on 23 and I hadn't packed my ear plugs. Nick P was on 19 with Glynn next door on 18 and we were going double or quits on the nugget from last time.
I set up a 0.5 gram Guru Carbon Pinger to fish top two plus two and a couple of longer lines at 10 metres to the right and 11.5 metres angled to the left and then a little 0.2 gram NG Mini Gimp with strung shot to fish across to the island at 14 metres, both with size 18 Guru F1 Pellet hooks to 0.08mm. On the side tray, I had 2mm and 4mm Bait-Tech Xpands, red maggots (alive and dead), micros plus Special G Green and The Juice groundbait.
After the frosty start, it was actually turning into a rather gorgeous day but then typically, the whistle went, and from being flat calm, a rather gusty wind got up and wouldn't be doing us any favours. I fed some loose groundbait at top two plus two and 10 metres before the 11.5 metre line received half a pot of micros and I flicked some maggots across to the island.
In the last match, it had been a slow start and I was expecting the same today, the 10 metre line was first and no bites after quarter of an hour, The Tart hadn't caught yet either although Dave Romain up on peg 16, flew out of the blocks with several carp. Next I went over the micros line and after a further ten minutes, had a lovely bite which took me a little by surprise and I struck into thin air! Back out and I had another bite quite quickly, this time I connected and straight away I knew it was a decent skimmer, shipping back carefully, I got down to the top kit and readied the landing net only for the bloody hook to pull out!
Next chuck, the float went again and it felt like a good fish, wanting to make it count I took my time and a lovely big skimmer around 2.5lb got me off the mark. That one was followed quite quickly by a smaller sample of 8oz or so and when I missed another bite, it felt like there were a few fish there. I hadn't seen Jeff S over on peg 2 catch yet although Mark L on peg 1 had landed a couple of decent skimmers.
No more bites at 11.5 metres so I had a quick look at 10 metres with the same result, I didn't want to go right across too soon, so fed the other two lines again before having a quick look at top two plus two. To be honest I wasn't expecting much but it would rest the other lines. After ten minutes or so with no indications, The Tart said something but I couldn't really hear due to a combination of him mumbling and the wind so just smiled and nodded! I gave it another five minutes and was just going to go back on the longer lines when the float sailed under and I missed it.
I had to have another go and this time I was ready, a lovely slow, deliberate bite and a decent fish was on, I knew it wasn't a carp and lovely 1.5lb skimbob came to the top. So with around 4.5lb in the net and the best part of five hours to go, I was doing ok. Feeding the short line again I went back to 11.5 metres and a bite quite quickly resulted in a leaper of around a pound. I missed a bite and bumped a fish before it died again and it certainly seemed like resting the swims was the way to go.
Jeff had landed a couple of big skimmers and Mark was now having some fun and games with carp down the edge finding some snags. The Tart was getting odd fish now, Dave seemed to have slowed up although Alex up on peg 14 was catching consistently. I had another skimmer from the short line before having my first look at 14 metres where I'd been feeding maggots (all over the place via the catty in the wind!).
It took a while to get a bite which resulted in a foulhooked carp that came off not long after, I started getting some roach from 1-4oz and was ticking along nicely. Jeff had a couple more big skimmers and I could see both Nick and Glynn to my right landing the odd fish fishing across to the island. I had my first skimmer of 8oz across but the wind was being a right pain and hooking the odd carp wasn't helping, I did land one foulhooked in the wing. The Tart was now catching well and starting to mount a late charge for a podium place.
A couple more skimmers and some roach followed before I decided to rest it and have another look short. I had skimmer number nine before hooking a carp that led me a merry dance before snapping me so I re-fed it and went long again with around an hour left. A few more roach followed before another skimmer took my tally to ten. Another lost carp and I had intended to spend the last fifteen minutes short but then I've hooked another skimmer only for disaster to strike when it came off shipping back. The remainder of the match was spent fishing across but I didn't add anything else.
In the last match I had less skimmers but more roach for 8lb so I was hoping I had a bit more than that today. After packing up I went round to watch the weigh in, Mark Leahy weighed 31lb 1oz from peg 1 before Jeff had five big skimmers for 7lb 13oz and he'd been bitten off by a big eel. Rene on peg 3 had 18lb 13oz of carp before Kev Osbourne had 5lb 2oz of silvers on peg 4.
Peg 5 didn't weigh and then Bill 'The Paste' on 6 weighed 6lb 6oz of silvers, Duncan Arnold on 9 had 4lb 6oz of silvers, Toby on 10 chucked back and then Tom R on 11 had 5lb 12oz of silvers. Roy Hughes was next on peg 12 and had done well again with 7lb 8oz which included a couple of nice tench.
Roger C had 3lb 8oz of carp on 13 and then Alex on 14 went into the overall lead with 64lb 2oz, Craig didn't weigh on 15 and then Dave R on 16 put 40lb 5oz on the scales to go into second spot. Glynn weighed 6lb 13oz of silvers, Nick had 11lb of carp and 4lb 15oz of skimmers, Zane on 21 didn't weigh and then my silvers went 11lb 4oz to go into the lead with just The Tart to weigh. He ended up just short of Dave with 38lb 10oz which put him in third place.
Back at the results, Alex won overall and then I picked up £65 for winning the silvers plus £74 from the golden peg. As an added bonus Glynn gave me £2 and the charity Nugget-O-Meter now stands at £36.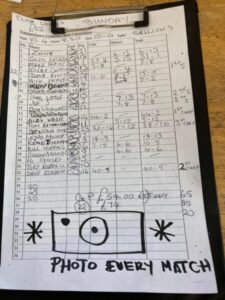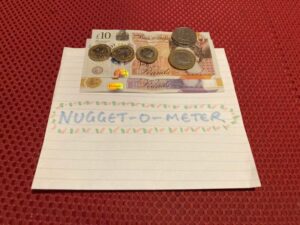 Overall
1 – Alex Kerr (Summerhayes) – 64lb 2oz
2 – Dave Romain (U-ZIT Bait) – 40lb 5oz
3 – Brendon Ions (Tackle Trader) – 38lb 10oz
Silvers
1 – Jamie Rich (Against Men and Fish) – 11lb 4oz
2 – Jeff Sparkes (Summerhayes) – 7lb 13oz
3 – Roy Hughes (Summerhayes) – 7lb 8oz
Update – Sundays match will now be on Longs and not Sellicks, phone Pete to book in.
There's still a great offer running if you fancy treating yourself to some new fishing gear, use the exclusive discount code AgainstMenandFish10 to get 10% off when you shop online at Somerset Angling
I still have copies of my book available from eBay here or Amazon here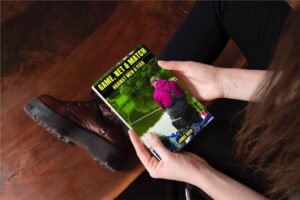 And if you could spare five minutes to leave a nice review on Amazon, it would be very much appreciated.
Next up – Summerhayes
Coming soon – Lots more match reports
Check Out – My last match (below)