For the third Stoke match we were at Avalon and after another lovely breakfast at the bowling club (thanks Charlotte), we were on our way. We arrived via the odd U-turn and once again it was really well attended with 24 anglers fishing this one. When everyone had assembled and paid their pools it was time for the draw. There was an open match the previous day which Stu White won with a brilliant 72lb of bream from peg 28 so I was hoping to draw in that area. Venue owner Vic Bush was holding the draw bag and I pulled out peg 7 which was nowhere near yesterdays winner but he said it was a decent silvers peg.
I was actually next door to where I was back in Dec 2020 when I fished my first match here, that had been silvers only and I managed to win my section with 11lb 11oz of bream, skimmers, roach and a nice perch plus I also landed two big carp which went straight back. My neighbours for the day were 'Bagger' Burton on my right and Nick P on peg 9. It was shaping up to be a gorgeous day and there were already plenty of carp mooching about.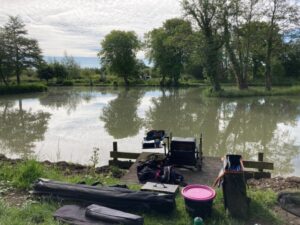 I set up two Drennan 0.4 gram floats to fish a couple of lines at 13 metres, both had size 14 Guru F1 Pellet hooks to 0.11mm at the business end. The side tray was practically groaning under the weight this week with maggots (dead and alive), casters, micros, 2mm and 4mm expanders plus corn. Apparently Stu had fed eight tins of corn yesterday! I only had two but Vic sorted me out with another four tins (cheers mate). Groundbait was Bait-Tech Special G F1 and Pro Nat Dark.
On the whistle I fed three balls of groundbait straight out and then two big pots of corn and casters on the left hand line. Dave C on peg 1 and Terry on 4 were both into carp quite quickly. It took a while to get my first bite on corn which I initially thought was a nice bream but turned into a 6-7lb carp, not my intended target but a decent start nonetheless. My next fish was a 6oz skimmer followed by another on a 4mm expander over the groundbait as the first hour came to a close. Andy D up on peg 10 hooked a big carp on single caster but as he started winning the battle, a big pike of 15lb+ surfaced and he did well to land it. They don't count so it was unhooked and released straight away.
Nick had two decent bream in quick succession so I went back on the corn line and after a short wait, a positive bite resulted in a nice big 3lb skimmer then next chuck I had a roach and two more skimmers followed. It felt like some fish had arrived and I really thought a good weight was on the cards but then I couldn't get a bite! Another ten minutes passed so I potted in another cup of corn and casters before going back to the groundbait line.
Ian was getting odd skimmers and Nick had another proper one but no more bites straight out for me so I went back on the corn line and had two decent bream one after another. Thinking they obviously wanted some bait, I put another pot in and repeated the process but this time when I went back on the corn line, I couldn't get a bite. Nick landed another bream to stay one decent fish ahead of me.
Dave was still catching carp well and Terry had landed a couple of lumps but I was quite surprised that despite there being loads of black shapes cruising about, between Ian, me and Nick only one had been hooked. Of course the inevitable then happened and I latched into one that tore off before snapping me and leaving the rig in a mess.
I was still getting odd skimmers and added two more bream, including one that performed lots of aerobatics. With two hours to go, it slowed right up for Nick and me whereas Ian had started to catch really well and it was all getting very close. Going into the last hour, by my reckoning I was one behind Nick and praying I'd get another visit from those bream.
Another thirty minutes passed and it was starting to feel like it wasn't going to happen, then the float sunk from view and the strike was met with solid resistance. I shipped back carefully and netted a nice fish around 3lb which made things interesting. Quarter of an hour remaining I missed a really good bite and just before the all out, I had an indication and then the whistle went. I finished up with six decent ones, fourteen skimmers, a few roach and that carp.
The scales started round the other side and I caught up with them as they got round to us, Dan Squires once again showed his class as he was leading with 122lb 1oz from peg 33, Craig weighed 23lb 14oz on 32, Rob C had 30lb, John D had 22lb 7oz, Dave P weighed 5lb 4oz of silvers, Josh had 10lb 11oz on 26, Steve P weighed 6lb 6oz of silvers and Andy S had 48lb 12oz from peg 24. Thanks to Chris Norton for the photos*
Steve Chant was first on our bank to be weighed and had 92lb 6oz before Daryl B just pipped him with 94lb 14oz which included a nice 3lb tench, Jenny had 2lb 12oz of silvers on peg 21, Sam weighed 10lb of carp and then Norts had 20lb 8oz of carp before putting a brilliant 38lb 10oz of skimmers and bream on the scales and I knew that would win the silvers.
Paul didn't weigh on 17 and then the Grand Wiz had 58lb 4oz, Andy B weighed 42lb 4oz on 14, Roy 'The Bomb' did well on 12 with 83lb 10oz, Emma chucked back and then Andy D weighed 21lb 4oz. Nick was next and his silvers went 21lb 4oz which included the best bream of the day at 4lb 12oz. My carp was 6lb 12oz and my silvers added 20lb 1oz so I lost a nugget to Nick which he gave me back to go in the charity pot, nice one mate.
Ian B then had 20lb 7oz of silvers before Terry 'The Toast' put some lumpy carp on the scales for 41lb 9oz, Dave C was last to weigh and his 103lb 14oz was second on the day.
1 – Dan Squire (Mosella) – 122lb 1oz
2 – Dave Chidzoy (Stoke AA) – 103lb 14oz
3 – Daryl Basstone (Stoke AA) – 94lb 14oz
Sections
A – Roy Worth (Stoke AA) – 83lb 10oz
B – Steve Chant (Somerset Rig Company) – 92lb 6oz
Silvers
Chris Norton (Stoke AA) – 38lb 10oz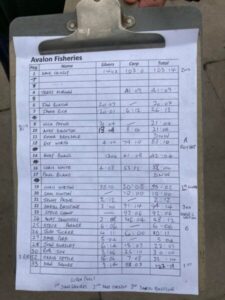 So another really enjoyable day and thanks to Nick's nice gesture, the charity Nugget-O-Meter now stands at £66.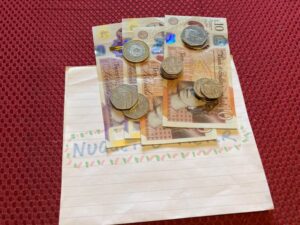 I can't go without mentioning a Stoke AA member who managed to take a tumble in the car park while unloading his trolley and getting tangled in a bungee strap! He suffered a nasty knock, no names but there is a clue in one of the photos! In all seriousness though, it looks nasty and I hope you're alright mate, this fishing is a dangerous malarkey!
There's still a great offer running if you fancy treating yourself to some new fishing gear, use the exclusive discount code AgainstMenandFish10 to get 10% off when you shop online at Somerset Angling
I still have copies of my book available from eBay here or Amazon here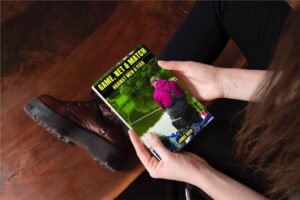 And if you could spare five minutes to leave a nice review on Amazon, it would be very much appreciated.
Next up – Summerhayes
Coming soon – Lots more match reports
Check Out – My last match (below)