After an awesome day on Sellicks the last time I fished Summerhayes, I've been dying to get back and was really looking forward to this weeks match on Longs. The Breakfast Club assembled in Taunton (and very nice it was too) before heading to Bridgwater. On arrival it was great to see Picky, Bushy and Derek from Chard who have just started fishing Summerhayes and Bushy hit the ground running with a win on his inaugural visit a couple of weeks back.
Unfortunately The Tart was also in attendance and wearing a very white top that wouldn't have looked out of place at a Pro Bass competition in the States or the Tour de France! With his hood zipped up, he resembled some kind of hellish version of the fifth Tellytubbie, probably called Winky W*nky!
There were 25 booked in for this one which is a brilliant turn out, Pete announced the draw and the golden ball was pulled out which was number 33, a great peg and there was a good chance it would go today. Nick was first on the list and got peg 2 on 'Cyanide Straight' and with nearly every peg in, it would be hard going. Jenny was on peg 12, Steve P got drawn peg 7 which is a carpy corner and then I got peg 9, it wouldn't have been my first choice but an empty peg on my right was a bonus. Tom Rattenbury was my neighbour on the other side.
My swim looked nice and there were quite a few fish moving about, both carp and silvers. As I was setting up, I went to chuck my keepnets in and there was a Costa coffee cup in one of them (exhibit A, see photo above!). I set up the usual two Guru 0.3 gram AR's, one to fish top two down the edge, 5 metres and two lines at 10 metres straight out and to the right, the other rig was for across at 13 metres. Both rigs had size 20 F1 Pellet hooks to 0.10mm (just brilliant hooks and expertly tied as always by Somerset Rig Company). On the side tray I had lots of maggots, micros, 2mm and 4mm expanders plus some Bait-Tech Special G F1 and The Juice groundbait.
Just before the all in, The Tart walked by to use the on-site toilet so I let him have his coffee cup back (which he then deposited in Nicks carryall!). There was just enough time to go up and get a coffee from the hut, on my return I sat on the box and as the whistle went, I opened my groundbait bucket and that poxy coffee cup was back again!
I fed a little loose groundbait on all my lines except at 10 metres to the right which received some micros and across where I fired out a few maggots. Starting at top two, the float settled and went straight under but instead of solid resistance, a little roach flew out of the water. A couple more followed and there were obviously a lot of small fish there. I was just going to give it up as a bad job when the float went under and I hooked what felt like a big skimmer but I'll never know as it came off and on closer inspection, one of the maggots had gone over the hook point.
Thinking some skimmers were there, I stuck with it a bit longer but my next fish was a 2lb carp, I then dropped off a 2oz roach before finally hooking and landing nice 10oz skimbob. Stevie P was getting the odd small fish but nobody I could see was setting the world alight at this early stage. With an hour gone and less than a pound in my silvers net, it was time to have a look on the longer lines.
Moving out to 10 metres, I toss potted in a pinch of groundbait with a few maggots and started catching small skimmers between 2-4oz, I did manage one leaper around 12oz where the float went and it was out the water before I had time to strike! I did try expanders a couple of times on both lines but was waiting ages for bites and the fish weren't any bigger. Roy Hughes on peg 4 was getting odd fish on the waggler but it felt like it was hard going in our area and I was sure the pegs along the track and on the end bank would be catching well.
I was still feeding maggots short as well as flicking a few across but wanted to leave the far side for a bit longer, I kept dropping in on the top two line but had nothing else there apart from carp with most of them beating me up. Around the halfway mark, there was a bit of commotion from Steve P's peg as he had a coughing fit, felt a bit dizzy, lost his footing and snapped his 13 metre section!
I was still getting the odd little skimbob but just couldn't seem to get any more of those better skimmers that you need to do well. I'd tried the 5 metre line but not had a fish from there and I was also a little wary about going across as there were loads of carp swimming about and the there was even the odd tail showing as they were getting their heads down and feeding.
With about 2.5 hours remaining, I went across for the first time, the float buried and a carp tore off before the hook pulled. It was looking like it might be carnage as they were cruising about and even trying to eat my float. I was getting the odd little skimmer and shipping back with one on, a seagull swooped down and grabbed it! As it flew off with my yellow hydro heading skywards, I had visions of losing or snapping the topkit but thankfully it let go and a very relieved 2oz skimbob was deposited in the keepnet.
There were obviously some skimmers across as I was getting the odd better one but there were also rather a lot of carp, a couple of times I've hooked sizeable fish that have steamed along the far bank past Tom and he's lifted his rig out so we wouldn't get tangled (cheers mate). At one stage I've hooked three in as many chucks and it was starting to do my head in.
I tried fishing to the right of my feed and had a really good spell landing several decent skimmers but annoyingly pulled out of a couple as well. As the whistle went I was just netting a 4oz fish and my final tally was 40 skimmers plus a few small roach. I thought I might have 8-9lb (around 10 better skimmers for 5lb and 30 little skimbobs for 4lb) although I was admitting to 6-7lb.
After packing up, I took my kit back to the car asking how people had done as I passed them, Stevie P had a bad day all round, after snapping his pole, he'd also lost the cup from his flask, Jim had caught carp quite well, Roy thought he might have 10lb and he's normally worse at estimating than me, Nick had struggled, Adie said he had 5-6lb of silvers and Jeff was admitting to the same. I put The Tart's coffee cup carefully under the windscreen wiper on his van and then went to watch the weigh in starting with Roger C on peg 38 who had 10lb 14oz.
Jeff on 39 was next and weighed 8lb 11oz, Adie had 21lb 11oz including 5lb 12oz of silvers, Nick weighed 23lb 4oz of mainly carp and then Roy was bang on with his estimate as Pete called it at 10lb 4oz. I thought he'd frame with that but apparently Paul P was admitting to 12lb and Glynn had also caught well on peg 20.
Jim then went into the overall lead with 57lb 4oz on peg 5, Steve 'The Half a Pole' Parker had 10lb 2oz and then my half a dozen carp went 18lb 4oz before I pulled my silvers net out and it was a little more than I thought as Pete called it at 13lb 10oz and I quite rightly got called a few names. Tom had 11lb 2oz and then Jenny weighed 10lb 7oz which included 4lb 13oz of silvers.
Dan on peg 13 had 47lb 6oz of carp and then Paul P on 15 was next, he pulled his silvers net out and it was going to be very close but thankfully (for me) he weighed 12lb 2oz. Bushy on 17 had 62lb 14oz to go into the lead and give the Tart on 18 a NPL, he weighed 42lb 11oz. Glynn on 20 then went into the silvers lead with 14lb 3oz. Craig on 21 had 27lb 4oz of mainly carp and then Rob weighed 14lb but had one of his pole sections go in the pond (he got it back after the match).
Mark L on 25 had 55lb which included a lovely big perch, Jack didn't weigh on 27, Derek H had 40lb 12oz on 28 and then Rob Birch weighed 7lb 1oz of silvers on 30. Alex Kerr next door had 60lb 14oz of carp and then added 13lb 3oz of silvers to go into the overall lead (and third in the silvers).
Steve Collins was on the golden peg (33) and had bagged up, he weighed 94lb 7oz and would be taking home a bumper payday. Kev on 34 chucked back and Picky on 36 weighed 38lb 2oz.
So I ended up second in the silvers and picked up £39 and once again it had been really close with just 2lb 1oz separating the top four silvers weights. Steve P paid me a nugget from last week and the charity Nugget-O-Meter climbed to £67, the Breakfast Club all bunged a pound in the pot for the biggest weight this morning so hopefully a few more quid should be going in as well.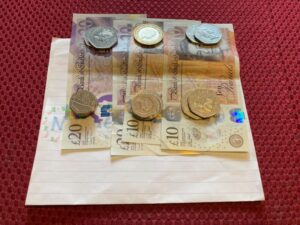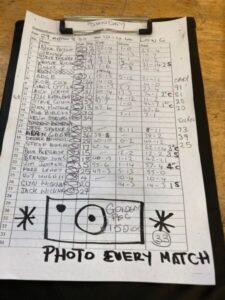 Overall
1 – Steve Collins (Summerhayes) – 94lb 7oz
2 – Alex Kerr (Summerhayes) – 74lb 1oz
3 – Steve Bush (Chard) – 62lb 14oz
4 – Jim Jenner (Summerhayes) – 57lb 4oz
Silvers
1 – Glynn Wickham (Summerhayes) – 14lb 3oz
2 – Jamie Rich (Against Men and Fish) – 13lb 10oz
3 – Paul Purchase (Summerhayes) – 12lb 2oz
There's still a great offer running if you fancy treating yourself to some new fishing gear, use the exclusive discount code AgainstMenandFish10 to get 10% off when you shop online at Somerset Angling
I still have copies of my book available from eBay here or Amazon here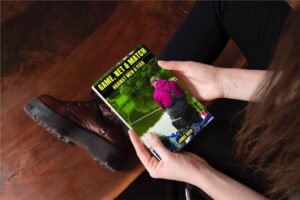 And if you could spare five minutes to leave a nice review on Amazon, it would be very much appreciated.
Next up – Revels
Coming soon – Lots more match reports
Check Out – My last match (below)