Thanks to the Queen's Platinum Jubilee we've got a nice long Bank Holiday weekend to look forward to, which of course means lots of fishing! I thought I'd get the celebrations started early and booked a day off work to go and fish the Tuesday open at Revels. A cracking breakfast set me up for the day before I headed into deepest, darkest Dorset!
With twelve anglers fishing this week, we were all on Main Lake and as per usual I was hoping for a nice silvers peg and got my wish when number 20 was pulled out for me, probably the most consistent silvers peg on the lake, that'll do!
I set up two 0.3 gram Guru AR's plus a little 0.25 gram F1 Carbon Slim with spread shot to fish through the water. On the side tray I had maggots, casters, pinkies plus some Bait-Tech Special G F1 and Pro Nat Fine Lake Dark. On the whistle I fed some loose groundbait on two lines at 11.5 metres and flicked a few casters down by the reeds on my left.
Starting straight out with double red maggot on the hook, I had a bite quite quickly and got off the mark with a little 3oz skimmer and few more followed along with the usual small perch and gudgeon. Alan Winsper over on peg 4 was getting some nice skimmers, Bob Crisp on 7 was catching small fish on the whip while Steve Crowford on 8 was already bagging on carp.
It was a bite a chuck from skimmers, roach, rudd, perch and gudgeon for the first couple of hours, Alan was now struggling after a decent start and switched to fishing for carp. Bob carried on catching on the whip and was also getting a few on the waggler. Things slowed up a bit for me so I had a go by the reeds with caster on the hook but never had a bite there, I tried the light strung shot rig with caster at 11.5 metres and first put in, the float sailed away and I was into a decent fish which turned out to be a lovely 8-10oz roach. When I had a 4oz skimbob next chuck, I thought I'd cracked it but it was short-lived.
A small roach and a couple of missed bites made me stick at it a bit longer and then I've hooked another decent fish, this time a 12oz hybrid, which was a nice bonus but I probably spent too long trying caster. Back on maggot I had a few more small fish but no more skimmers so went to 13 metres and started catching quite steadily but bumped four on the trot which didn't help matters. With an hour to go, I've hooked my first carp of the day, it was a lumpy one and I had it on a fair while before it broke me.
Not long after, the float sailed away and when elastic streamed from the pole tip on the strike, it looked like carp 'o' clock had arrived. I shipped back to the top kit but all of a sudden the 'carp' wasn't doing a lot and a lovely big, pound plus skimmer came to the top, hooked in the wing! I started feeding some loose groundbait via the toss pot every put in and had a really good spell catching some smaller skimmers. Another carp did muscle in and I landed a 5lb fish which I put straight back.
On the all out, I was just netting a 4oz skimbob which was fish number 90 on the clicker and I'd had a lovely days fishing. As we began packing up, the scales started the weigh in, when they got round to my side, Steve Crowford was leading with 59lb 8oz (thanks to Dean Hodder for the photo*) and Bob Crisp had the best silvers weight so far with 8lb 6oz. Terry Dell on 16 weighed 35lb 4oz of mainly carp and then it was my turn, I hoped I'd done enough and was well pleased when Dean called my weight at 13lb 1oz as I was the last peg.
I picked up £40 and it had been another lovely day, especially as I'd only hooked two carp all match and I can't wait to get back for another go.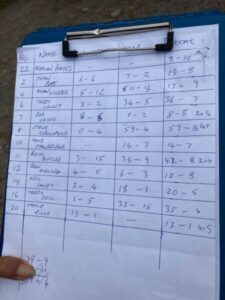 Overall
1 – Steve Crowford (Revels) – 59lb 8oz
2 – Rich Butler (Revels) – 42lb 8oz
Silvers
1 – Jamie Rich (Against Men and Fish) – 13lb 1oz
2 – Bob Crisp (Revels) – 8lb 6oz
There's still a great offer running if you fancy treating yourself to some new fishing gear, use the exclusive discount code AgainstMenandFish10 to get 10% off when you shop online at Somerset Angling
I still have copies of my book available from eBay here or Amazon here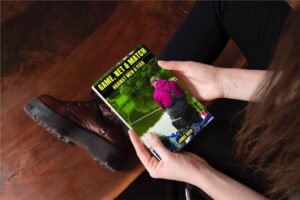 And if you could spare five minutes to leave a nice review on Amazon, it would be very much appreciated.
Next up – Summerhayes
Coming soon – Lots more match reports
Check Out – My last match (below)