The start of the long weekend saw me booked into Summerhayes, we met up in Taunton for breakfast and the usual crew were joined by Picky and The Tart. Today's match was supposed to be on Sellicks which I was really looking forward to, but due to numbers, Pete moved us onto Longs.
Pete announced the draw and the golden peg was number 32, a good one. I was second on the list and got peg 23 which I don't think I've ever fished before, it's on the bottom bank looking up the pond. I had Steve 'The Pole' Parker on my left and Mark Leahy was on 19 with Jenny and Nick along from him on 17 and 15.
I set up the usual two Guru 0.3 gram AR's, one to fish top two down the edge, 5 metres and two lines at 11.5 metres straight out and to the right, the other rig was for across at 14.5 metres. Both rigs had size 20 F1 Pellet hooks to 0.08mm. On the side tray I had lots of maggots, micros, 2mm and 4mm expanders plus some Bait-Tech Special G F1 and The Juice groundbait.
Ready with ten minutes to spare I walked up to the hut for a brew just as Steve Collins was taking the obligatory peg shot and he turned the camera in my direction.
Back on my box, Pete got us underway and I fed all my lines before starting on the top two line but after a biteless quarter of an hour it was time to move lines. The 11.5 metre groundbait line was next and I bumped a decent fish before a nice leaping skimmer of 2lb got me up and running. I started getting some 2-4oz skimbobs but could see Lee Smart up on 28 and Rob Birch on the golden peg landing some big skimmers.
Nick was also into some decent fish and with around an hour gone, I was already slipping behind. Trying the micros line I had a couple more three ouncers but it wasn't really happening, I didn't want to go across too soon so soldiered on catching little skimmers interspersed with vermin of course!
With Lee and Rob both on for good weights and seemingly out of sight already, the rest of us silvers anglers would be fighting it out for third spot. With two hours gone and only a few pounds in the net, I decided to have a look at 14.5 metres, where I'd been firing maggots over since the start, a little earlier than I would have liked.
First put in I had a decent skimmer on single maggot which was a good sign but then it was back to catching smaller ones and I've bumped a few fish as well. It goes without saying that carp were being a pain and I hooked one that tore along the far bank and everything went slack, no worries, just put a new hooklength on, I shipped back to find the line had snapped above the float, great!
With a new rig on, I've gone back across and a few minutes later, the float has gone under and a decent skimmer leapt out of the water and straight round some vegetation on the far bank, it jumped again, snapping the hooklength in the process. My head was now well and truly done in!
We were now past the halfway mark and things would need to change drastically if I was going to do any good today. Nick was still catching some nice skimmers but had lost a big eel at the net, Jenny was getting odd fish but also suffering some carp problems.
I was still catching smaller skimmers and then had two decent ones around 1.5lb apiece which got me interested again. It wasn't fast and furious but I was getting some big skimmers although I've pulled out of a couple as well. On the whistle, I'd ended up with 35 skimmers, not as many as Sunday more of the better stamp fish.
After packing up, I went up to watch the weigh in, Rob Cox had 23lb 11oz on peg 37, Picky weighed 42lb 7oz on 39, Kev on 3 chucked back before Glynn had 12lb 7oz of silvers on peg 5. Darry Basstone on 7 then went into the lead with 79lb 9oz, Lee Walker on 9 had 39lb 10oz and then Dan P went into second place with 56lb 3oz on peg 11.
Toby Burrell on 13 was the new leader with 88lb 10oz and then Nick did well on 15 with 11lb 9oz of silvers. Jenny had 10lb 9oz of carp and 5lb 15oz of silvers, Mark didn't weigh and then my silvers went 15lb 8oz which put me in the lead but I knew it wouldn't last long.
Steve P had chucked back on 25 and then Lee on 28 had a brilliant 24lb 6oz of big skimmers and added 40lb 2oz of carp as well. Steve Collins on 30 had 98lb to go into the overall lead, Rob B also had a cracking net of silvers weighing 17lb 11oz and then Martin Addicott had 87lb 12oz on 34. Last to weigh was The Tart who had 72lb 13oz which included 8lb 8oz of silvers.
Overall
1 – Steve Collins (Summerhayes) – 98lb
2 – Toby Burrell (Summerhayes) – 88lb 10oz
3 – Martin Addicott (Taunton) – 87lb 12oz
Silvers
1 – Lee Smart (Summerhayes) – 24lb 6oz
2 – Rob Birch (Summerhayes) – 17lb 11oz
3 – Jamie Rich (Against Men and Fish) – 15lb 8oz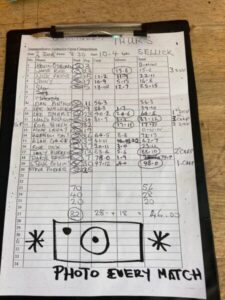 So after a frustrating day where I felt like waving the white flag at times I ended up third in the silvers and picked up £20. I also had a nugget off The Tart as we'd done it on our respective positions so the charity Nugget-O-Meter benefitted by £6 in total today (including the fiver from last week) and now stands at £73.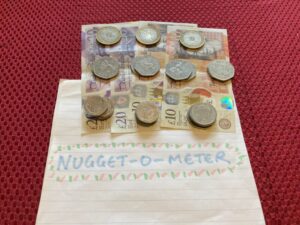 There's still a great offer running if you fancy treating yourself to some new fishing gear, use the exclusive discount code AgainstMenandFish10 to get 10% off when you shop online at Somerset Angling
I still have copies of my book available from eBay here or Amazon here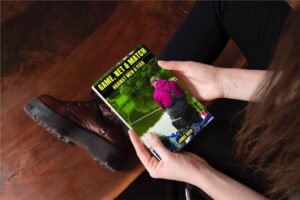 And if you could spare five minutes to leave a nice review on Amazon, it would be very much appreciated.
Next up – Summerhayes
Coming soon – Lots more match reports
Check Out – My last match (below)