For the Friday match we were back at Summerhayes and it was on Longs again with 17 booked in to fish today. With everybody arrived and pools paid, it was time for the draw, Pete delved in the bucket to pull out the golden ball and emerged with……. a little plastic dinosaur! Jess (Zooner) had just come back from holiday and brought a plastic bag of dinosaurs with him, it was like Bridgwater's answer to Jurassic Park in miniature. Would they all prove to be lucky?
The bonus peg was 19 which Nick got, as for me I ended up on 23 again. It was shaping up to be another hot day although some rain was forecast for later. When I got to my swim, there was loads of that horrible white fluff (the bane of anglers lives at this time of year) on the surface as well as loads of carp moving around (getting my excuses in early!).
No peg shot today (just have a look at yesterdays!) and the bait and rigs were the same apart from hook size, I went up to a 16 Guru F1 Pellet to 0.10mm after bumping a few fish the day before.
On the whistle I fed all the lines the same and started short but that's where the similarities to the previous match ended as I didn't have a bite on this line yesterday and today the float settled and went straight under with a small skimmer the result. A couple more followed and then I had a nice big 2lb leaper. I was getting regular bites and added a few more small fish but probably stayed on this line too long.
Glynn on 28 had landed a couple of decent fish and with Alex Kerr on 30 fishing across for carp and bagging with big skimmers, I was already falling behind so after an hour I moved to the 11.5 metre groundbait line. It was a bit of an anti-climax with just a few small fish and the inevitable carp. To my right, Nick, Jess on 17 and Kedgie on heli-pad 15 were all beginning to string some fish together, mostly fishing short.
The Tart wandered down and he was really struggling with just a couple of carp, I had a look on my five metre line but once again, I could only seem to catch little skimbobs. I was still loose feeding maggots right across but wanted to leave it a little longer before going over. Nick hooked and landed a big skimmer pushing 3lb much to The Tarts delight!
The 11.5 metre groundbait line was still painfully slow so I had a look on the micros line to the right but wasn't too hopeful as the day before I'd only caught a couple of little skimmers on it. After a little wait, the float buried resulting in a decent skimmer and I then had a decent spell, landing three more in quick succession.
We were now around three hours into the match and although Alex was still bagging on skimmers and carp, I felt there wasn't too much between Glynn, Nick, Jess and me and I still had my long maggot line to try and that had been really good yesterday. Well you can probably guess what happened next, I've gone over and trickled in a few micros and the first bite resulted in a small fish.
That white stuff was also starting to be a real pain as every time I shipped back it was taking me ages to de-fluff the rig. Trying 4mm expander to see if I could sort out some better skimmers just resulted in a carp and they were doing my nut in as well. I'd landed half a dozen and then hooked one that led me a merry dance and I was losing my patience with it, stripping elastic from the pulla bung, I thought I was winning the battle when the elastic snapped and I lost everything!
To be honest it was all downhill after that and I was either picking fluff off the line or tying new hooklengths on! On my right, they were all catching some nice skimmers short but I just couldn't catch at five metres and dropping in on the top two line, I had a couple of small fish before yet another pond pig tore off.
On the whistle, my clicker was reading 37 which was a similar number of fish to the day before but without as many better skimmers I knew I had nowhere near the 15lb 8oz I had yesterday.
The scales started with Terry 'The Toast' on 36 who had 40lb 12oz, Rob Birch on 27 weighed 7lb 11oz of silvers and then Kev Osbourne on 39 had 52lb 15oz. Mark Leahy was on 'Cyanide Straight' but with a bit of room, he did well catching 12lb 7oz of silvers and 44lb 14oz of carp.
Jim Jenner had 81lb 8oz of carp from peg 7 before Martin Addicott went into the overall lead on peg 9 with 106lb 13oz. It didn't last long though as Toby Burrell just pipped him with 108lb 6oz from peg 11 and then Tom Rattenbury on 13 had 11lb 4oz which included 6lb 1oz of silvers.
Steve Kedge on 15 weighed 50lb 8oz of carp and then added an excellent 18lb 8oz of skimmers, Jess 'Zooner' Jordan was next and went into the silvers pole position with 21lb 9oz of big skimbobs (taking a nugget off me in the process). Nick P also did really well with 15lb 10oz of skimmers and a nice crucian.
I didn't weigh my carp and then my silvers went 11lb 4oz, young McKenzie on 25 had 23lb 3oz of carp plus 2lb 10oz of silvers and then Glynn was next on 28, he weighed 13lb. We then got to Alex on 30 and he had a cracking net of fish, skimmers, perch and a big eel that looked to be getting on for 4lb. His weight was 26lb 2oz plus he had 71lb 3oz of carp for a total of 97lb 5oz.
The Tart was next on 32 and had found a few fish to weigh 71lb 8oz, Jack on 34 had 72lb 14oz to ensure The Tart was stopping at the chippie on the way home as he'd been 'battered' both sides.
Overall
1 – Toby Burrell (Summerhayes) – 108lb 6oz
2 – Martin Addicott (Taunton) – 106lb 13oz
3 – Jim Jenner (Summerhayes) – 81lb 8oz
Silvers
1 – Alex Kerr (Summerhayes) – 26lb 2oz
2 – Jess Jordon (Summerhayes) – 21lb 9oz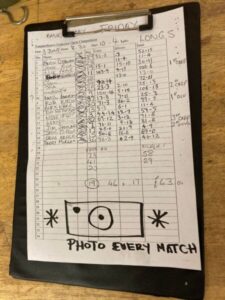 So a disappointing and frustrating day for me which had me wondering if Jess had given me a cursed dinosaur? Was this the end of my dinosaur luck?
There's still a great offer running if you fancy treating yourself to some new fishing gear, use the exclusive discount code AgainstMenandFish10 to get 10% off when you shop online at Somerset Angling
I still have copies of my book available from eBay here or Amazon here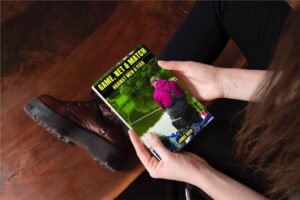 And if you could spare five minutes to leave a nice review on Amazon, it would be very much appreciated.
Next up – Thorney Lakes
Coming soon – Lots more match reports
Check Out – My last match (below)