For my fourth match in six days we were at Thorney Lakes for the next round of the Stoke AA Rose Bowl lake series. I had toyed with the idea of fishing on Saturday as well but after some carp carnage in the week, I needed to make some rigs up and put new elastics in etc. If I'm honest I was also flagging a little bit with early starts and long days, who knew match fishing was such an endurance sport!
The Breakfast Club met at the bowling club and it's always a lovely way to start the day with a great bunch of people, loads of laughs and nice Full English, what's not to like? Then we all headed to the venue, we'd had loads of rain in the night and as we drove through the lanes, there was plenty of evidence from last nights deluge with mud and debris all over the roads.
There were 24 booked in for this one which is yet another brilliant turnout as the club goes from strength to strength. Looking at the map of the pegs, I really fancied 13 or 14 on the island where The Grand Wiz and me had done well in the pairs. The draw time arrived and I delved into the bag of doom and grabbed a wooden disc, when I looked I was close with peg 12. It looked nice but a little narrower than the pegs to my left. For company I had Kev Francis on 13 and Rob Wylde was the other side on 11.
Knowing the venue is a similar depth to several others I fish regularly, the usual two Guru 0.3 gram AR's were set up for two lines at 11.5 metres, straight out and to the left. Both had size 16 F1 Pellet hooks to 0.10mm. This weeks side tray had maggots, casters, 2mm and 4mm expanders plus some Bait-Tech Special G Dark and The Juice groundbait.
On the whistle I potted in some groundbait with a few maggots straight out and then fed the left hand line more positively with three pots plus maggots and casters. Starting straight out with double maggot, I had a bite first put in from a small roach and then another next chuck so put on double caster to see if I could get something a bit bigger as bream and skimmers would be needed to do well in the silvers today.
I shipped out, toss potted in a little groundbait and the float hadn't even settled properly when it slid under, I struck expecting another small fish but was met with solid resistance. It didn't tear off and I fed the pole back carefully before a lovely big 4lb slab came to the top and into the net, a dream start.
I didn't have to wait long for the next bite but this time it was no bream, it felt like a decent carp which I thought I had under control but then it steamed off and the hook pulled out. When I hooked another carp next chuck, that I had on for ages before it did me under my keepnets, I was hoping it wasn't going to be one of those days! Another nice bream was my next fish followed by a lost carp and then two bream in as many chucks finished off a hectic first hour.
With four bream and a few bits in the net for 12-15lb after sixty minutes, I started to think a big weight was on the cards but it slowed up going into the second hour. Kev had landed a couple of lumps and I'd seen Rob reverse a foulhooked carp into the net. I was getting some lovely roach along with the odd rudd and then struck into a decent fish and knew straight away it was an eel. It was a decent one too, around a pound, which kept my catch rate ticking along nicely.
I decided to feed that line again and have my first look on the left hand swim, it took a little while to get a bite and I hooked a good fish but as I shipped back, it snagged me in the middle of the peg. Despite adding pole sections to change the angle, it was solid and eventually something gave and I came back with a branch on the hook. Next put in, the float sailed away and I was into another eel about the same size as the first but the hook pulled out at the net. No more bites so I refed it and went back to the line straight out.
The rest had done it some good as I had a big bream quite quickly, some more roach and then a nice perch around 10oz. 'Bagger' Burton over on peg 1 was netting fish regularly and it looked like he was catching decent bream, Kev was still hooking some rather lumpy carp but was practising catch and release with a few of them. As we passed the halfway mark, I had my sixth bream and not long after added a pound skimmer.
Rob was now fishing the feeder tight across and had started to catch carp on a regular basis. I had another look on the left hand line and hooked another decent bream but couldn't get it's head and sure enough it was foulhooked in the wing. Then it started lashing down and judging by the grey sky overhead we were getting wet for the remainder of the match.
My bites had now slowed right up, I tried soft pellet, single caster and maggot with just a couple of small fish on the latter. I tried potting in some more groundbait but that didn't really help and I struggled for the last couple of hours, I did hook a big carp that I had wallowing on the top but it made another run and came off. A few more decent roach came to double caster but with 'Bagger' still netting bream/skimmers and the odd carp, I was sure he was well ahead.
Rob had caught really well on the feeder in the second half of the match and I thought he'd be there or thereabouts. On the whistle, I'd ended up with 7 bream, a skimmer plus that perch, an eel and some quality roach and rudd. After taking some of my kit back to the car, I caught up with the scales which had started with Josh on peg 25, he'd weighed 29lb 2oz. The Grand Wiz had 33lb 4oz including 14lb 1oz of silvers and Jake Berkley on 23 weighed 20lb 5oz. Thanks to Mark Ragless for the photos*
Norts had 26lb 9oz on peg 22, Wayne C weighed 10lb 5oz and then Jenny on 19 had 2lb 14oz of silvers. Burnsey also had 2lb 14oz on peg 18 and then Roy 'The Bomb' Worth stormed into the lead with 97lb 7oz of mainly carp on peg 17. Nick P on 16 had 27lb 5oz which included a nice net of silvers weighing 15lb 1oz.
Andy S weighed 42lb 4oz which put him in second place so far, then Clifford on 9 didn't weigh and John D had a carp of 9lb 9oz on 8 before we crossed the bridge onto the island. Terry 'The Toast' weighed 17lb 13oz on peg 10 and then Rob W had done really well on the feeder to weigh 67lb 10oz. I was next and my silvers went 27lb 7oz which put me in the silvers lead for now, Kev weighed 36lb 3oz and Mike had 8lb 12oz.
Back across the bridge and Dave P was next, he weighed 7lb 11oz, Rob C on peg 6 had 8lb 4oz and Derek G had 15lb 14oz. Craig didn't weigh on 4, Steve 'The Pole' on peg 3 had 14lb 13oz which included 6lb 13oz of silvers and then Paul Blake went into second place with 80lb 2oz of carp. Last to weigh was 'Bagger' Burton, his carp net weighed 13lb 15oz and then he pulled out his first silvers net which went 6lb 3oz, as he pulled out his other bag of silvers, I realised it was going to be closer than I thought as he'd had quite a few skimmers rather than bream. It was called at 17lb 10oz which gave him a silvers total of 23lb 13oz.
1 – Roy Worth (Stoke AA) – 97lb 7oz
2 – Paul Blake (Stoke AA) – 80lb 2oz
3 – Rob Wylde (Stoke AA) – 67lb 10oz
4 – Andy Saunders (Sharp MG) – 42lb 4oz
Sections
A – Ian Burton (Stoke AA) – 37lb 12oz
B – Chris White (Stoke AA) – 33lb 4oz
Silvers
Jamie Rich (Against Men and Fish) – 27lb 7oz
I picked up £30 for winning the silvers and I have to say Mark is doing a fantastic job at Thorney, he's putting in loads of hard work and effort to create a cracking fishery with a nice head of quality silvers alongside the carp.
The Breakfast Club had all bunged a nugget in the pot for the top weight which was the Grand Wiz but he very generously said to add the £7 to the charity Nugget-O-Meter and along with another £3 from various previous side bets, the pot benefitted by a tenner and now stands at a very nice £83.
There's still a great offer running if you fancy treating yourself to some new fishing gear, use the exclusive discount code AgainstMenandFish10 to get 10% off when you shop online at Somerset Angling
I still have copies of my book available from eBay here or Amazon here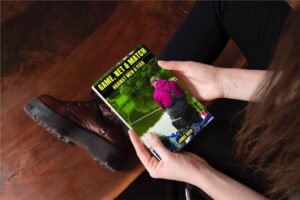 And if you could spare five minutes to leave a nice review on Amazon, it would be very much appreciated.
Next up – Coombe Farm
Coming soon – Lots more match reports
Check Out – My last match (below)