For round two of the IAA Spar sponsored Summer League, we were swapping lakes and after Jake's fantastic 75lb weight of skimmers in the last round, those of us on the bottom lake this time were hoping it would fish as well again.
After another excellent breakfast at the bowling club, it was time for the draw starting with the anglers on the Main Lake. My name was first on the list, 'The Wheels of Doom' spun into action and peg 9 on the far side was my home for the day. For company I had Tony C on my left and Nick the other side on peg 8.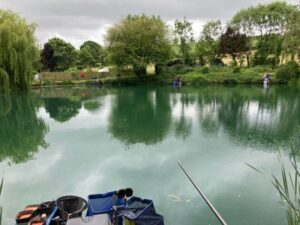 Rigs for today were two 0.4 gram floats for top two plus two and 11.5 metres and also a 0.3 gram Guru F1 Wire Slim with spread shot. I had loads of bait with me, four pints of maggots, casters, micros, expanders plus Bait-Tech Special G F1 and Pro Nat Dark.
In the last match, Jake had caught on a short line so when the whistle went I fed a single ball of groundbait at 11.5 metres and then three packed with casters and maggots on the top two plus two line. The plan was to start long and give the shorter line time to settle. First put in, the float settled and after a minute or so, it slid under and I was into my first fish, a small skimmer. I've shipped back out and had another next chuck, it was solid!
Nick had started short and was also catching a fish a bung which was obviously quicker than having to ship in and out 11.5 metres of pole. Not wanting to fall too far behind, I've had a look on my short line after about 15 mins and the float's gone straight under. I was catching skimmers and some gorgeous crucians between 4-8oz along with a couple of 1.5lb tench that gave me the run around on light elastic.
It was already starting to look like a fish race and at this early stage, by my reckoning, Nick was ahead of the chasing pack as he'd caught some better 3lb bream/skimmers. I had 30 fish after an hour and the second hour was similar with a couple more tench and decent skimmers. In a bid to try and catch some better fish, I tried caster and expanders and caught a few but was waiting too long for bites.
Tony on my left was catching well and I could see 'Bagger' Burton on peg 7 netting fish regularly but I felt I was doing okay. It was close between Nick and me but he was staying a few fish in front and I couldn't close the gap. Terry 'The Toast' on peg 6 at the shallower end had slowed up after a decent start and was now fishing for carp as the pay out was for the top three silvers and carp weights.
As we passed the halfway point, we were still catching well but the fish were coming in spells. I'd landed a few more tench plus several of the bigger 3lb skimmers and it was all getting rather close between Nick and me. Then with an hour left, the pond just switched off, I tried the long line again but had no bites there, going a section past my short line had the same result and even the lighter 'hairy fairy' rig only produced one bite which I missed.
Nick did strike into a fish that turned out to be a big eel around 3lb that he did well to land, then not long after he added a nice tench whereas I only managed a couple of tiny skimmers. My final tally was 141 fish (skimmers, crucians, six tench and four nice bream) and it had been a fantastic days fishing although I was pretty sure Nick had beaten me.
I packed up and went round to start the weigh in with the Grand Wiz on peg 1, he had 19lb 5oz of silvers plus a 5lb 12oz carp which would probably see him frame as not many carp had been caught over the two lakes. Parker 'The Pole' had a lovely net of silvers weighing 26lb 3oz and then Dave P had some nice bream for 19lb 5oz.
Andy S on peg 4 had the best silvers net so far with 39lb 3oz, Terry had 8lb 9oz of silvers but also had two nice carp for 11lb 11oz which put him in the carp lead and then 'Bagger' Burton had caught silvers well including some bream and an eel for 38lb 4oz. Then we got to Nick and after three weighs, his total was a brilliant 69lb 7oz.
I was next and my first two nets went 41lb odd which meant I needed 29lb in my third net and I knew I didn't have that, 22lb 5oz gave me a total of 63lb 6oz. Last but not least was Tony C who also had a lovely day's fishing to weigh 35lb 6oz.
Neil Purchase had the best weight on the top lake with seven tench for 13lb 7oz plus a carp of 5lb 9oz, Leighton was second with a nice net of tench and crucians for 15lb 9oz and Jake had 8lb 15oz of tench and eels. Norts had 5lb 6oz of tench, Rob weighed 4lb 5oz, Fieldy had 4lb 2oz and Dave Phillips didn't weigh. Thanks to Jake Woodard for the photos*
Silvers
1 – Nick Payne (Ilminster) – 69lb 7oz
2 – Jamie Rich (Against Men and Fish) – 63lb 6oz
3 – Andy Saunders (Sharp MG) – 39lb 3oz
Carp
1 – Terry Morgan (Ilminster) – 11lb 11oz
2 – Chris White (Ilminster) – 5lb 12oz
3 – Neil Purchase (Ilminster) – 5lb 9oz
The scoring system for the league is a point per ounce for carp and three for silvers with four matches from five to count. After two rounds (with both results counting), the league table looks like this,
Jake Woodard – 4060 pts
Jamie Rich – 3573 pts
Nick Payne – 3333 pts
Andy Saunders – 2034 pts
Chris Norton – 1969 pts
Ian Burton – 1836 pts
Graham Field – 1758 pts
Neil Purchase – 1745 pts
Tony Coubrough – 1698 pts
Leighton Cox – 1685 pts
Steve Parker – 1521 pts
Chris White – 1446 pts
Rob Cox – 1285 pts
Dave Pope – 1008 pts
Terry Morgan – 598 pts
Dave Phillips – 587 pts
Jenny – 456 pts
Five of us bunged a nugget in the pot, winner takes all which Nick donated to the charity Nugget-O-Meter which now stands at £88, Thanks Nick!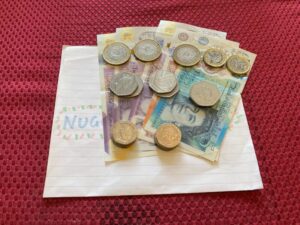 There's still a great offer running if you fancy treating yourself to some new fishing gear, use the exclusive discount code AgainstMenandFish10 to get 10% off when you shop online at Somerset Angling
I still have copies of my book available from eBay here or Amazon here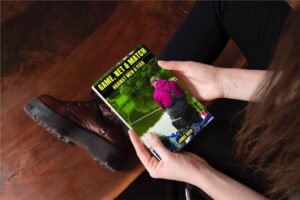 And if you could spare five minutes to leave a nice review on Amazon, it would be very much appreciated.
Next up – River Parrett
Coming soon – Lots more match reports
Check Out – My last match (below)