I always look forward to the Stoke river matches getting underway, it's a lovely bit of water and even though 3-4lb is a normally a good weight, it's really enjoyable fishing. The first round of the six match series is an evening match on the Saturday and with the draw at 14:45, it gave us chance to meet for lunch at the bowling club (thanks to Terry for arranging). Charlotte did us proud, I went for the cottage pie which was bloody lovely!
We then headed to Martock for the draw, since I started fishing the Stoke matches at Parrett Works, I've always been in the second field but I did say I wouldn't mind peg 16 in the lower numbers as Steve P lost several chub in there last year. I stuck my hand in the bag and when I looked, I'd only gone and drawn it! We're allowed to park in the field so it was only a short walk and my swim did look gorgeous but then they all do.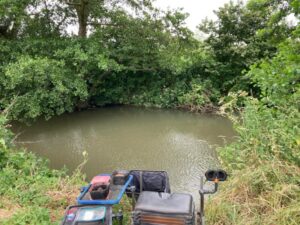 Danny B was on 17 and I had Dave H on my right with Steve P next to him. I set up a gram bodied rig for down the middle with size 18 Guru Match Special to 0.10mm and a similar float but 0.75 gram for fishing across to the far bank cover. Nice and simple side tray with maggots, casters and Bait-Tech Super Seed hemp.
On the whistle I cupped in half a pot of hemp with a few casters at 8.5 metres down the middle and started with single red maggot on the hook. There was hardly any flow and the float was barely moving through the swim. Dave above me got off to a great start with a decent roach and a nice dace. It took a while to get my first bite which came quite a way down the peg and was from a chunky little 2oz roach.
Next put in I had a gudgeon and was getting a few indications, on the next run through, the float buried right over the feed and on the strike, number five Dura Slip elastic streamed from the pole tip. I swung the pole tip round parallel to the bank and shipped back to the top kit. Using the pulla kit, I stripped some elastic out and the fish wasn't doing too much in the deep water before a nice chub around a pound and quarter came to the top and I safely netted it.
With nearly a pound and half in the net and only fifteen minutes gone, I was off to a great start, things got even better when I had another chub of a similar size a few minutes later. There were obviously some fish there as I hooked another good fish not long after but disaster struck when I went to ship back and the hook pulled out! I was a bit worried that would spook them but an 8oz chublet settled the nerves and I was up to 3lb or so and we hadn't been fishing half an hour yet, surely this couldn't last!
The next chub tore off and despite throwing the pole back behind me, it snagged me but adding some sections and changing the angle of the pressure, it came out and I netted one of 1.5lb. With only an hour on the clock and nearly 5lb in the net, I'd already passed my target weight and couldn't quite believe what was happening.
The second sixty minutes was also really good and I added another decent chub, two chublets plus a couple of dace and some gudgeon. Then in a carbon copy of this match last year, the heavens opened and it lashed it down. I was feeding hemp and caster across but wanted to leave it as long as I was getting odd bites down the middle.
Approaching the halfway point of the match, I'd just landed my fifth decent chub when Neil P turned up to see how we were doing. I had a couple of gudgeon while he was there and then bumped what felt like a good fish. With the rain getting worse (and we even had some thunder and lightening, which thankfully was short lived), Neil headed off home to the warm and dry.
After bumping that fish, bites dried up down the middle so with around two hours remaining it was time to have my first look across. I didn't start tight across to begin with and was inching the rig through, a positive bite after a few minutes resulted in a minnow. Next chuck, a similar indication resulted in a little bit of black hydro showing itself and I netted a nice 6oz roach. A small dace followed and then one requiring the net and I was really enjoying myself.
Bites slowed up again so I went tighter to the far bank cover, the float sailed away and I netted another nice chublet. As soon as I hit the next bite, I knew it was a better fish and plunged the pole tip under the water and threw the pole back, with pretty robust gear on, it didn't give me any problems and I netted another nice chub. I had chub number seven before it slowed up again, I was just thinking about resting it and having another look down the middle when the float dipped and started moving upstream, I struck and after a brief scrap, landed chub number eight.
There was still over half an hour to go and I thought there was a chance of a couple more but the light was fading fast and I was struggling to see the float. I decided to have another go down the middle but no more bites and I spent the last fifteen minutes across but didn't have anything else. My final tally was 37 fish (8 chub, 4 chublets plus roach, dace and gudgeon), I also had a few minnows which I didn't count.
After packing up, I walked up to give Bob a hand with the weigh in, he'd done well again and weighed 2lb 12oz of mainly dace. Nick P on 7 had 2lb 3oz including an eel and then the Grand Wiz on peg 9 had three chub and some bits for 4lb 14oz but had lost a 5-6lb carp at the net! Wayne C had 1lb 5oz which included two eels, Steve P chucked back on 13 and then Dave H weighed 2lb 9oz above me.
I was next and my fish went 12lb 4oz, as there's a trophy for the best chub, one of mine was 1lb 7oz but I'm sure that will get beaten over the next five matches. Danny B was the last peg in our section and weighed 1lb 13oz but had lost a decent chub.
The other section was hard going for most, Chris Deedee had the top weight with 2lb 12oz from peg 28 followed by Cliff with 2lb 2oz, Russ had 1lb 11oz on 29, Derek weighed 1lb 6oz, Norts had 1lb 5oz, Terry 'The Toast' on 23 weighed 1lb 4oz and Dave P had 11oz on 25. Thanks to Russell Hilton for the photo*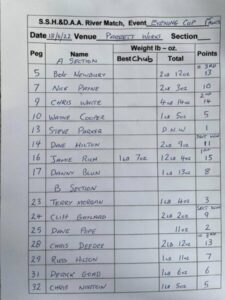 1 – Jamie Rich (Against Men and Fish) – 12lb 4oz
2 – Chris White (Stoke) – 4lb 14oz
3 – Bob Newbury (Stoke) – 2lb 12oz
3 – Chris Deedee (Stoke) – 2lb 12oz
Sections
A – Dave Hilton (Stoke) – 2lb 9oz
B – Cliff Gaylard (Stoke) – 2lb 2oz
I picked up £45 for winning and we had a tenner in the side bet pot which I added to the charity Nugget-O-Meter and along with a nugget from Terry for last week, it now stands at £99 and is building nicely.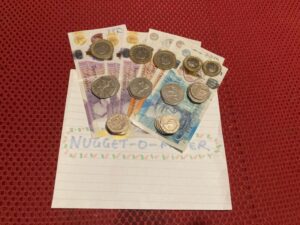 What a lovely day (apart from the weather!), from lunch at the bowling club with a great bunch of lads and lots of laughs to a fantastic evenings fishing, it doesn't get much better than that. I bang on about these matches a lot but they're normally really tight affairs with a fish or two making all the difference. Take this one, there was just 15oz separating third and eighth place and with 3lb normally there or thereabouts, lots of the swims are capable of doing that.
There's still a great offer running if you fancy treating yourself to some new fishing gear, use the exclusive discount code AgainstMenandFish10 to get 10% off when you shop online at Somerset Angling
I still have copies of my book available from eBay here or Amazon here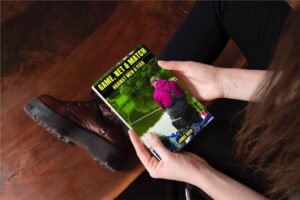 And if you could spare five minutes to leave a nice review on Amazon, it would be very much appreciated.
Next up – Hebditch's Pond
Coming soon – Lots more match reports
Check Out – My last match (below)