After a lovely evening on the Parrett, I was hoping for more of the same in the charity match the following day on Hebditch's Pond. After not that much sleep, The Breakfast Club assembled at The Airfield Tavern in Yeovil, the food was good and the banter even better as The Grand Wiz recounted (several times), the tale of the lost river carp.
With our bellies full, we then headed to the memorial hall to meet the others for the draw. There were some new faces fishing the pond for the first time, Dan Squire (fresh from his second place in the latest Fish O qualifier, just 8oz behind a certain Mr Power), Craig Lytlle and Paul Blake.
Leading up to this match, I'd been joking that peg 3 was going to be mine again after drawing it three times on the trot. Peg 4 used to be the best peg on the pond and is still very good but the swim next door now seems to be the place to be. Chris announced the draw but before I even stuck my hand in the bag, Harry had already drawn it. I pulled out number 11 which hasn't been great in recent matches, Norts was on 12 and Nick was the other side in 10.
Blaker was in 1 with 'Bagger' Burton on 2 and then Craig had drawn the famous peg 4 on his first visit with the very sexy Steve Chant in 5 (a peg I've still never drawn). Dan was on 6, Grand Wiz in 7, Parker 'The Pole' on 8 and Terry 'The Toast' was on peg 9.
I set up the usual 0.6 gram Drennan AS5 Pencil float to fish two lines at 11.5 metres, one with micros and corn and the other with groundbait and maggots plus a Drennan Crystal Dibber for fishing shallow. On the side tray I had several pints of reds, casters, corn, micros, 6mm's and Bait-Tech Special G Dark and The Juice groundbait.
On the whistle I fed the longer lines before starting with corn over the micros, before I'd even finished feeding Dan was landing his first carp and had three in quick succession to get off to a great start. First put in, my float went under and I had a nice roach and with Harry, Craig and Chanter all into carp, I was already thinking silvers might be my best bet today.
The first two hours are normally really good before the pond switches off but I was already in trouble, with Dan catching well, I thought he was fishing shallow so had a go with the dibber rig and 6mm banded pellet but never had a bite on it. I finally had my first carp, a nice 3lb fish after about half an hour on corn over the groundbait line but it just wasn't happening and losing the next carp at the net didn't help! A couple more nice roach on corn made my mind up to fish for silvers as with an hour gone, I was already a long way behind Harry, Craig, Chanter and Dan.
With double and treble maggot on the hook, it was a bite a chuck from small roach and rudd but I was missing loads of bites and half of those I hooked were coming off on the way in. I couldn't see Norts next door but he said he was struggling as well, 'Bagger' Burton on peg 2 was now fishing the whip and catching lots of small fish so I needed to catch some skimmers if I was going to beat him.
Several times on the groundbait line, I've had what looked like really good bites only to strike and find myself attached to twigs and branches. By now we were past the two hour mark and as per usual, the pond has switched off (although it never really got going at our end!) but pegs 3 to 6 were still getting the odd fish. The pile of branches behind me was starting to grow, so in a bid to make something positive happen, I fed two balls of groundbait on the micros line. I was still having problems with small fish on maggot and if I put corn on, I was waiting ages for bites and missing most of them, which I think were small roach or tiny carp as I'd caught a couple around an ounce apiece.
Trying double caster, the small roach were still being a pain but then I've finally caught a nice skimmer and when I've had two more quite quickly, with nearly three hours remaining I thought I might still be able to do a decent silvers weight. But then as soon as they'd arrived, they were gone again and it was back to catching small roach, the odd little carp and I even started hooking more branches on this line. Norts was having the same issue and even asked if I was chucking the twig back in for him to catch!
To be honest I was at a bit of a loss and didn't know what to do next, I went back to fishing maggot catching small roach and limped towards the end as my match fizzled out. I finished up with 50 silvers which included three nice skimmers plus a handful of little carp.
After packing up, I went to help with the weigh in and get some photos, Blaker on peg 1 had struggled for 4lb 9oz, 'Bagger' Burton had 2lb 9oz of carp and then loads of little roach and rudd for 5lb 15oz which I thought would win the silvers.
Harry on peg 3 had done brilliantly despite some elastic problems and after three weighs, his total was 67lb 13oz, Craig on 4 had 43lb 9oz and then Chanter weighed 35lb 1oz. Dan was next and went into second spot with 55lb 12oz, The Grand Wiz weighed 21lb 15oz and then Steve 'The Pole' had 7lb 2oz from peg 8.
Terry 'The Toast' on peg 9 weighed 35lb 15oz and then Nick on 10 had three lovely chub and a few bits to weigh 6lb 14oz of silvers. I was next and my carp went 7lb 15oz before my silvers added 5lb 2oz to give me a lowly 13lb 1oz. Norts had struggled as well, weighing 8lb 13oz so our end hadn't been great today.
1 – Harry Hebditch (Stoke) – 67lb 13oz
2 – Dan Squire (Mosella) – 55lb 12oz
3 – Craig Lyttle (Stoke) – 43lb 9oz
4 – Terry Morgan (Stoke) – 35lb 15oz
Sections
A – Steve Chant (Somerset Rig Company) – 35lb 1oz
B – Chris White (Stoke) – 21lb 15oz
Silvers
Nick Payne (Stoke) – 6lb 14oz
So another lovely day with a great bunch of lads, the fishing was a bit of a struggle for some of us but these matches are all about raising money for the Oncology Unit at Yeovil Hospital and with some of the anglers giving their winnings back plus donations from others and an anonymous donor of £30, a mega £300 was raised on the day and the total so far is £626 which is just fantastic and says a lot about the guys that fish these charity fixtures.
Harry also won the £6 in the side kitty which he very kindly donated to the Nugget-O-Meter, the running total now stands at £105 which is just brilliant. When I started doing it in November as my own little tribute to my dad, I was hoping I might get to £100 after 12 months so to pass it with five months to go is awesome, I'd love to get to £200 next. So a huge thanks to everybody who has paid me a quid or taken a quid off me and handed it back, it's all for a great cause as it will go in the Stoke AA charity pot in November.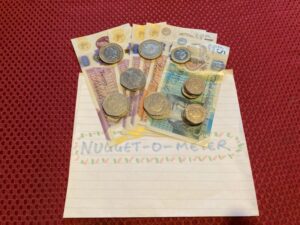 As always, a massive thanks to the Hebditch family for allowing us to use their lovely pond, Harry and the others who went out strimming the pegs and path and The Grand Wiz for his faultless organisation and passion for a very worthwhile cause close to his heart.
There's still a great offer running if you fancy treating yourself to some new fishing gear, use the exclusive discount code AgainstMenandFish10 to get 10% off when you shop online at Somerset Angling
I still have copies of my book available from eBay here or Amazon here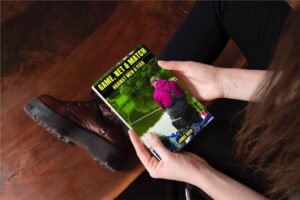 And if you could spare five minutes to leave a nice review on Amazon, it would be very much appreciated.
Next up – Stoke v Ilminster
Coming soon – Lots more match reports
Check Out – My last match (below)