I was really looking forward to the start of our Summer League, which this year is being sponsored by the Spar in Ilminster, so a massive thanks to them for supporting us. We were fishing a new venue in the shape of Coombe Farm who were letting us have a five round series. In the exploratory match back in February, it had been awesome with loads of skimmers along with odd crucians and tench, I managed to finish second with 40lb just a pound behind Dave Pope who was the only angler to catch any carp that day.
For the league, they were also allowing us to use the top lake which isn't normally fished and was a bit of an unknown quantity. By all accounts it contained some big carp along with tench and crucians but no skimmers. I wasn't sure it would be able to compete with the Main Lake for silvers but as the pay out for the matches would be top three silvers and top three carp weights, I was hoping the Top Lake would do well with the latter.
Up before my alarm, I arrived at the bowling club early and there were already several people there. Breakfast was lovely and then after everybody else had arrived it was time for the 'Wheels of Doom' which Rob got me to be in charge of. There were a couple of anglers who couldn't fish today so the match would be split equally with seven on each lake. My name was first on the list and I really wanted to be on that bottom lake (pegs 1-10), I spun the wheels and it came to a stop on peg 17 – bugger!, my dinosaur had malfunctioned again.
After a short drive, we arrived and I saw the Top Lake for the first time, it certainly looked the part with an island, reed beds and as I took my kit to the peg, there were quite a few lumpy carp cruising around. Andy S was on 16, with Parker 'The Pole' next door, Grand Wiz on 14, Nick and Jenny were on 13 and 12 and Dave P was on 11 opposite me.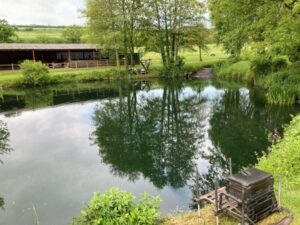 I set up three rigs, a Drennan Crystal dibber for fishing shallow and mugging, a 0.4 gram float for 8.5 metres in front and lastly a little float to fish down the margin to my right. The side tray was pretty loaded down with maggots (dead and alive), casters, micros, 6mm's, expanders plus some Bait-Tech Special G F1 and Pro Nat Dark that was intended for skimmers on the Main Lake but would now be fed in the edge.
On the whistle I fed some micros and dead maggots at 8.5 metres and began pinging some pellets at 11.5 metres to my right although those early cruisers had disappeared so I started with the depth rig. It's always exciting waiting for the first bite at a new venue and I was expecting it not to take very long before the float disappeared from view. When ten minutes passed and nobody had caught or even had a bite yet, I knew we wouldn't be competing with the bottom lake on silvers.
Then Steve P struck into a fish which turned out to be an eel and then Jenny had one before 'The Pole' had another which performed a Houdini escape from his landing net. The Grand Wiz got off the mark with a nice tench and then Jenny had a second eel. After thirty minutes or so, I finally had a bite which resulted in a lovely 2lb tench in immaculate condition.
Another followed not long after and then I had a big eel of a pound or so, Jenny had also landed a couple of nice tench although Nick, Dave and Andy hadn't caught yet. It wasn't fast and furious but over the next hour or so, I added another smaller tench and two more eels, the trouble was, to do any good we needed to catch carp as I knew they'd be catching skimmers on the other lake. It also started to rain, which cheered Andy up as he didn't have a coat with him!
I was waiting longer and longer for bites so potted in some groundbait on the margin line and would try it shortly. First put in, I had a bite after around ten minutes and hooked a chunky little crucian which came off as I shipped back. No more bites so I fed it again and had a go with the shallow rig but with the rain lashing down, it was a waste of time.
With about two hours of the match to go, everyone had caught at least one tench but still nobody had hooked one of those elusive carp. I was back on the 8.5 metre line with double maggot on the hook when the float sailed away and on the strike elastic streamed from the pole tip, this was no tench or eel! The fish headed towards the island and then turned left steaming down the lake, this was the carp I needed and I was pretty confident with a size 16 Guru Kaizen hook to 0.15mm at the business end.
It went past Andy and was showing no signs of stopping, then as it decided to visit Steve, I felt something give and the rig flew back at a rate of knots and spangled round my pole tip! That was a big fish and I knew my chance of a result had gone. With a new hooklength on, I managed another nice tench and an eel but as I needed a carp I've gone back up the edge but still no more bites.
The Grand Wiz then hooked into a decent fish and did well to land a nice carp that would probably get him in the money today. I swapped between the edge and my 8.5 metre line for the last half an hour but had no more bites. GW was soon round with the scales and my four tench and six eels went 11lb 1oz, Andy had two tincas for 3lb 3oz and then Parker 'The Pole' weighed two tench and three eels for 5lb 8oz.
Next was Grand Wiz and his carp weighed 7lb 9oz and four tench added 6lb 6oz, Nick had two tench for 3lb 10oz, then Jenny did really well to weigh 9lb 8oz which was six tench and two eels and Dave P had one tench for 1lb 11oz.
As expected the other lake had produced some brilliant weights of skimmers with Jake leading the way with a stunning 75lb 5oz, Norts had a decent carp plus a couple of small ones for 8lb 5oz which was the best carp weight on the day and for good measure he weighed 32lb 14oz of silvers as well. Fieldy had 24lb 8oz of silvers, Neil P had 20lb 9oz, Rob weighed 21lb 5oz of silvers and also had 3lb 7oz of carp, Leighton had 19lb 6oz of silvers and Dave Phillips weighed 11lb 8oz of skimmers along with a carp of 2lb 3oz. Thanks to Chris Norton for the photos*
Silvers
1 – Jake Woodard (Ilminster) – 75lb 5oz
2 – Graham Field (Ilminster) – 24lb 8oz
3 – Neil Purchase (Ilminster) – 20lb 9oz
Carp
1 – Chris Norton (Ilminster) – 8lb 5oz
2 – Chris White (Ilminster) – 7lb 9oz
3 – Rob Cox (Ilminster) – 3lb 7oz
The scoring system for the league will be a point per ounce for carp and three for silvers with four matches from five to count. After round one, the league table looks like this,
Jake Woodard – 3631 pts
Chris Norton – 1711 pts
Graham Field – 1560 pts
Rob Cox – 1078 pts
Neil Purchase – 1011 pts
Leighton Cox – 938 pts
Dave Phillips – 587 pts
Jamie Rich – 531 pts
Jenny – 456 pts
Chris White – 427 pts
Steve Parker – 264 pts
Nick Payne – 174 pts
Andy Saunders – 153 pts
Dave Pope – 81 pts
So I'm only 3100 points behind Jake after the first match! We swap lakes for the next round so it'll be interesting to see how the lakes fish then, will more carp show on both lakes?, will anybody beat Jake's weight?, will Andy remember to bring a coat? will my dinosaur regain it's mojo?
On our lake, we'd all bunged a pound in the pot and when I went to give it to the Grand Wiz after the match, he said to add it to the Nugget-O-Meter charity fund which now stands at £65. Very generous and a lovely gesture mate, thank you.
There's still a great offer running if you fancy treating yourself to some new fishing gear, use the exclusive discount code AgainstMenandFish10 to get 10% off when you shop online at Somerset Angling
I still have copies of my book available from eBay here or Amazon here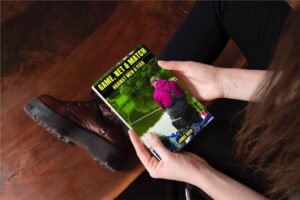 And if you could spare five minutes to leave a nice review on Amazon, it would be very much appreciated.
Next up – Avalon
Coming soon – Lots more match reports
Check Out – My last match (below)