I booked a couple of days off work as it was my birthday on Monday (hard paper round I know!) and I fancied another trip down to Revels the following day. Last Tuesday I was the first to arrive so top of the list which meant first out of the bucket and got drawn peg 14. This week, I had a more leisurely breakfast and got there a little later hoping that when it got to me, the carpy pegs would have already gone.
There was another great turnout of 19 anglers including quite a few new faces this week. The draw got underway and the first ball out of the bucket was number 14 again. Then 12 went followed by 10 and 16 so all the pegs I didn't want had gone. When it got to me I was sure I was destined to be heading to Dead Tree (well surely with my lucky dinosaur and it being my birthday fishing trip, it was written in the stars!).
My name was called out and it was time, here we go I thought, a ball was plucked out and I was on……. peg 11! That wasn't in the script and I'd actually forgotten about that one, out of 19 pegs, there were only 6 I didn't want and my drawing arm seems to be having a malfunction where Revels is concerned. I would still have a go for silvers as Rich Chave had over 17lb from peg 10 a few weeks back.
The swim looked nice, an end peg up an arm of the lake and although there were some decent silvers topping, big ominous dark shapes could also be seen cruising around. I set up two 0.3 gram Guru AR's plus a little 0.25 gram F1 Carbon Slim with spread shot to fish through the water. After the last match where I fished for carp for the first half an hour and it probably cost me third in the silvers, I was being single minded today. On the side tray I had maggots, casters, pinkies plus some Bait-Tech Special G F1 and Pro Nat Fine Lake Dark.
The whistle went to get us underway and I fed two lines at 10 and 11.5 metres, left and right with some loose groundbait and casters to the right on the top two plus two line. Starting on the 10 metre line it took a little while to get my first bite which was from the usual little perch. More followed along with gudgeon and rudd but the lack of quality was a bit worrying.
I did manage a couple of better perch and rudd on caster but as we reached the 90 minute mark, I still hadn't had a skimmer although I had caught my usual non-counting crucians and a 2lb F1/carassio thing that seems to follow me around. Swapping between the two longer lines I did finally get a couple of 2-4oz skimmers and was catching quite well, albeit mainly smaller fish.
It sounded like it was fishing quite hard with nobody really bagging apart from Steve Nadin on peg 8 who had landed some decent carp and was having a rather eventful day, he'd already dropped his phone in the lake and unbeknown to him at this point, that was just the start of it! Steve Sudworth next door on peg 10 had a couple of early carp but had slowed up.
As the halfway point approached, the wind got up and from being a nice day, it was a now a real struggle to hold the pole and it got blown off my rollers a couple of times. I started getting the odd better skimmer but I was also now hooking more and more carp with most beating me right up in the reeds. Dave Stanbridge who was on 16 came for walk and said everybody was struggling, even up on Dead Tree apart from Bob Crisp who was catching some silvers.
I'd just landed a small carp of a pound or so and flicked the rig in so I could ship back out when I looked up and elastic was streaming from the pole tip, a carp had grabbed the bait just off the end of my keepnets and it wasn't a small one! I wasn't holding out much hope of landing it on light gear but slowly I began to get the upper hand. Steve C who was on peg 6 wandered over and said he was struggling with seven skimmers, he watched me fanny about with my light elastic for a bit before getting bored and heading back to his peg.
Eventually I landed a decent fish that was 8lb+ and it did cross my mind that perhaps I should actually fish for them but remembering that last match I stuck to my guns as although I wasn't catching loads of skimmers, they were a decent stamp and I also had a really nice 10oz roach so if it was fishing hard I thought there was a chance I might sneak in with a lower weight.
With around two hours to go, there was a bit of a commotion from my left as Steve N was into a carp and his top kit came off, it was heading along the far bank in my direction and Steve came hurtling past me and around the pond to where the sections were opposite peg 10. He couldn't quite reach them and as the fish started pulling them under, Steve didn't hesitate and went straight in the pond head first! Fair play he retrieved the sections, minus the fish although he was in for a rather cold remainder of the match.
I was still getting odd skimmers but carp were being more and more of a problem as we reached that time of day. Steve S next door started getting a few on his pole line and the 'fun' continued for Steve N when he snapped a number four section and I think he was relieved to hear the whistle to end the match! My clicker was reading 44 silvers plus I had around 10 carp and crucians.
The scales arrived at Rich Butler on peg 2 and I had a quick look at the weigh board, there were some good silvers weights on Dead Tree with John Bass leading with 14lb 10oz followed by Whiskey Haig with 13lb 5oz and Bob Crisp who had 12lb 3oz. I knew I had nowhere near that and with Steve Crowford leading overall with just 22lb 8oz from 22, I could have done with a couple more of those carp.
Rich weighed 20lb 10oz which put him in second place so far and then Terry Dell on peg 4 had 9lb 14oz of carp. Steve C on 6 had chucked back and then Paul Wyatt on 7 went into the lead with 32lb 6oz but he'd lost a fair few carp as well. Then we got to Steve N on peg 8 and after all his fun and games, his two nets of carp went 73lb 11oz which was a great weight on the day and would win comfortably.
Steve S weighed 22lb 8oz which put him joint third and then it was my turn and I was sure I was going to fall just short again. My carp went 15lb 10oz and then my silvers added 7lb 14oz to give me a total of 23lb 8oz and I'd actually gone into third spot with six pegs to go. Neil on 12 didn't weigh, Dave had 3lb 15oz on 14, Dave S and Jonny on 16 and 18 recorded DNW's, Alan W weighed 8lb 10oz of silvers on 20 and then Terry on 21 had 22lb 15oz. So I'd actually sneaked third spot and picked up £20.
Overall
1 – Steve Nadin (Revels) – 73lb 11oz
2 – Paul Wyatt (Revels) – 32lb 8oz
3 – Jamie Rich (Against Men and Fish) – 23lb 8oz
Silvers
1 – John Bass (Revels) – 14lb 10oz
2 – Whiskey Haig (Revels) – 13lb 5oz
3 – Bob Crisp (Revels) – 12lb 3oz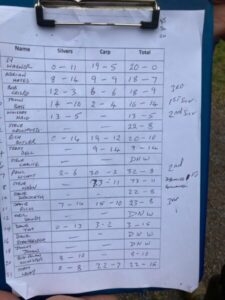 Another intriguing match really, take Steve's weight out of the equation and it was a really close frame with only 2lb 7oz separating the top three silvers and overall there was just a pound between 23lb 8oz in third place and sixth (22lb 8oz) with further weights of 20lb 10oz, 20lb and 18lb 7oz, that's effectively one carp the difference between seven places. Part of the reason why I love Revels so much is that every match is different and unpredictable and you're nearly always in with a shout. Today was a good example, I'd drawn a great carp peg (and a decent carp angler would have done a much better job than I did) but I still snuck in the frame fishing for my preferred silvers.
In the last match everyone was predicting the top silvers weights would come from Dead Tree but in the event, three of the four best weights came from Main whereas today, all the leading weights did indeed come from Dead Tree. On a personal level, I'm not getting things right at the moment. In the last match at Revels I tried being clever fishing for carp at the start and it cost me, at Higher Farm, I messed up a match winning peg and then today I should have fished for carp (even for part of the match) as second was definitely achievable.
Yet despite fishing like a clampit I still picked up in two of those matches and I like to think my lucky dinosaur is looking after me!
There's still a great offer running if you fancy treating yourself to some new fishing gear, use the exclusive discount code AgainstMenandFish10 to get 10% off when you shop online at Somerset Angling
I still have copies of my book available from eBay here or Amazon here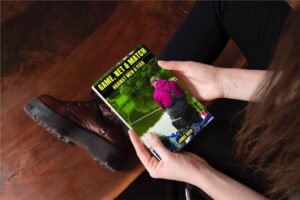 And if you could spare five minutes to leave a nice review on Amazon, it would be very much appreciated.
Next up – IAA Summer League
Coming soon – Lots more match reports
Check Out – My last match (below)