It was back to Summerhayes on Sunday with another great turnout of 28 anglers, Pete got the draw underway starting with the golden peg which today was number 19, a really good area for silvers. It was still in the bucket when my name was called out but I ended up on 26 towards the bottom end of the pegs along the track.
Once again, I had Geoff 'The Garlic Muncher' Young on the next peg but thankfully he'd left his stinky pellets at home this week. The rest of The Breakfast Club were all in close proximity to each other with Parker 'The Pole' on 36, Nick P on 35, Rob C on 34 and Terry 'The Toast' on 30.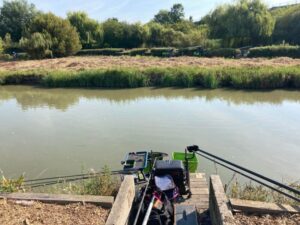 I set up a 0.3 gram NG Mini Gimp for top two to my right and 5 metres and a little Guru 0.2 gram for 10 metres and also across around a metre off the far bank. On the side tray I had two pints of red maggots, 2mm and 4mm expanders plus some Bait-Tech Special G F1 and The Juice groundbait.
On the whistle I fed some loose groundbait on three lines and flicked a few maggots across before starting on the top two with single red maggot on the hook. First put in, the float slid away and a nice 12oz skimmer was a great way to get off the mark. I've landed two more big skimmers that went 3lb between them along with a 4oz roach and a couple of small skimbobs although I've also dropped off a few fish swinging them in.
Towards the end of the first sixty minutes, I landed my first carp and when I hooked another not long after, that was enough of that and it was time to move out to the 10 metre line. I could see Dan Squire over on 13 catching carp and Roy Hughes on the golden peg was landing some decent skimmers.
It wasn't fast and furious on the longer line but I had a decent skimmer and then was catching quite a few smaller ones between 2-4oz. When that line started fizzing, I've managed a couple of skimmers fishing away from feed. I was still pinging maggots across but would try and leave it a little longer although there were loads of carp moving around tight across which was a tad worrying.
As we approached the halfway point, it was getting really hot, Geoff was struggling and also suffering with the heat so went to see how his mate Chris was doing. Roy was now netting fish on a regular basis while bites were starting to dwindle on my 10 metre line so I had my first look across. Given how well Roy was catching, I was expecting a decent spell of my own before the carp moved in but it's not really happened.
I did manage to reverse a decent foulhooked skimmer into the net but I wasn't getting many bites across, even from carp! With around two hours to go, Geoff came back and said he'd had enough and began packing up, he also reported that Glynn over on cyanide/suicide straight was admitting to 12lb.
Back at 10 metres, I had a couple of skimmers but small roach were starting to be a pain with most bouncing off on the strike. I tried a 4mm expander which solved the small fish problem but now I wasn't getting very many bites at all and only had one small skimbob on it. My first look at five metres resulted in a 4oz skimmer but I was waiting ages for bites.
With around an hour to go, Roy was starting to hook more and more carp, I wasn't having that problem but I also wasn't putting many silvers in the net. At the all out, my clicker was saying 36 fish and I also had a few small roach I hadn't counted plus five of six carp. After loading the car I walked up to watch the weigh in which was starting with Alex Russell on peg 39 who weighed 68lb 1oz of carp.
Steve Bush on peg 2 had 58lb 11oz, Tom R next door had 25lb 12oz which included 6lb 15oz of silvers and then Glynn on 5 had done well weighing 12lb 5oz of silvers. Chris W on peg 6 had 89lb 13oz, Dan R on 8 weighed 78lb and then Dave Romain went into the lead with 94lb. Roger C weighed 10lb 2oz and then Alex K on 12 had 8lb of silvers.
Dan Squire on 13 was next and weighed 91lb 8oz of carp before adding 4lb 12oz of silvers which edged him into the lead. Adie Bishop was on 14 and after modelling the three hat method of sun protection in the last match, was showing off the new Drennan nose protector this week! He had 11lb 10oz of silvers which put him in second place so far but Roy was admitting to 13lb so we all suspected he had considerably more.
Derek on 17 weighed 54lb of mainly carp and then Ian on 18 had 35lb 12oz, Roy was next and was slightly out with his estimate as he plonked 23lb 8oz on the scales and would be taking home a bumper payday. Antony on 21 had 43lb 10oz, Matthew on 24 didn't weigh and then it was me, I chucked back my carp and my silvers went 13lb 5oz which put me second so far.
Geoff had already packed up, Steve Collins on 28 had 61lb 14oz, Kev DNW'd, Terry 'The Toast' weighed 39lb 15oz, Jess chucked back on 31, Mark Leahy had 6lb 13oz of silvers, Rich S weighed 46lb 10oz on 33.
Rob C didn't weigh, Nick P had 5lb 13oz of silvers and then Steve P and Sam W on 37 had chucked back. So another really close match overall with just a couple of carp separating the top three weights and after Roy's excellent net of silvers, it was very close with only 1lb 11oz between second and fourth.
1 – Dan Squire (Mosella) – 96lb 4oz
2 – Dave Romain (U-ZIT Bait) – 94lb
3 – Chris Whitham (Torquay) – 89lb 13oz
4 – Dan Russell (Summerhayes) – 78lb
Silvers
1 – Roy Hughes (Summerhayes) – 23lb 8oz
2 – Jamie Rich (Against Men and Fish) – 13lb 5oz
3 – Glynn Wickham (Summerhayes) – 12lb 5oz
4 – Adie Bishop (Summerhayes) – 11lb 10oz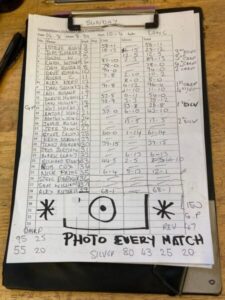 So despite scorching hot conditions, it's fished really well and I picked up £43 for second plus the £4 from The Breakfast Club and a pound off Jess which swelled the Nugget-O-Meter to £164.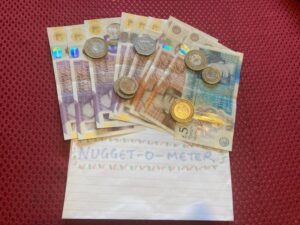 There's still a great offer running if you fancy treating yourself to some new fishing gear, use the exclusive discount code AgainstMenandFish10 to get 10% off when you shop online at Somerset Angling
I still have copies of my book available from eBay here or Amazon here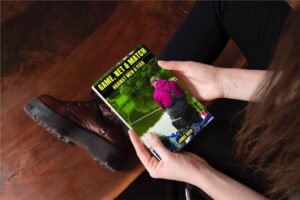 And if you could spare five minutes to leave a nice review on Amazon, it would be very much appreciated.
Next up – River Parrett
Coming soon – Lots more match reports
Check Out – My last match (below)