After two rounds were cancelled due to the heat wave, we finally managed to get back to Coombe Farm for the third match of the IAA Spar Summer League. It was my turn on the top lake again and although in the previous two matches, all the big weights had come from the Main lake, Rob had tweaked the pools slightly to pay out both lakes, which gave us all something to fish for.
We had another fantastic brekkie at the bowling club (thanks Drew) before Rob set the 'Wheels of Doom' in motion, my name was first out and I got peg 16 which I thought was the same peg I had in the first match (but I was actually in between there and where Andy S was that day). Dave P was on 17, Jenny was on my left on 15, Terry 'The Toast' on 14, Parker 'The Pole on 13, Tony C on 12 and Nick P was on 11.
The pond looked nice and there were lots of carp cruising about (like the last time we were here) although I said to Jenny they'd probably disappear as soon as the whistle went. I only set up two rigs, a Drennan Crystal dibber for fishing shallow and mugging, a 0.4 gram float for 8.5 metres angled slightly to my left which was the deepest past of the peg. No margin rig this time as I had no cover, it was only inches deep and the water was gin clear. On the side tray I just had maggots (dead and alive), casters and some 6mm's.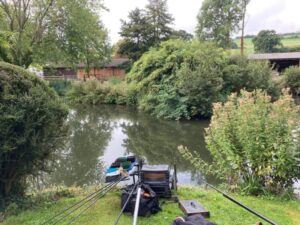 We had a minutes silence for the Queen before the match got underway and then I fed some maggots and casters at 8.5 metres and pinged a few 6mm's just off the island at about 11.5 metres. In the previous two matches, 10lb was a good weight and only a couple of carp were hooked so when half an hour had passed and nobody was admitting to a bite yet, I wasn't too worried.
We reached the hour mark and it was looking like the two nets I'd put in had been wildly optimistic, in fact, at this rate I wouldn't need either of them! Then Dave missed a bite before hooking a decent carp on the pole and did well to land a nice fish around 8lb. Not long after, Jenny hooked a carp that headed off across the pond but the hook pulled out. Finally, after an hour and twenty minutes, I had a decent bite which of course I missed!
Next chuck I've had a little knock that didn't develop and when I lifted the rig up, there was crap on the hook but at least I was getting some indications and thought I might get a few fish. To the right of Dave there was a shallow, weedy bay and there were quite a few carp moving about so he cast a lead up there with corn on the hook and lost two before landing his second fish. It was a good one so was weighed at 9lb 6oz and returned straight away.
Jenny lost another carp and then Terry had a tench but the other three opposite (Steve P, Tony and Nick) were in the same boat as me and blanking. A couple of the anglers from the Main lake wandered up and reported it was a struggle down there as well with Fieldy and Jake the only anglers catching consistently.
The odd carp was moving around by the island so I tried the shallow rig with banded pellet and bunches of dead maggots at 11.5 metres and then 13 and finally 14.5 but I just couldn't get a bite. Dave was now on five carp, including another we weighed at 9lb 10oz and could put his feet up, read a paper or even have a kip if he so wished as nobody else on our lake was getting near him today.
Jenny hooked her third carp and was winning the battle with this one although there was trouble looming on the horizon as she was wearing a little strappy top and during the struggle to get the fish in her landing net, she suffered, shall we say, a wardrobe malfunction! But due to a massive bush on my left, I even missed out on that entertainment, which just about summed up how my day was going. She did well to land a rather sizeable carp and I was now getting battered both sides.
Nick had set up a tip rod and after doing some squirrel hunting on his first chuck was casting up into that bay as well and landed a decent carp. Terry added a couple of crucians, another tench and an eel while things didn't improve for me, Steve or Tony who was gone before the end. After packing up, I weighed in Dave's three carp which went 20lb 6oz and added to the two we'd already returned, his total was 39lb 6oz, a great weight on the day.
Jenny's carp went 8lb 5oz and then Terry's mixed bag weighed 6lb 13oz and then the only other angler to catch on our lake was Nick and his carp was 7lb 11oz.
On the bottom lake, Fieldy on peg 4 had the top weight with a nice net of skimmers and crucians for 38lb 9oz, Jake was second with 20lb 15oz of mainly skimmers from peg 3 and Rob on peg 2 had 18lb 6oz which included a nice carp of 11lb 14oz. Leighton weighed 16lb 1oz on peg 1 so the top four weights had all come from the near side.
The pegs on the far side had been hard going, Dave Phillips on 7 had 4lb 12oz, Neil P on 8 weighed 5lb 1oz, Norts on 9 had 1lb 15oz and Max weighed 10lb 4oz on peg 10 which included a couple of small carp.
Top Lake
1 – Dave Pope (Stoke) – 39lb 6oz
2 – Jenny Payne (Ilminster) – 8lb 5oz
Main Lake
1 – Graham Field (Ilminster) – 38lb 9oz
2 – Jake Woodard (Ilminster) – 20lb 15oz
3 – Rob Cox (Ilminster) – 18lb 6oz
The scoring system for the league is a point per ounce for carp and three for silvers with three matches from four to count. After three rounds (dropping the worst result), the league table looks like this,
Jake Woodard – 4612 pts
Jamie Rich – 3573 pts
Nick Payne – 3507 pts
Graham Field – 3411 pts
Andy Saunders – 2034 pts
Chris Norton – 1969 pts
Ian Burton – 1836 pts
Neil Purchase – 1745 pts
Tony Coubrough – 1698 pts
Leighton Cox – 1685 pts
Rob Cox – 1580 pts
Dave Pope – 1557 pts
Steve Parker – 1521 pts
Chris White – 1446 pts
Terry Morgan – 925 pts
Dave Phillips – 815 pts
Jenny – 589 pts
Max – 230 pts
Four of us had bunged a nugget in the pot which Rob won and kindly donated to the Nugget-O-Meter, the total now stands at £205, a brilliant sum of money and the next target is to get to £250 by November.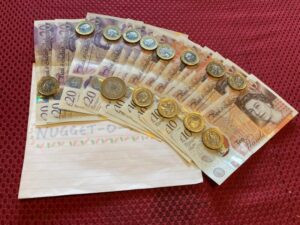 So another disappointing day as my bad run continues, I've got lots more matches coming up next weekend so hopefully, things will improve then.
There's still a great offer running if you fancy treating yourself to some new fishing gear, use the exclusive discount code AgainstMenandFish10 to get 10% off when you shop online at Somerset Angling
I still have copies of my book available from eBay here or Amazon here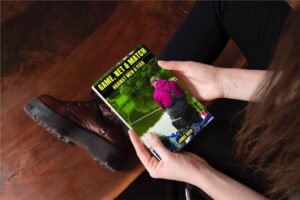 And if you could spare five minutes to leave a nice review on Amazon, it would be very much appreciated.
Next up – River Stour
Coming soon – Lots more match reports
Check Out – My last match (below)