Bob's Match is another of my favourites and one I'd love to win, being rod only, it's really nice to do something a bit different as well. As we haven't fished it for ages, I have to say a massive thanks to Max, Leighton and Rob who have been out the pond making sure there were enough swims available. I met Nick and Jenny out there Saturday morning and we had a walk round to decide which pegs to use the following day, so that people wouldn't be casting over each other and also avoiding the wasp's nest behind one of the swims.
The majority of us met at the bowling club for breakfast which was brilliant as always and the banter was already in full flow. After pools had been paid, I welcomed everyone before announcing the draw. As two of the anglers were meeting us out the pond, Tony C drew for them and then me, Leighton got peg 9, Stephen W was on 18 and then he pulled out number 5 for me. I was a bit gutted if I'm honest, I drew the same peg last year and did manage a default section win with 6lb 3oz on the waggler but was a long way behind Bish's 12lb odd from peg 1, he'd caught chub, skimmers and quality roach and I felt sure you'd need bonus fish to win again this year.
Parker 'The Rod' was the lucky angler on peg 1, Nick P drew number 2 which I also fancied and then the other anglers in my section were Hainsey (6), Les on 7, Terry 'The Toast' (10) and then Monkey was on 13. Bish drew 14 with Hurf on 16, Dan B (17), Tony on 20, Nick V (21) and Bagger Burton on 23.
The pond looked good, with odd small fish topping and after getting my box set up in the water, I assembled waggler and feeder rods. On the side tray were red maggots (dead and alive), casters, some dendras plus Bait-Tech Omen and Pro Nat Bream Dark.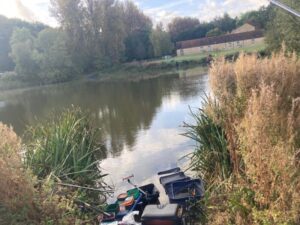 I got us underway and had ten chucks to put some grub in on the feeder line before starting on the waggler while I let it settle. It had probably been over a year since I last picked up a rod and reel and it showed! I don't think I managed to cast the float to the same spot twice and my feeding wasn't much better. It was slow going for everybody to start with, I had my first bite after around 15 minutes and pulled out of what felt like a half decent perch.
Although I was getting a few small roach and perch, I was already several fish behind Chris and when Nick landed a decent skimmer, I was itching to get out on the feeder. I gave it an hour on the waggler by which point I'd amassed 10 fish for around a pound and was going nowhere fast. Out on the feeder with treble dead red maggot, I began getting indications straight away and caught three chunky perch quite quickly.
It wasn't fast and furious but it was encouraging when I had my first skimmer around 10oz just before the second hour was up and hopefully I'd get a few more. On the bankside grapevine I heard Steve P had landed a chub and that there was also the odd skimmer being caught. I was now stuck in that no mans land where it was pointless me doing anything else as I was already too far behind the anglers who had gone for roach from the off.
Despite there being odd blows on my feeder line, bites just dwindled, trying a worm resulted in a perch first chuck but as we passed the half way mark, the lack of skimmers was a tad worrying. Swapping to a window feeder didn't make any noticeable difference although I did have one very positive bite which I missed and came back with a chewed worm on the hook, nothing particularly unusual about that you may think but when I'd cast out I had three maggots on the hook!
Chris had caught steadily on the waggler and was netting some quality roach, going into the last hour Nick V over on 21 hooked and lost two decent fish before landing a nice chub. Norts turned up to see how we were doing and while he was with me, I had a positive bite and struck into a better fish which I was sure was skimmer and it weeded me a couple of times on the way in before turning out to be a 3oz eel!
That was the last of the action (I use the term loosely) for me and I knew I wouldn't be getting my name on the trophy this year, but who would? Leighton let me have the scales and I went to start the weigh in with Steve, he had three decent chub, a clonking roach plus some smaller fish for 10lb 7oz although he'd also lost six decent fish (chub or carp), Nick P had also done well with some decent skimmers on the feeder for 8lb 14oz.
I was next and my 18 fish went 2lb 10oz, Hainsey had fished a really good match to weigh 9lb 4oz of quality roach, Les had sneaked in some decent skimmers for 7lb 12oz and then Leighton had a small carp and some roach for 4lb 1oz. Terry 'The Toast' weighed 3lb 15oz of roach and perch and then Monkey on 13 had three good chub for 7lb 11oz and had also lost six.
Bish had got his head down catching roach to weigh 7lb 13oz, Hurf on 16 had a chub plus some roach for 5lb 7oz and then Dan weighed lots of roach and perch for 8lb 10oz on peg 17. Stephen W next door had 1lb 8oz, Tony C on 20 weighed 1lb 11oz and then Nick V's chub and some small fish went 5lb 7oz. Ian 'Bagger' Burton was last to weigh, he'd had a carp of 4lb 13oz and then added two chub, a decent skimmer plus some small fish for 8lb 14oz and a total of 13lb 11oz to win the match.
Back at the results and it was lovely to see Bob's family who had come to do the presentation, his daughter Eve had once again brought some lovely homemade sausage rolls which went down very well with the anglers.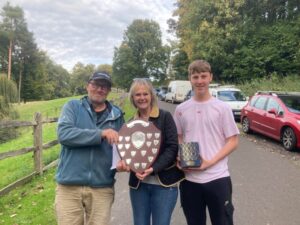 1 – Ian Burton (Taunton) – 13lb 11oz
2 – Steve Parker (Ilminster) – 10lb 7oz
3 – Chris Haines (Haines Angling) – 9lb 4oz
Sections
A – Nick Payne (Ilminster) – 8lb 14oz
B – Dan Baldwin (Colmic) – 8lb 10oz
All the anglers donate £5 to charity and this year it went into the pot which would go to Stoke's charity, the Oncology Unit at Yeovil Hospital. Nick won the £2 side bet which he kindly added as well, so the total is now up to an amazing £311, which is just bloody fantastic so thank you to everyone for your support. With quite a few matches to go before the end of November, £350 would be a nice target to try and hit next.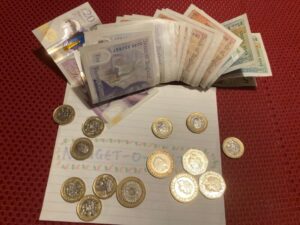 So a very close match with a fair few big fish lost which could have seen several people challenge for the title and it was nice to see lots of chub and some decent skimmers caught. On a personal level I was gutted to have such a poor result and much like last Sunday, it seems the matches you really want to do well in are the hardest ones to win!
There's still a great offer running if you fancy treating yourself to some new fishing gear, use the exclusive discount code AgainstMenandFish10 to get 10% off when you shop online at Somerset Angling
I still have copies of my book available from eBay here or Amazon here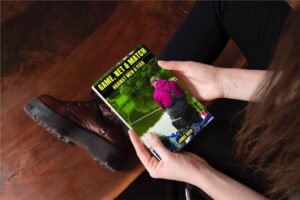 And if you could spare five minutes to leave a nice review on Amazon, it would be very much appreciated.
Next up – Hebditch's Pond
Coming soon – Lots more match reports
Check Out – My last match (below)