With several cancellations due to the extremely hot weather and low water levels, we were finally able to hold the second match of Ruthie's Cup, over three months on! As it's now getting darker earlier we had to bring the draw and finish times forward a bit as well. We all met at Cartgate for breakfast, the first time I've been for ages and I really enjoyed it.
Then it was time for the draw and the anglers who'd been on pegs 1-4 last time would shift round and fish numbers 5-8 and so on. In the first round I'd been on peg 9 so this time, me, Andy B, Terry and Harry would be on the low numbers. Now basically peg 4 is the best swim on the pond followed by number 3 so we were all praying for either of those. The mystery prize golden peg was number 11 this week and then it was time for us to draw.
Obviously the four of us had a 50-50 chance of pulling one of the 'hot' pegs, Harry delved into the bucket and was disappointed to see the number 1 on his ping pong ball and with the odds now dramatically improved to a two in three chance, I went for it and when I looked I was on my favourite peg, number 3! Andy B was over the moon to be on 4, leaving Terry on 2.
There were a few carp mooching about when we arrived and my swim looked lovely. I set up a 0.6 gram Drennan AS5 Pencil float to fish two lines at 11.5 metres, one with micros and corn and the other with groundbait and maggots plus a similar rig but with black hydro for fishing in front of the reeds on the right, later in the day. On the side tray I had maggots, corn, micros, 6mm's and Bait-Tech Special G Dark and The Juice groundbait.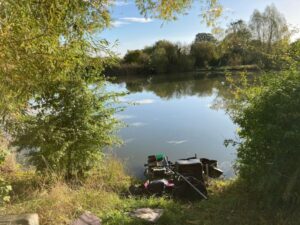 Harry got us underway and I fed both the 11.5 metre lines before starting over the micros with corn on the hook. Terry was into a fish quite quickly and I could hear splashing coming from Andy on my right. It took a few minutes for my first bite which was from a small carp and then I started catching well, mainly small carp with the odd better fish around 2-3lb. After an hour I had 9 carp (plus a couple of tiny ones 1-2oz which I didn't count) and a nice 8oz skimmer.
Going into the second hour, I wasn't getting as many carp but they were mostly decent fish and then, as so often happens here, the pond just switched off (apart from Andy, judging by all the ripples coming from his direction!). On the left hand bank, Nick had lost a foul hooked carp early and now couldn't get a bite, Steve 'The Pole' was fishing for silvers on peg 11 which was looking like the right decision and Rob on 10 was doing similar.
It was also a struggle on the pegs opposite, Jenny had a couple of small carp, Norts on 8 was landing the odd better carp as was the Grand Wiz next door and young Sam on peg 6 had also caught a few fish. So as the half way mark approached, although I was sure I was well behind Andy, I thought I was doing ok and probably second on the pond.
A quick go on the groundbait line resulted in a single missed indication and bites on the micros line were now few and far between. Apart from Andy, Norts was now the only person really catching and he was getting some decent fish although I felt I was still just ahead of him and I still had my trump card to play, the 13 metre swim in front the reeds. The previous two times I'd drawn this swim (and won) I'd just concentrated on the open water until the pond switched off and then fished in front the reeds (which I had left alone and not even fed for four hours) and this had resulted in a flurry of decent fish.
I switched to the new line and had a small carp after about ten minutes but it wasn't really happening there either and then Norts had a couple more fish to overtake me, another little carp for me didn't help much and another look back on my original line was fruitless. Harry came for a walk and said he'd caught well for an hour but now couldn't get a bite.
There were now some carp coming up and mouthing leaves in and around the reeds so I got off my box and set up a little shallow rig. I started plopping a pellet in six inches deep while pinging a few 6mm's and after a few minutes the float buried. I'd tightened the black hydro up and the pole was bent at an alarming angle but I got it away from the reeds without too much trouble and a decent 4-5lb fish came to the top. As I shipped back, it took off again and found the sanctuary of the reeds, it was snagged solid and I thought I'd lost it but by changing the angle of pressure it came free and I netted it along with some reeds.
That was my last indication and Norts had two more carp to finish with a flourish. My final tally was 22 carp (plus a few tiny ones), a skimmer and a couple of rudd. With nearly half of my fish coming in the first hour, I'd struggled for the next five hours, I did miss a few bites and pulled out of a couple of small carp but didn't lose any decent fish.
The scales started with Harry and he had 17lb 6oz, Terry 'The Toast' weighed 19lb 1oz and then my fish went 38lb 12oz. Andy was next and after all his nets were weighed, his total was a brilliant 99lb 7oz – well done mate. Dennis on peg 5 had 7lb 5oz which included 2lb 7oz of silvers and young Sam weighed 8lb 2oz.
The Grand Wiz on peg 7 had done well with 29lb 13oz although he was ruing the loss of two decent carp, Norts on peg 8 went into second spot with 47lb 10oz and then we got on to the last four pegs which had been really tough. Jenny had 4lb 15oz on peg 9, Rob weighed 8lb 5oz (including 3lb 1oz of silvers), Steve 'The Pole' had worked hard to catch loads of little roach and rudd for 4lb 11oz which had paid off as he would win the silvers. Nick on 12 lost that early fouler and hadn't had a bite for the rest of the match!
1 – Andy Burns (Stoke) – 99lb 7oz
2 – Chris Norton (Stoke) – 47lb 10oz
3 – Jamie Rich (Against Men and Fish) – 38lb 12oz
Silvers
Steve Parker (Stoke) – 4lb 11oz
At the results, Andy was called up in first place and I believe it's his first ever match win and what a way to do it with a near 100lb catch and for a cause so close to his heart, everybody was well chuffed for him. Norts had put in another great performance for second and I was third and to be honest, felt I hadn't done the peg justice. I might have been better off sticking it out on the 11.5 metre line as I needed another three fish to beat Chris but of course hindsight would make us all much better anglers!
In the race for Ruthie's Cup, it's looking like a two horse race between the Chris's and then four of us fighting it out for the remaining podium spot but you never can tell in fishing, especially as all the front runners have some tough pegs to come in the last round.
Chris White – 21 pts
Chris Norton – 21 pts
Harry Hebditch – 18 pts
Andy Burns – 18 pts
Jamie Rich – 17 pts
Terry Morgan – 16 pts
Nick Payne – 10 pts
Rob Cox – 10 pts
Jenny – 7 pts
Dennis Hawkins – 7 pts
Sam Hinton – 6 pts
Steve Parker – 5 pts
Another nice sum of money was raised for the charity and also Rob, Chris, GW, Andy and me had bunged a squid in, which Burnsey won and kindly donated to the Nugget-O-Meter, the total now stands at £316 which is just amazing so thank you so much to everyone who's contributed so far.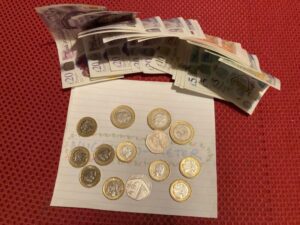 There's still a great offer running if you fancy treating yourself to some new fishing gear, use the exclusive discount code AgainstMenandFish10 to get 10% off when you shop online at Somerset Angling
I still have copies of my book available from eBay here or Amazon here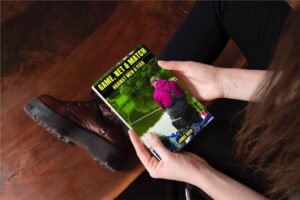 And if you could spare five minutes to leave a nice review on Amazon, it would be very much appreciated.
Next up – Summerhayes
Coming soon – Lots more match reports
Check Out – My last match (below)