It was supposed to be Ilminster v Stoke on the Isle but with it being painfully low and weedy, it was called off so a few of us booked into Summerhayes. Drew at the bowling club very kindly said we could have breakfast there at 6:45 but my day didn't get off to the best of starts when I turned my 5:45 alarm off and woke up at 6:30! After rushing about like a headless chicken, I arrived and was only about 15 minutes late.
Then it was on to Bridgwater and there was a brilliant turnout of 20 anglers. After paying our pools etc, Pete announced the draw, starting with the golden ball, which this week was peg 6. I really fancied pegs 17 or 19, closely followed by 13 or 14 and when my name was called out I didn't get either of my first choices but was well happy with 13.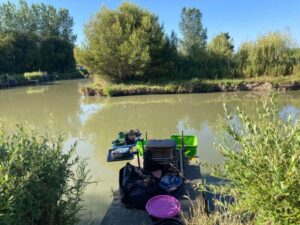 I set up two 0.3 gram Guru AR's, one for the top two to my right and 5 metres and the other for 11.5 and 14.5 metres. Plumbing up it was even shallower than the last time I was here with around a foot all over the peg. On the side tray I had lots of red maggots, micros, 2mm and 4mm expanders plus some Bait-Tech Special G F1 and Dark groundbait.
For company I had Tiverton invader, Martin Heard, on my left on 14 and then Glynn W on peg 11. Roy Hughes had drawn 19, Bill 'The Paste' was on 17 and Nick had 8, Jenny 37 and Rob on 27. On the whistle I fed a little loose groundbait on the top two line, micros at 5 metres, groundbait and maggots at 11.5 metres and then flicked a few maggots across.
The short line is normally good for a couple of quick fish before the inevitable carp show up but after ten minutes I hadn't had a bite which suggested that it was going to be quite hard today. In the last few matches, low double figures has won the silvers and I thought it would be the same today.
Moving out to 11.5 metres, the float went straight under and a 2oz roach got me off the mark, I was getting quite a few bites on single maggot from small roach so put two reds on to see if I could get improve the stamp. I did manage a couple of hand sized skimbobs and pulled out of a carp but it was already looking like being a struggle. Heardy was going for carp and after an hour he was still waiting for his first fish, I hadn't seen Bill catch either and Roy was only getting the odd roach.
Hour two was a bit better and I had a couple of decent skimmers but annoyingly I pulled out of one as well, Glynn was struggling and hooking more carp than silvers although he said Alex Kerr on 10 was catching carp and silvers well. Heading towards the three hour mark, Heardy was getting some carp fishing the lead over to the island and I was still catching odd silvers but also hooking carp and had landed three and lost a few.
Roy was starting to put some fish together on the long pole to the island so with just over two hours to go, I had my first look at 14.5 metres, single maggot was a waste of time as I was just getting small roach with most coming off as I shipped back. Double maggot didn't really help either, a 2mm expander resulted in a 3oz skimmer and I also lost a better fish which I only had on briefly so may have been a carp or skimmer. I was getting bites on the 2mm's but missing the majority and it was time consuming having to keep shipping in and out as the pellet was coming off.
4mm expanders stayed on better but I couldn't get a bite on them so decided to persevere with double maggot and played around toss potting in a few micros, a little loose groundbait or maggots but not sure it made any difference. I did land a decent leaper that was foulhooked in the wing and then next put in, hooked a good fish that came off and there was slime all up the line – bugger!
Bill had a nice run of big skimmers down the middle and Roy was catching quite well over, I had a pound skimmer on the 11.5 metre line but when the next bite resulted in another carp tearing off, I decided to spend the remaining half an hour across. Glynn had given up trying to catch silvers and was now catching carp quite well. I had a lovely 8oz roach and then with 15 minutes to go, had a skimmer around the same size.
Next chuck I hooked a fish that tore along the far bank towards Heardy so I put the pole tip under the water and as I started shipping back, the fish stopped and I could see it was a decent skimmer and was relieved to net a nice fish of 1.5lb. I just had time to ship back out before Pete blew the whistle. My final tally was a dozen skimmers and some roach plus three carp.
The scales started with Jenny and she'd done well catching 5lb 3oz of silvers along with 19lb 8oz of carp for a total of 24lb 11oz which is a new pb match weight for her, well done Jen. Young McKenzie had 9lb 8oz on 39 and then Simon Maunder on 2 had 16lb 12oz which included 6lb 12oz of silvers.
Nick Chedzoy on peg 4 weighed 47lb 6oz, Adie Bishop had 46lb 12oz including 6lb 15oz of silvers (not 5lb 16oz as Pete first called it!) and then Nick P had chucked back on 8. Alex Kerr weighed 12lb 12oz of silvers and then added 68lb 10oz of carp to go into the lead on both fronts before Glynn weighed 2lb of silvers and 67lb 4oz of carp to go into second place overall.
I didn't weigh my carp and my silvers went 9lb 9oz which put me second so far but I wasn't expecting that to last long, Heardy had 49lb 13oz despite a slow start and a barren last hour. Bill was next and his big skimmers went a level 9lb, Roy then pulled his net out and it was going to be close, the scales read 10lb 5oz to push me down into third. I knew Zooner was admitting to double figures and apparently Jeff Sparkes had caught well so even if Alex won overall, I was going to just miss out.
Tom R on 21 had 22lb 5oz and then we got to Jeff on 25 who had another close silvers weight of 8lb 8oz, Rob C didn't weigh on 27, Jim Jenner had 32lb 7oz on 29 before Dan Russell went into third place overall with 54lb 4oz on peg 31. Kev Osbourne was next on 33 and weighed 18lb 1oz which included 7lb 8oz of silvers.
Paul Bennett on 34 had 39lb 2oz and last but not least was Zooner who had a nice net of skimmers and roach for 11lb 5oz which would win the silvers by default and I handed over my nugget.
Back at the results, Alex won again and is on a rich vein of form, he won the Champion of Champions recently and you wouldn't bet against him in the silvers final in November. Glynn's trip to the dark side paid off with second place and Dan was third. Zooner won the silvers, Roy was second and I sneaked third and picked up £20.
1 – Alex Kerr (Summerhayes) – 81lb 6oz
2 – Glynn Wickham (Summerhayes) – 69lb 4oz
3 – Dan Russell (Summerhayes) – 54lb 4oz
Silvers
1 – Jess Jordon (Summerhayes) – 11lb 5oz
2 – Roy Hughes (Summerhayes) – 10lb 5oz
3 – Jamie Rich (Against Men and Fish) – 9lb 9oz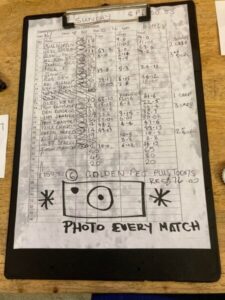 Lots of close silvers weights again with only a decent skimmer or two between the top six. Nick, Rob and me bunged a quid in which I won so along with Nick's pound from Wednesday, the Nugget-O-Meter benefitted by £4 and is now up to £320.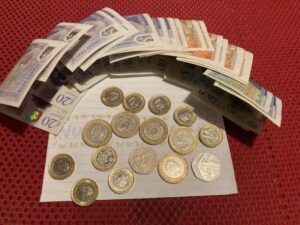 There's still a great offer running if you fancy treating yourself to some new fishing gear, use the exclusive discount code AgainstMenandFish10 to get 10% off when you shop online at Somerset Angling
I still have copies of my book available from eBay here or Amazon here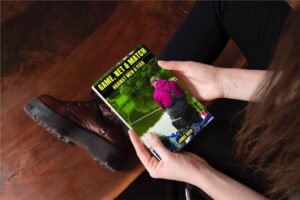 And if you could spare five minutes to leave a nice review on Amazon, it would be very much appreciated.
Next up – Todber Manor
Coming soon – Lots more match reports
Check Out – My last match (below)