Todber held a Thursday silvers only match on Wadmill (one of the specimen lakes) recently and it fished really well with Tony Rixon winning with 50lb of skimmers followed by Des Shipp who had 45lb of skimmers and roach and there were lots of good back up weights as well. When I saw they were holding another one, I booked a day off work and Nick and Steve 'The Pole' also said they fancied it.
We met at Cartgate for breakfast which was very nice again before heading down to Todber. There were 28 booked in for this one including the likes of Andy Power, Tony Rixon, Nicky Collins, Mark Harper and loads of other great silvers anglers. The draw was announced and I pulled out number 28 which was the first peg on the the left hand bank. Steve 'The Pole' drew 24 and Nick P was on 22.
My peg looked nice although there were quite a few carp boshing about over by the island, Matt Tomes was on 27 and then to my right on the end bank were Nicky C on 29, Tony R (30) and Martin Rogers on 31. I set up a 0.3 gram Guru AR's for top kit plus three sections and a Drennan 0.4 gram Carp for 11.5 metres angled slightly to the left and 13 metres straight out. On the side tray I had red and white maggots, casters, worm, corn, 2mm and 4mm expanders plus some Bait-Tech Special G F1 and Dark groundbait.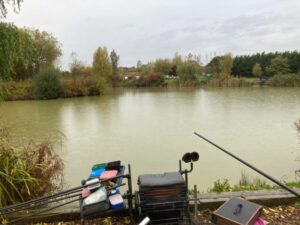 On the whistle, I fed a little chopped worm on the short line, a single ball of groundbait containing worm and caster at 11.5 metres and three on the longer line. I planned to start short for some roach for an hour to leave the longer lines to settle before swapping between them catching skimmers for the rest of the match, sounds simple doesn't it?
Starting on top two plus three with single maggot on the hook I was expecting to catch quickly but the float just sat there! It was the same for Nicky and Tony and it was already looking like it was going to be harder than the first match which was probably due to lower temps over the last few days.
I did catch a 3oz perch which was on when I lifted the rig up but after half an hour I still hadn't had a bite! Moving out to 11.5 metres with double maggot, it was the same story which was a tad worrying. Another ten minutes passed and then I had a lovely slow bite, I let it develop and then on the strike, instead of the solid resistance I'd hoped for, a small roach flew out the water and fell off.
I started getting the odd roach but felt I needed to catch skimmers to compete so put on a worm and after a few more roach, hooked into a better fish which turned out to be an 8oz perch. Matt had landed a couple of decent skimmers and Tony and Nicky were beginning to catch roach on a regular basis. I did manage a couple more half decent perch and did pull out of a fish which might have been a skimmer or another perch but it wasn't really happening.
In the last match, Tony said he'd caught a lot of his skimmers on corn so I slipped a grain on and after a little wait, the float slid away and as soon as I struck, I knew I'd hooked a carp. It didn't give me too many problems and after a 20 minute scrap I landed a beast that had to be 15lb! We were now around two hours into the match and I only had 2lb in the net so fed a small ball of groundbait on that line and had my first look at 13 metres.
I had a couple of roach on worm so tried corn again, the float had barely settled before it went under and I had my first skimmer around 12oz. A few missed bites followed and then I hooked carp number two, this one was having none of it and took off at an alarming rate before snapping me. I did have a second skimmer but was waiting ages for bites so fed another little nugget and went back on the 11.5 metre with worm, first drop in the float buried and I was into a better fish which turned out to be a 3lb skimmer.
The next fish was a lovely 8-10oz roach and it felt like topping up with a small ball and leaving it was the way to go. Back on the longer line, I had a couple of 4-6oz skimmers but also hooked two more carp, landing another fifteen pounder. Matt had a nice run of skimmers and then landed a F1 (which don't count).
I'd been feeding casters on the short line all day so with half an hour to go, I had a quick look and caught a dozen or so roach on maggot and caster, including a couple of netters, in 15 minutes but it was pointless at this late stage so went back to 11.5 metres for the last quarter of an hour. A positive bite saw me lift into another carp that tore off which wasn't the ending I'd hoped for and I was just cursing my luck when the fish stopped and as I shipped back, it didn't feel like a carp anymore. I'd got down to the top kit and had the fish pretty much under control when there was a swirl and it came off – gutted as I was pretty sure it was a big perch.
I shipped back out but no more bites in the remaining couple of minutes. Always a slick operation at Todber, the scales soon arrived and began with Martin who weighed 7lb 6oz, Tony had caught roach fairly steadily to weigh 19lb 10oz and Nicky had 13lb 6oz. My fish went 11lb 10oz so although that lost perch would have made my weight a bit more respectable, ultimately it wouldn't have made much difference. Photos courtesy of Todber Manor*
Matt weighed 17lb 14oz which was mainly skimmers and then peg 26 had 9lb 10oz, next door weighed 15lb, Parker 'The Pole' had loads of small fish for 13lb 10oz and then Nick P had done brilliantly on his first visit to weigh 20lb 14oz which would win the section.
I didn't follow the scales but the weights got better further up the lake, Matt Rowe on 21 weighed 31lb 8oz, then Chris Martin had the top weight with 32lb 10oz on 19, Jack Stamp next door was fourth with 26lb 8oz and Matt Skyme won the section with 20lb on 17. The weights then tailed off toward the top end before it was a similar story on the other bank where the pegs in the middle did well again, Scott Puddy had 26lb 12oz on peg 10 for third place, Matthew Redman won the section with 21lb 3oz on 8 although Andy Power on 9 recorded a DNW, proving he is human after all. Then the weights dropped off again with the exception of Vince Brown who took the last frame place with 24lb 12oz on peg 1.
1st: Chris Martin 32lb 10oz (19)
2nd: Matt Rowe 31lb 8oz (21)
3rd: Scott Puddy 26lb 12oz (10)
4th: Jack Stamp 26lb 8oz (18)
5th: Vince Brown 24lb 12oz (1)
Section A: Matt Redman 21lb 3oz (8)
Section B: Matt Skyme 20lb 0oz (17)
Section C: Nick Payne 20lb 14oz (22)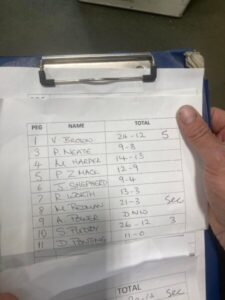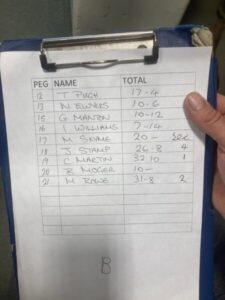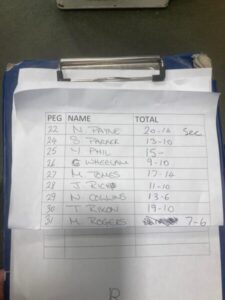 I always enjoy fishing new venues although I probably spent too long trying to catch skimmers as I felt that was my best chance of competing and looking at the results you needed to be in the middle of the lake really.
Nick won the pounds and stuck them in the pot so the Nugget-O-Meter rises to £322.
There's still a great offer running if you fancy treating yourself to some new fishing gear, use the exclusive discount code AgainstMenandFish10 to get 10% off when you shop online at Somerset Angling
I still have copies of my book available from eBay here or Amazon here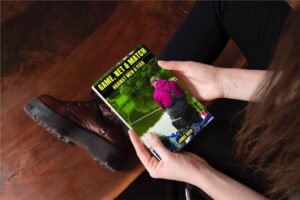 And if you could spare five minutes to leave a nice review on Amazon, it would be very much appreciated.
Next up – Ash Ponds
Coming soon – Lots more match reports
Check Out – My last match (below)