The next Stoke match was at Ash Ponds which I'd only fished once before in the Xmas Fayre last year. We fished lakes 2 and 3 then with the latter being more prolific, Dan Squire had the top weight on the day with over 150lb from lake 3. I was on lake 2 and had a really enjoyable day catching carp and some silvers for 62lb 9oz which was second on the lake behind Chanter's 81lb.
The forecast for Sunday was pretty grim and as I headed to Cartgate for breakfast, there was thunder and lightening with loads of water on the roads. The food and banter was top notch as always and thankfully by the time we'd finished eating, the weather had calmed down a fair bit. At the draw, The Grand Wiz welcomed everyone and relieved them of their money before delivering an impressive briefing (complete with map and everything!) on where we should all park on arriving at the venue.
I really wanted to draw on lake 2 again (pegs 11-19) but of course when I delved into the bag of doom, peg 4 on lake 3 attached itself to my hand! After a short drive we arrived at the lakes, my swim looked really nice with a bush on my right and for company I had Rob C on my left and Dave P was on peg 5.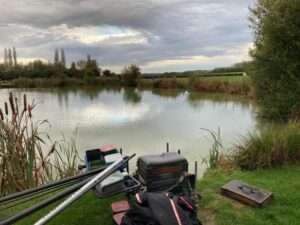 I set up a 0.3 gram Guru F1 Wire Slim with a size 16 B911 to 0.12mm for 10 metres, a Drennan Crystal Dibber to fish shallow and a little MD Munter Hunter for the margin to the right at top two plus two. On the side tray I had a couple of pints of maggots, corn, micros and plenty of Bait-Tech Carp and Coarse 6mm pellets.
The Grand Wiz got us underway and I fed some micros and corn at 10 metres and started with corn on the hook. Roy W over on peg 9, Vic Bush on 8, Craig L (7) and Terry 'The Toast' on peg 6 were all into fish from the off. I was getting indications although it took a little while to catch my first fish which was a small carp. The swim was fizzing like a jacuzzi and I started getting loads of liners and it wasn't long before the inevitable happened and I foulhooked a lump, it took me ages to get in and I eventually landed an 8lb fish, hooked in the tail.
There were obviously a lot of fish there but I wasn't putting much in the net, picking up the shallow rig, I started pinging a few 6mm's and when the float buried first chuck and I landed a two pounder, I thought I'd found the answer. My next fish was a lump of 10-12lb but then I've started foulhooking fish again and lost three on the trot. I tried changing depths and went from 6 inches to full depth (it was only three foot deep) but it didn't seem to make any difference.
Meanwhile Roy, Vic and Terry opposite were all bagging and already on their second and third nets! Rob was having similar problems to me as was Neil P on peg 2 and he'd lost two big fish at the net. I was getting some nice rudd shallow on 6mm pellet and even had a lovely pound plus roach. It did cross my mind to fish for them but I knew there were several anglers on the other lake who were going all out for silvers from the start.
Although I wasn't getting many fish, I was landing some lumps and when I started my second net, the first three carp I put in it probably went over 30lb between them. Norts came for a walk round and while he was with me, I had a decent spell, landing a carp of 8-10lb plus some nice roach and a couple of little skimmers on 4mm expanders.
With around two hours to go it was obvious Vic and Roy were on for big weights as they hadn't stopped catching and were showing no signs of slowing up. I fed the margin swim with micros and corn but it was a familiar story for me on that line as well. After missing a couple of bites, I briefly had a carp on but came back with a scale on the hook. I did manage to land the next one but then pulled out of a couple more which set the scene for the remaining half an hour or so, I landed another fish not hooked in the mouth and had another come off to finish a thoroughly frustrating match.
Just to finish things off nicely, it started raining hard again and I'd done my back in somehow during the match! After packing up, I went to assist Burnsey with the weighing in (well, I did the paperwork while he did all the heavy lifting!). He was first and had 85lb 3oz, Neil was next and after struggling for the first couple of hours, he set up a feeder rod and bagged for the rest of the match to weigh an excellent 162lb 14oz.
Rob had 33lb 11oz and then my silvers went 5lb 1oz before my three carp nets totalled 101lb 6oz (and to add to my woes, I snapped a ring on one of my keepnets!). Dave P had 31lb 5oz and then Terry 'The Toast' had caught really well early on to weigh an impressive 144lb 13oz. With the rain still hammering down, the paperwork was in danger of becoming mulch but an unlikely superhero emerged in the shape of Roy Worth who appeared with a brolly!
Craig L chucked back on 7, Vic B was next and his peg was surrounded by an array of Mosella keepnets, after he'd given Burnsey a workout and challenged my mathematical skills, his total was a mammoth 295lb 4oz! Roy W had also caught all day to weigh 198lb 6oz and then Ian 'Bagger' Burton lived up to his nickname with 134lb 3oz.
Back at the results and there had been some decent weights over on the other lake as well, Chanter was top with 146lb 15oz on peg 18, Rob W was second with 105lb 6oz and Dave W third with 102lb. Marco had 73lb 2oz  on peg 19, the Grand Wiz weighed 57lb 1oz which included a lovely bream of 5lb 14oz. Nick V had 34lb 8oz on peg 1, Cliffy weighed 26lb 14oz, Dennis Hawkins had 26lb 2oz including the top silvers weight of 12lb 8oz and Nick P weighed 23lb 4oz. Thanks to Steve Chant* and Chris Norton** for the photos.
Lake 2
1 – Steve Chant (Somerset Rig Company) – 146lb 15oz
2 – Rob Wylde (Stoke) – 105lb 6oz
3 – Dave White (Somerset Rig Company) – 102lb
Lake 3
1 – Vic Bush (Mosella) – 295lb 4oz
2 – Roy Worth (Stoke) – 198lb 6oz
3 – Neil Purchase (Stoke) – 162lb 14oz
Silvers
Dennis Hawkins (Stoke) – 12lb 8oz
Both ponds fished really well with some massive weights, nine anglers recording over 100lb and Roy very close to 200lb with Vic just one fish away from 300lb! Regular readers of the blog will know this type of fishing isn't really my cup of tea and if I'm honest, I'm not very good at it!
The Grand Wiz, Rob C and me all stuck a pound in the pot, I had the best weight so added it to the Nugget-O-Meter which has now climbed to £325.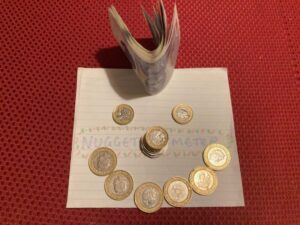 There's still a great offer running if you fancy treating yourself to some new fishing gear, use the exclusive discount code AgainstMenandFish10 to get 10% off when you shop online at Somerset Angling
I still have copies of my book available from eBay here or Amazon here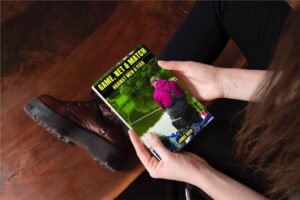 And if you could spare five minutes to leave a nice review on Amazon, it would be very much appreciated.
Next up – Summerhayes
Coming soon – Lots more match reports
Check Out – My last match (below)