The next Stoke match was Simm's Silvers at Revels which I've been looking forward to and the lakes being used were Dead Tree, Canal and Middle, I've never fished the latter but it can be brilliant for silvers and I really wanted to draw on there. A few of us met for breakfast at the Airfield Tavern which is normally very good but was disappointing this time and I was a bit worried my bacon was going to leap off the plate and make a bid for freedom!
We then headed off and were soon pulling into the fishery car park, Wayne C had put 18 pegs in, spread over the three lakes but we had four dropouts which is always disappointing. After everybody had paid their pools, Norts got the draw underway, I went in early and pulled out number 13 which meant nothing to me as they weren't the permanent pegs. Checking with Wayne, I was on 48 on Dead Tree, which is a brilliant peg and regularly does big weights of silvers. I was well happy with that although my only concern was that it had fished hard in Tuesday's match when the top two silvers weights were 10lb and 7lb from pegs 2 and 20 on Main.
My swim looked lovely, a wide peg with an island on the right, there were quite a few carp showing themselves behind the island but a couple of small fish topped close in which was encouraging. Parker 'The Pole' was on my left and then Marco was on 12 (which is permanent peg 47 and not used very often). The other anglers on Dead Tree were Rob W on 15 (51) and Derek G on 16 (53).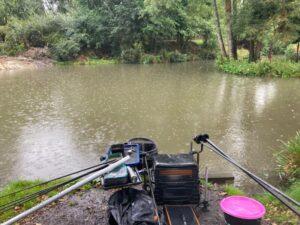 I set up two 0.3 gram Guru AR's along with a little 0.2 gram version, on the side tray, I had around three pints of red maggots, a pint of caster and some pinkies plus some Bait-Tech Special G F1 and Dark. It was raining quite heavily as we set up but the forecast was for it to brighten up later. I plumbed up three lines at 10 metres, straight out, angled towards the point of the island and also to my right. My plan was to alternate between them and then also go to 11.5 and then 13 metres as the match progressed as I've caught a lot of fish just past the feed in previous matches.
On the whistle I fed some loose groundbait on all three lines before starting on the top two with single red maggot on the hook, I gave it ten minutes but no bites so I moved out to 10 metres. I really thought I'd catch quite quickly on this line but the float just sat there and looking around it was the same for Steve and Rob although Marco had caught a couple of little perch.
Finally after around half an hour, I had a positive bite but a carp tearing off wasn't a great start, next chuck I missed a bite and then hooked another carp, this wasn't going well! I wasn't panicking just yet as I thought 8-10lb would be a good weight and there was still a long way to go. Marco had started getting some nice skimmers but the rest of us were still yet to get off the mark.
Switching to the line angled towards the point of the island, the next bite resulted in a pleasing amount of yellow hydro coming out but this wasn't a carp and nice 12oz skimmer was very welcome. I hooked another next put in but it came off as I was shipping back, a chunky perch followed before the carp muscled in so it was time to move lines again.
My first fish from the right hand line was a pound skimmer and although not fast and furious, I was hoping I'd be able to nick a fish from each line until the carp became too much of a nuisance and then I would either fish past the feed or start new lines.
The second hour was pretty good with a few more skimmers plus a couple of decent roach although I hooked more carp than I would have liked. Marco was still catching skimmers quite well although he was hooking a few carp as well. Steve P had a nice tench and then latched into a rather lumpy carp which he did well to land and was probably 10lb+.
Then going into hour three, all I could hook on any of my lines was carp and my masterplan of fishing past them was a complete flop, I tried fishing through the water and managed a couple of roach and I'm pretty sure I bumped two skimmers but the number of carp hooked was getting silly and my neighbours were finding it highly amusing! Thanks to Marco Smith for the photos*
With two hours to go, it was just carp carnage and I think I'd hooked something like 22, landing some lumps with fish to around 8lb. I plumbed up a new line at 13 metres to the right of the island in open water but when the float went under and it was another carp, I was all out of ideas (and nearly out of hooklengths!). Then I had a decent skimmer but any hope of a decent finish went out the window when I hooked two more carp in the remaining half an hour and the final score was 29 carp hooked and around 13 or 14 landed.
On the silvers front, I only had 18 fish (8 skimmers and the rest roach and perch), the scales were soon with Marco and he had a lovely net of skimmers, roach, rudd, perch and a tench for 11lb 1oz which would be there or thereabouts today. My fish went 7lb and the skimmers had been a decent stamp but I'd also bumped/pulled out of three.
Steve P had 3lb 3oz, Rob W weighed 5lb 8oz and Derek had 1lb 5oz of mainly perch so our lake had fished pretty hard. We then had to weigh in Rich who was the last peg on Canal Lake, he had 4lb 7oz and then Josh on Middle Lake, peg 11, was also in our section and weighed 8lb 13oz of quality roach and skimmers.
The other section consisted of four pegs on Middle and three on Canal and there were lots of close weights, Norts continued his excellent form with 10lb 7oz of quality roach and skimmers from Middle, Mike Goad was close behind with a similar net weighing 10lb 4oz (also from Middle) and Tony C had 9lb 14oz from Middle and had accidently chucked back a decent roach. Rob C weighed 9lb 12oz on Canal, Neil M had 7lb 8oz (Canal) and Dennis weighed 5lb 13oz (Canal), Wayne C had 2lb 2oz on Middle. Thanks to Dennis Hawkins for the photos**
1 – Marco Smith (Stoke) – 11lb 1oz
2 – Chris Norton (Stoke) – 10lb 7oz
3 – Mike Goad (Stoke) – 10lb 4oz
Sections
A – Tony Coubrough (Stoke) – 9lb 14oz
B – Josh Tucker (Stoke) – 8lb 13oz
Another really close match with just 1lb 5oz between first place and fifth and just ounces the difference in some cases. Middle Lake was the place to be with four of the top six weights from there. Norts won the nuggets so the charity total is up to £234 with the best part of two months to go.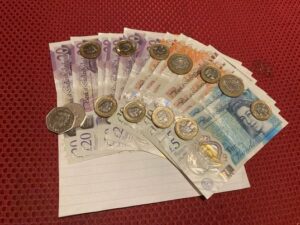 I must admit I drove home gutted, I'd been so looking forward to this match and really wanted to do well but ended up having a nightmare of a day, I was at a total loss at what to do or try next as nothing was working and I just couldn't avoid those pesky carp.
There's still a great offer running if you fancy treating yourself to some new fishing gear, use the exclusive discount code AgainstMenandFish10 to get 10% off when you shop online at Somerset Angling
I still have copies of my book available from eBay here or Amazon here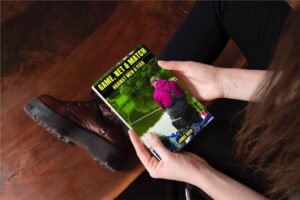 And if you could spare five minutes to leave a nice review on Amazon, it would be very much appreciated.
Next up – Bob's Match
Coming soon – Lots more match reports
Check Out – My last match (below)