The river was back to being low and clear for the Chris Patten Xmas Fayre and after struggling last week, I was hoping for a better draw today, preferably a chub peg! We met at the bowling club for breakfast and were well looked after by Charlotte. There's always a good turnout for the Xmas Fayre and this year there were 22 booked in.
All too soon, it was time to see which pegs awaited us and Max held aloft the drawbag of doom (we were back to being responsible for our own fate, which I think most people prefer). I delved in and was hoping to see the numbers 122 or 123 on my ping-pong ball and came quite close with 129 which was in the same section. It wouldn't have been my first choice but there were other pegs in I fancied a lot less.
When I got to Isle Brewers, Bish was on 128, George P had Barney's Bend, Tony C was on 125 and wasn't too impressed with how shallow it was despite us telling him it was full of fish, Parker 'The Pole' was on last weeks winner (124), Leighton had 123 and Rob was on 122. After several trips across the field, I got all my kit to the peg, it's a cracking looking swim and probably one of the deepest on the river. It can be really good for bags of roach along with the odd decent chub although it didn't do much last week.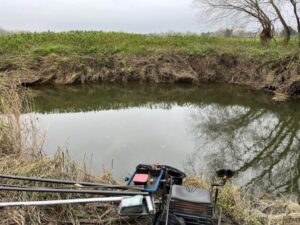 While I was setting up, I didn't see any small fish top, not even a minnow, which was a tad worrying. Just the one rig today, a one gram bodied version with a size 18 Match Special to 0.10mm and on the side tray I had maggots, casters and Bait-Tech hemp. The five hour match kicked off at 10:00 and I started down the middle with single maggot just to see if I could get a bite.
After running the rig through several times with single and double maggot for no indications whatsoever, I honestly thought I was going to blank. On the next put in, I was holding the float back and inching it through in the flow when it buried and the strike resulted in lots if orange hydro coming out. It was a good fish and thankfully it didn't give me too many problems before I netted a 2.5lb chub – what a start!
Nothing for the next twenty minutes and then I had a very quick bite which I missed, thinking another chub was about I was poised like a viper for the next bite. It didn't take long but instead of solid resistance, a minnow flew out of the water! A couple more followed so I tried caster which sort of worked as my next fish was a roach, the only trouble was, it was smaller than the minnows.
Over the next couple of hours, I only added a few more tiny roach and minnows but also received a couple of phone calls, one from Jake who was at Hambridge and said nobody was catching, even in the fancied pegs and quite a few had already gone home! I stuck at it, thinking another chub or two and I would be in with a chance, then to keep me interested, a fish rolled over by the far bank although to be honest it could have been a chub or a pike.
With around two hours to go, Jake appeared behind me and said it was fishing really hard and the only one catching odd roach was Tony on the first one above the bridge and apparently George and Leighton had both lost chub. I had a couple of tiny roach while he there and he reckoned I should just stick with it.
For the remainder of the match, I basically just fished three sections to hand and ended up with around 50 roach and minnows plus the chub. I quickly packed up and took some of my kit back to the car, I stopped to see how Bish had done in 128 and he said he'd only had a few small roach. As he was still packing his kit away, I picked the scales up and went to weigh George in, he had lots of minnows and a few tiny roach for 10oz and was cursing that lost chub, he did land one decent fish though, a pike (which don't count). Thanks to Jake Woodard for the photos*
Bish's roach went 8oz and then it was me, my fish weighed 3lb 5oz (the chub was probably 2lb 8oz and the bits 12oz or so). Jake wandered down from seeing how they'd done above the bridge and reported Tony had weighed 8lb 9oz which I was sure would be enough to win today. Leighton had a single chub of 2lb 9oz but had lost two, Steve P weighed 1lb 6oz and Rob had 2oz on 122.
Back at the results and there had been a fair few blanks at Hambridge while at Redbridge, Neil Purchase had the top weight with two chub for 6lb 6oz from peg 105 and Nick Veale had one chub for 3lb 3oz. So Tony was the winner and latest recipient of the Chris Patten trophy, Neil was second and I was third and picked up £20 and also a goody bag courtesy of Haines Angling. Thanks to Neil Purchase for the photo**
Before the prize giving, we all enjoyed hot beef and turkey rolls plus roast potatoes which went down very well. For my prize, I took home a nice selection of cheese and biscuits (which was my tea sorted for the next few nights!). I also won the nuggets from Steve P, Rob and Leighton plus the Grand Wiz gave me one in the morning (oh I say!) and before Nick P went on his holidays, he gave me £3 for the pot which was very kind. So we're already up to £14, which is a great start.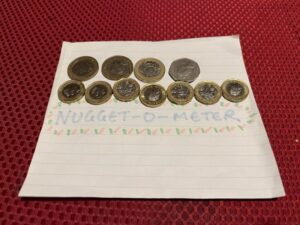 The club would like to thank Laurie at the Spar, Chris Haines (Haines Angling), Max (Ilminster Warehouse) and Nick Payne for their kind prize donations. Baz Morgan for sponsoring the event, Drew and Charlotte (Ilminster Bowling Club) for looking after us before and after the match and Max and Rob Cox for all their hard work on the river and getting the prizes.
1 – Tony Coubrough (Ilminster) – 8lb 9oz
2 – Neil Purchase (Ilminster) – 6lb 6oz
3 – Jamie Rich (Against Men and Fish) – 3lb 5oz
There's still a great offer running if you fancy treating yourself to some new fishing gear, use the exclusive discount code AgainstMenandFish10 to get 10% off when you shop online at Somerset Angling
I still have copies of my book available from eBay here or Amazon here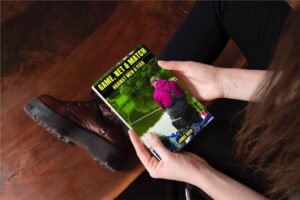 And if you could spare five minutes to leave a nice review on Amazon, it would be very much appreciated.
Next up – Revels
Coming soon – Lots more match reports
Check Out – My last match (below)