Another chilly start for my next Tuesday outing, after a 'Billy No Mates' breakfast in Yeovil, I was soon pulling into the car park at Revels. A few less this week but still a dozen names on the list including John Barker and Big Al who was on for a hat-trick after winning the Xmas Match on Sunday and the previous Tuesday open. We were on Main and Canal lakes today and Jason decided to try something slightly different with the pools, paying out the top weight and best silvers on each lake which I think is a great way of doing it.
Onto the draw and John was the first name out and got peg 65 on Canal, which he was happy with, I was about half way down the list and peg 70 came out for me, the end peg on Canal and apparently a good carp peg, not what I wanted to hear!
A nice looking peg, it was quite wide which I think is normally a good thing for silvers and I had a bit of room as Andy Miller was the next peg on 68. I set up a couple of 0.3 gram Guru AR's for the deepest water at 10 metres down the middle where I would feed three lines to the left, middle and right. I also set up a Drennan Crystal Margin to dob maggots along the end bank for carp if I couldn't catch silvers. On the side tray I had lots of maggots, some disco pinkies plus Bait-Tech Special G F1 and Dark.
The whistle got us underway and I fed the left hand line with a small amount of loose groundbait and a few pinkies while the other two lines both got a full pot. I started on the negatively fed line with a single disco pinkie on the hook. So far I hadn't seen anything top and was expecting a slow start. No bites on the left confirmed my suspicions and when I visited the other two lines with the same result, I began to think it could be really difficult today.
Back on the left a few more minutes ticked away but then the float seemed to move very slightly along the top, I decided to hit it anyway and was met with solid resistance. It was obviously a carp and by the way it was scrapping, there was a very good chance it was foulhooked, I had it on for a fair while before the hook pulled.
After all the disturbance from the carp, I toss potted in a pinch of groundbait before moving to the central line, the rig settled and went straight under, this time it was nice 3oz roach and I was up and running. That signalled the start of a really good spell and it was a bite a chuck from mainly roach along with a couple of small perch and I also landed a small carp.
With an hour gone, I had 10 silvers for a pound or so, I was swapping between all three lines and just toss potting in a few pinkies along with a little loose groundbait when I came off a line. The second hour was brilliant, I had my first skimmer around 4oz and then next put in had another and then a decent one of 12oz and it was just lovely fishing. In the second sixty minutes I added 16 fish (mainly skimmers) for probably another 2lb and also had my second carp.
I kept expecting sport to slow but going into hour three, I was still catching well and it felt like a decent weight was on the cards, I got to 12 fish for 1lb 8oz but then another carp muscled in and this one was bigger and led me a merry dance before I netted a five pounder. I did think after all that commotion, it might take a while to catch again but I've shipped back out and was into another skimmer straight away.
Just when I thought double figures was on the cards, bites slowed right up, I started going past the feed and had a couple of fish but it wasn't as good as I'd hoped it would be. I could also see Mr Barker was catching small fish well and I needed to string a few more fish together. By swapping between the three original lines and a section past them, I had a few more roach but from a bite a chuck, I was now struggling.
I tried adding another section to fish 13 metres over but never had a bite there, I also started a new line down the middle at 13 metres to the right and had one small perch there. With another ninety minutes gone I'd struggled up to 48 fish which I thought would give me around 6lb (averaging 2oz apiece) but now bites were very few and far between. For the last half an hour I concentrated on the central line and just sat there waiting for the odd indication. I had a tiny perch followed by a net roach and then when just a few minutes left I had a tentative dip on the float and was willing it to go under, another dip so I struck and rather a lot of number six elastic came out!
It was obviously a wobbly one and I was still playing it after the whistle and had an audience with Jason and Steve Crowford waiting to weigh me in. After not making a very good job of landing it several times, I finally shuffled a six pounder in the net. My four carp went 14lb 13oz and then my silvers weighed 7lb 8oz (with most it coming in the first three hours). I began packing up as the scales went to weigh the rest.
As I walked back to the car, I asked the others how they'd done, Andy weighed 21lb 10oz, Terry Dell on 66 had 18lb 15oz which included 5lb 9oz of silvers and then John had already packed up and was back at his van so I didn't know what he'd weighed. Mike on 64 had 6lb and Chris Burgess on the other end peg had won the lake with 29lb. I got to the car park and John said well done as he'd weighed 6lb 13oz, so it had been very close.
Over on Main, Adrian Hayes had the top weight with an excellent 63lb from peg 8 and Alan W was the best silvers with 12lb 7oz on peg 2.
Canal Lake
1 – Chris Burgess (Revels) – 29lb
Silvers
1 – Jamie Rich (Against Men and Fish) – 7lb 8oz
Main Lake
1 – Adrian Hayes (Revels) – 63lb
Silvers
1 – Alan Winsper (Alan's Angling) – 12lb 7oz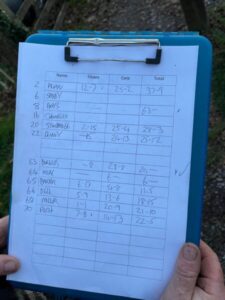 I picked up £30 for winning the silvers and I'm looking forward to my next visit already although the weather might well scupper that.
There's still a great offer running if you fancy treating yourself to some new fishing gear, use the exclusive discount code AgainstMenandFish10 to get 10% off when you shop online at Somerset Angling
I still have copies of my book available from eBay here or Amazon here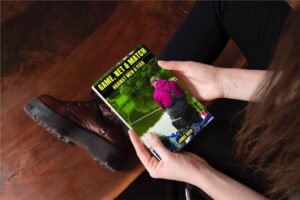 And if you could spare five minutes to leave a nice review on Amazon, it would be very much appreciated.
Next up – Summerhayes Xmas Match
Coming soon – Lots more match reports
Check Out – My last match (below)