I was booked into Stoke's Xmas Fayre on Sunday which was being held on two ponds and a stretch of river but then the cold snap hit us and with the stillwaters frozen over, the decision was made to cancel/postpone. The club made the call early which was the right thing to do so people can arrange or try to find something else. I phoned Pete at Summerhayes as it was also their Xmas match this weekend and it was still going ahead, hopefully it would be ice free due to the aerators, failing that, he has a boat!
I met Steve P for breakfast at the Obridge in Taunton, it was really disappointing and I won't be rushing back. Then it was a foggy drive to Bridgwater and as we pulled into the fishery, the first thing I noticed was all the lakes were pretty much ice free and secondly how busy it was as there were 43 booked in.
Along with the all the regulars, there was a healthy Devon contingent although one notable exception was the Torquay Tart who had booked in, but after a few sniffs of the barmaids apron the previous day, wasn't match fit!
When it came to draw time, the balls would decide what order we would choose our pegs, typically I got choice 32 out of 43! Obviously by the time it got to me, most of the favoured pegs had gone. I did have it in mind to try a swim on Big 8 which holds some good silvers or maybe take a chance on Denny's which I've never fished. In the end I went for 20 on Longs as I do like those swims on the bottom bank.
I was in good company with Parker 'The Pole' on 19 and Geoff Young on my left so we'd have a laugh at least although I was hoping he'd be leaving his infamous garlic pellets in the bag! Although it was flat calm, I quite fancied a day's dobbing so set up a Drennan Crystal Margin to fish across to the island at 13 metres plus a 0.3 gram Guru AR for silvers at 10 metres. On the side tray I had lots of maggots, disco pinkies, a loaf of Warburton's finest plus Bait-Tech Special G F1 and Dark.
Geoff took up my offer of a nugget on overall weight and as always Zooner would have one on silvers. On the whistle I cupped in a little loose groundbait with a few pinkies before starting across with punched bread. I was expecting it to be really hard but Steve Collins on 26 and Martin Addicott on 14 were both into early carp.
Mr Parker was getting a few small fish and then young Geoffrey latched into a carp down the middle and I felt sure it would only be a matter of time before I had one as I tried dobbing in several fishy looking areas along the far side. After around twenty minutes I had a quick dig which I missed and then not long after I had a positive bite which I bumped on the strike! I got off my box and swapped top kits from a green hybrid elastic to softer orange hydro, which helped, as next put in I had a tiny roach only to then promptly miss the keepnet!
With an hour gone Martin and Steve C were still catching quite well and had several carp each while Steve P was getting the odd little skimmer. Geoff hadn't added to his early fish and as for me, despite using the biggest punch I had in my box, small roach were being a nuisance and trying the inside margins resulted in no bites.
The next sixty minutes was equally as unproductive for me and my flask was emptying at an alarming rate! Dobbing double maggot across was next and after a couple more tiny roach, finally something that pulled some elastic out and I netted a welcome 8oz skimmer.
I decided to see if could catch a few more skimmers, so came back on the 10 metre line and also began loose feeding some maggots across. With double pinkie on the hook, I had a nice little run of 2-4oz skimbobs and was starting to wish I'd fished for silvers from the off.
Then the Grinch (otherwise known as the Torquay Tart) turned up to annoy us all, I pulled out of a skimmer while he was there and then thankfully he went off to annoy Geoff and Chris W. With around ninety minutes remaining, I've gone back over, with the lighter rig this time, but only added a few more small fish.
The Tart came back and said Chris was bagging and had 17 carp so would be there or thereabouts, Geoff was still on one carp and Steve C was now catching some decent skimmers, which Brenda took great delight in pointing out before heading home and leaving us in peace. Although I was getting a few bites, I was going nowhere fast and wasn't too upset to hear the final whistle.
When the scales got to us, Ian Williams was leading with a brilliant 63lb 2oz of mainly carp from peg 2, then the weights dropped right off until Martin on peg 14 who had 38lb 14oz. Parker 'The Pole' weighed 2lb 7oz which was actually the top silvers weight on Longs so far! My fish went 2lb 5oz and then Geoff's single carp of 3lb 9oz ensured he took a nugget off me.
Steve C had done well with 21lb 13oz of carp and 7lb 10oz of skimmers before the scales made a quick detour to Big 8 where young McKenzie had 2lb 2oz of silvers and then Glynn had lovely net of quality roach for 9lb 13oz. Back to our lake and Roy Hughes had 'struggled' his way to 8lb 2oz of silvers on peg 29. Shaggy had 24lb 10oz on 31 and then the next decent weight on Longs was Chris W who weighed 52lb 9oz.
Back at the results and Bill 'The Paste' had the top weight on Sellicks with 51lb 9oz from peg 5 followed by Elliot Fay with 43lb 12oz on peg 7 and Jacko with 38lb 4oz (peg 23). Best silvers was Jess (Zooner) with 5lb 8oz on peg 2 so I was another squid down. Over on Denny's, Mark Leahy had the top weight with an excellent 27lb 11oz.
All the anglers then enjoyed hot dogs and onions courtesy of Pete and Sally which went down really well before it was time for the prizes. The top three overall and silvers were called up alternately and then it went to weight which meant it would be a while before I got to choose a prize! There was also a blind pairs prize and incredibly the top two on the day, Ian Williams and Chris Whitham were drawn together and took home lovely hampers with a combined weight of 115lb 11oz.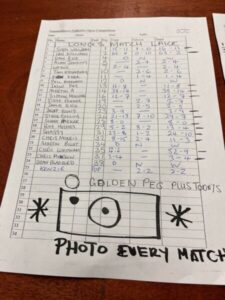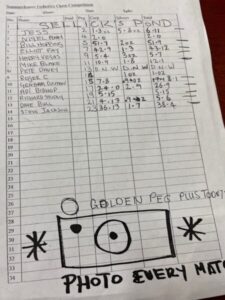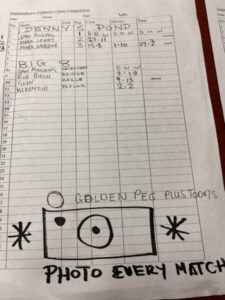 1 – Ian Williams (Summerhayes) – 63lb 2oz
2 – Chris Whitham (Summerhayes) – 52lb 9oz
3 – Bill Hopping (Summerhayes) – 51lb 9oz
Silvers
1 – Glynn Wickham (Summerhayes) – 9lb 13oz
2 – Roy Hughes (Summerhayes) – 8lb 2oz
3 – Steve Collins (Summerhayes) – 7lb 10oz
Blind pairs
Ian Williams and Chris Whitham – 115lb 11oz
There was a fantastic prize table and when it was eventually my turn, I took home two boxes of chocolates. A really enjoyable day although I was left wishing I'd fished for silvers from the start. I must admit I'm fed up with this weather now, I'd booked a day off work to fish Revels on Tuesday but with the lakes frozen it was called off, so I actually worked a full week which was a bit of a shock to the system!
There's still a great offer running if you fancy treating yourself to some new fishing gear, use the exclusive discount code AgainstMenandFish10 to get 10% off when you shop online at Somerset Angling
I still have copies of my book available from eBay here or Amazon here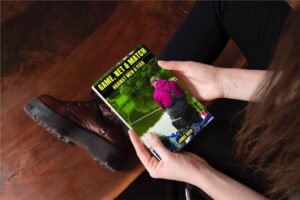 And if you could spare five minutes to leave a nice review on Amazon, it would be very much appreciated.
Next up – Summerhayes
Coming soon – Lots more match reports
Check Out – My last match (below)