Well, this won't take long! The big freeze hit us with matches being cancelled all over the place due to thick ice and I feared the worst when Pete phoned to say that Sellicks was frozen over but he said we could still fish if we wanted to break the ice. I met Steve P at the bowling club for probably the best bite of the day before heading to Bridgwater.
As we drove into the fishery, there were a few hardy (or stupid) souls already there. Twelve anglers were originally booked in but we were already down to nine and that number looked set to drop further, especially when Pete produced an ice breaker and it just bounced when we launched it onto the rather hard surface of Sellicks!
We tried the other lakes with the same result and it was starting to look like a lost cause but myself, Roy and a few others weren't ready to throw the towel in yet. Using various ice breakers, lump hammers, planks of wood and finally launching the boat, we managed to clear holes to allow us to fish four sections of pole. Jacko in particular was really pleased with the hole he'd created and painstakingly cleared of every little piece of floating ice on peg 2.
Just to add to the fun, it had started to pour down with rain and by now we were down to five anglers! We retired to the hut for a much needed hot drink and decided to do draw and choose for our swims, the golden peg today was fourth choice which Glynn drew and when I looked at my ball, I'd only gone and got first choice! Obviously I went for peg 2 (much to Jacko's disgust!) and actually felt a little guilty so went up and cleared peg 6 which he'd picked with his last choice.
I only set up one rig, a Drennan 0.4 gram Carp 1 with a size 18 Guru F1 Pellet hooks to 0.09mm to fish on the edge of the ice at top two plus two. On the side tray I had red maggots, disco pinkies plus some Bait-Tech Special G F1 and Dark groundbait.
On the whistle I cupped in a small nugget of groundbait and six pinkies and went over it with single pinkie on the hook. Despite all the commotion and the horrible weather I was still confident we'd catch although probably not for at least an hour. Me and Roy on peg 3 decided to have a nugget on overall weight. Well I wasn't wrong and after the first sixty minutes we were all still blanking, although Glynn was admitting to a missed bite!
The weather was getting worse and not only did we have heavy rain to contend with, it started to get windy as well, all in all a thoroughly unpleasant day. Two hours passed and it was beginning to look like my earlier optimism was somewhat misplaced! Then Jacko let out a whoop and netted a small perch which put him firmly in the lead with the rest of us still blanking.
Now this might sound a little crazy but in a perverse kind of way, it was quite exciting knowing that we were all still in with a shout and one bite could get you in the money. A further thirty minutes passed and then it happened, out of the blue I had a positive bite which took me totally by surprise and I struck out of instinct. I honestly thought I'd missed it to start with but then there was life on the end and I shipped back, convinced it would come off, but safely netted a magnificent 1oz roach!
So as it stood, I was in the frame one way or another as Pete was paying the top overall weight and best silvers. I was now wishing the time away but then Roy struck and he was into a decent fish but only briefly and his rig came back with a skimmer scale on the hook. All of a sudden it felt like we might start to get a few fish.
As we headed into the final ninety minutes or so, there had still only been two fish caught but then I noticed Roger C on peg 4 had some elastic out and he netted a small fish but it looked bigger than my small fish and depending on how big Jacko's perch was, I might be out of the frame again!
Apart from my initial feed (three hours ago, but it felt a lot longer!), I'd only fed six more pinkies after I caught my fish. I needed another fish and was just thinking I wasn't going to get one when the float buried and this time it felt like a decent fish, I was sure it was a skimmer but it turned out to be a nice roach which I actually stood up to net! So I'd gone into the lead but there was still time for it all to change again.
Glynn had packed up and brought out a very welcome cup of coffee from the hut, the remaining half an hour was uneventful and when Pete shouted the all out, it was a relief as I was cold and wet, on the plus side, the weigh in wouldn't take long!
The scales were with me first and my two roach went 6oz, Roy hadn't caught and then Roger's single fish was 2oz, Glynn had gone and then Jacko's perch was an ounce. So I'd actually won and picked up £40 plus a nugget off Roy. So a really grim day and possibly the lowest winning weight I've ever had!
1 – Jamie Rich (Against Men and Fish) – 6oz
Silvers
Roger Cunningham (Summerhayes) – 2oz
With Roy's pound, the Nugget-O-Meter benefitted by £2 and is now up to £16.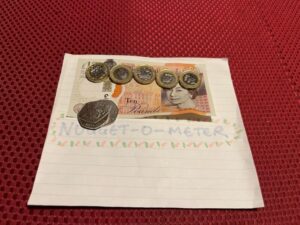 There's still a great offer running if you fancy treating yourself to some new fishing gear, use the exclusive discount code AgainstMenandFish10 to get 10% off when you shop online at Somerset Angling
I still have copies of my book available from eBay here or Amazon here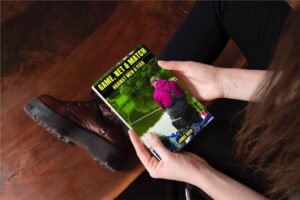 And if you could spare five minutes to leave a nice review on Amazon, it would be very much appreciated.
Next up – Revels
Coming soon – Lots more match reports
Check Out – My last match (below)