What a difference a couple of days make! From lakes everywhere being iced over and unfishable (unless you're particularly determined or stupid!), the temperature rose to being almost tropical. I met Parker 'The Pole' at the Airfield in Yeovil for breakfast which was really good before we headed to Revels. Another brilliant turnout for a Tuesday with 19 anglers in attendance and it was nice to see Rob Wylde fishing for the first time.
Free hot drinks and bacon rolls were laid on for everyone which was a nice touch and as it was a Xmas match of sorts, there was a prize table for after the draw. Three lakes were being used today, Main, Canal and Trendles (or is it Trendels, I'm not actually sure!) and I said to John Barker that I must be due a day on the latter as I've managed to avoid it up to now. It's a lovely little pond that regularly wins and frames in matches it's just it normally struggles to compete with the other lakes for silvers.
Jason got the draw underway and John was fairly near the top of the list and got peg 30 on Trendles (that's one gone I thought), a few more went before my name was called out and I was on 39 (yep, Trendles), then Parker got 29 (also Trendles). I was a bit gutted if I'm honest but we should get a few bites as there are lots of small carp in there. Although I was expecting the overall winner to come from Main, there was a chance of framing if Canal fished hard like it did the last time I was on it.
Then there was a draw for the prize table and my luck hadn't changed when my peg number was one of the last out of the bucket and I went for some shortbread and chocolates (so that was tea sorted for tonight!).
My peg looked lovely with the end of an island opposite, open water to the left, a channel to the right of the island and a decent margin, also to the right. There was also an inlet pipe coming in on my left and after all the rain the previous few days, there was a lot of water gushing out of it.
I set up a Drennan Crystal Margin for the island, the right hand line and margin and a 0.3 gram Guru F1 Wire for the open water at 11.5 metres. Today's side tray had a couple pints of maggots, pinkies, casters plus some Bait-Tech Special G F1 and Dark groundbait.
On the whistle I fed some loose groundbait and pinkies straight out, a few maggots by the island and to the right and lastly the margin got a generous portion of casters. Starting by the island with single red maggot, it didn't take long to catch my first fish, a nice roach. A little carp was next followed by an 8oz chub and I was getting regular bites. Everybody seemed to be catching quite well and it was looking like we'd be in for a busy day.
Neil Saxby opposite then hooked and safely landed a lump of around 8lb which was a nice bonus. After an hour I'd had a few small carp, two chub plus some roach but it was starting to slow so I had a look on the right hand line and had a roach straight away but then couldn't get a bite. It was the same story on the margin line, one bite and one roach.
Back out by the island resulted in a nice little run of fish and then I struck into solid resistance, it was obviously a big fish but the way it was fighting I also thought it might be foul hooked. After an age, I netted an 8lb common hooked under the chin! I was having to rotate swims to get bites and sticking another section on to go up the side of the island added two more little carp and some roach.
The open water swim was a complete flop and I never had a bite there, back to the right I had another chub but it was a one off. Sitting and waiting for bites didn't seem to work with most fish coming soon after the rig had settled. Neil had slowed up as well and it was going to be close between us but I couldn't really tell how the rest had done.
The last hour was a real struggle although I did finish with two carp in the final fifteen minutes from the right hand swim. My final tally was 15 carp, 4 chub plus some roach which I hoped would go somewhere between 25-30lb.
The scales started on Main and then did Canal before getting to us, a quick check of the weigh sheet revealed Adrian Hayes was leading with 50lb 8oz from peg 6, Rob Wylde had 41lb 2oz (including 9lb 2oz of silvers) on peg 2, while over on Canal, Dean Green had 33lb 3oz of carp and Alan W was top silvers weight with 11lb 7oz from peg 68. Photo credit – Revels
John B was first to weigh on our lake and had 25lb 14oz which included 4lb 15oz of silvers, Parker 'The Pole' had fished for silvers and caught lots of little roach for 2lb 1oz, Steve Crowford on 27 had 13lb 15oz and then Neil weighed 25lb 7oz. I was next and my silvers went 3lb 11oz and the carp took my total to 24lb 6oz. Last to weigh was Hugh on peg 40 and he'd caught two of the recently stocked tench, a chub plus small fish for 9lb 1oz and also had 22lb 14oz of small carp, all on the waggler.
1 – Adrian Hayes (Revels) – 50lb 8oz
2 – Rob Wylde (Revels) – 41lb 2oz
3 – Dean Green (Revels) – 33lb 3oz
Silvers
1 – Alan Winsper (Alan's Angling) – 11lb 7oz
2 – Hugh (Revels) – 9lb 1oz
3 – Bob Chrisp and Terry Dell (Revels) – 6lb 5oz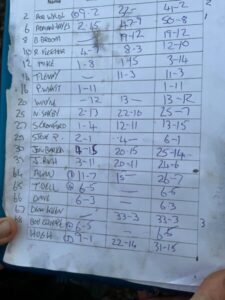 An enjoyable day for my first time on Trendles although if I'm honest, I'd still rather have been on Main or Canal. I did win a pound off Steve on silvers so the Nugget-O-Meter is now up to £18.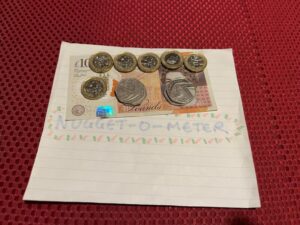 I've got one more match lined up before Xmas but that post won't be finished until next week so I'll take this opportunity to wish everyone who reads the blog A Very Merry Xmas and I hope you continue to follow my exploits into 2023 and beyond. Hopefully I've got some more good stuff coming, including an interview and what could be a really interesting feature if it all goes to plan so stay tuned!
There's still a great offer running if you fancy treating yourself to some new fishing gear, use the exclusive discount code AgainstMenandFish10 to get 10% off when you shop online at Somerset Angling
I still have copies of my book available from eBay here or Amazon here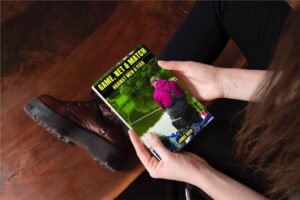 And if you could spare five minutes to leave a nice review on Amazon, it would be very much appreciated.
Next up – Acorn Fishery
Coming soon – Lots more match reports
Check Out – My last match (below)