I really enjoyed my first visit to Acorn a few weeks back so when I saw they had a Xmas match on Saturday, I booked in along with Parker 'The Pole' and Nick P. A really early start was required and with very little in the way of breakfast options, Nick very kindly supplied some lovely bacon and sausage baps and we all bunged a couple of quid in the charity pot.
As we weren't too sure what the traffic would be like with it being Xmas Eve, we left plenty of time for the journey and ended up getting there well early! We popped into the shop for some bait and were well looked after by Des. There was a good turnout of 22 including Allan Oram who I haven't seen for ages. Chris Fox was running it today and as it was a Xmas Match, he said there would be three sections today with the top two in each picking up plus the top silvers.
The draw was announced and I delved into the bag and pulled out peg 5 which meant nothing to me but is apparently a flier! Nick was next door and Steve P was over on 19. Pegs 1-5 are on the island and I could see why mine is such a good one, it was the end peg with lots of open water to the left. As we were getting ready, there were loads of fish topping and it looked like we could be in for a good day.
I set up a Drennan 0.4 gram Carp 1 for the top two plus two and 11.5 metres and a Drennan 0.4 gram Pencil for 10 metres to the left in open water, both rigs had size 18 Guru F1 Pellet hooks to 0.10mm. On the side tray I had red and white maggots, disco pinkies, casters plus some Bait-Tech Special G F1 and Dark groundbait.
After thoroughly enjoying my first visit catching silvers, I was hoping for more of the same today but several people said I'd be hooking a fair few carp too. On the whistle I fed the left short line and 11.5 metres with a walnut of groundbait and some pinkies, the right got a palmful of maggots and lastly the open water line got half a pot of maggots.
I started on the short maggot line but after ten minutes and no bites I moved to the other side but nothing there either. Nick had also kicked off fishing short with the same result as me so had now shipped out to his longer line and opened his account with a nice skimmer. I missed a couple of bites and then foulhooked a carp which wasn't on long. A few minutes later, I was into another and landed a four pounder hooked under the chin.
Nick had another skimmer and a nice tench from his longer line so I've fed my shorter swims again, potted in some more maggots at 10 metres to the left and then had my first look across. I had a couple of skimmers and a carp but it was short lived. Joe M and Martin Rayet over on pegs 12 and 13 were both catching well and landing some lumps. Nick had a small carp followed by a lovely big 4lb tench. I was only getting odd bites on my longer line so fed another little ball of groundbait and dropped short again but it still wasn't happening.
Back out long, I had a little tench quite quickly before pulling out of a fish shipping back and that set the scene for the next couple of hours, feed a little ball long, leave it for ten minutes, have a look on the short lines for no bites before going back out and having a couple of fish. I added two tench, roach and a carassio but was still behind Nick who was catching quite steadily, skimmers, the odd little tench and roach.
The pegs to my left on the opposite bank were all getting a few and I was going nowhere fast. With ninety minutes left I probably had 20lb (three carp, a carassio plus my silvers) so decided to have my first look on the 10 metre line to the left which I been potting in maggots on a regular basis. After a couple of minutes, the float buried and I was into a carp, next put in I had another, then a 12oz tench and it was solid!
I was getting some decent 5-6lb carp too but was mindful of the relatively light hooklength so switched to a size 16 Preston GPM-B hook pre-tied to 0.13mm. I was toss potting in maggots every put in and it was really good, among the carp, I had another carassio, little tench and then with half an hour to go hooked a right lump that was probably 8lb plus so put another net in.
Ray Cooper and Brian Slipper on 6 and 7 were also both catching really well, I landed another carp and with just a few minutes to go, hooked into another decent fish that I still had on when they shouted the all out, it came to the top and was a big 4lb plus tench, what a fish to end on!
I packed up and poured a coffee while we waited for the scales, when they got to us on the island, somebody said there was a 116lb weight on the far side which was winning. Glenn Calvert on peg 1 had 21lb 11oz, Jo Wingate next door weighed 17lb 14oz and then it was Nick, his silvers went 12lb 14oz which was the best so far and with a couple of carp, his total was 18lb 14oz.
I weighed the net with two fish in first, they went 11lb odd, my other net added 48lb something and then the silvers weighed 10lb 4oz to give me a total of 69lb 14oz. A really enjoyable day again but I was left kicking myself for not trying the left hand swim earlier as I'd probably put 50lb in the net in the last hour and a half.
Back at the results and Paul Elmes had won section A with 90lb 7oz from peg 36 and Lee Waller was second with 53lb 13oz (peg 34), Brian Slipper was top in my section with 75lb 3oz (peg 7) and then I was chuffed to be called up in second, picking up £40. It was close though with Ray Cooper just behind on 65lb 12oz, so that last tench came in handy! Matt Hamilton won C section (and the match) with a brilliant 116lb 4oz (peg 21) and Martin Rayet was second with 49lb 9oz (peg 13). Nick won the silvers and had really enjoyed his first visit although Steve had struggled over on 19 for 4lb of silvers and that section had been hard going for most.
Section A
1 – Paul Elmes (Acorn) – 90lb 7oz
2 – Lee Waller (Acorn) – 53lb 13oz
Section B
1 – Brian Slipper (Acorn) – 75lb 3oz
2 – Jamie Rich (Against Men and Fish) – 69lb 14oz
Section C
1 – Matt Hamilton (Acorn) – 116lb 4oz
2 – Martyn Rayet (Acorn) – 49lb 9oz
Silvers
Nick Payne (Ilminster) – 12lb 14oz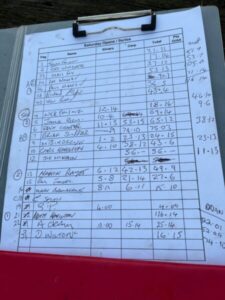 With the breakfast donations, the Nugget-O-Meter rose to £24.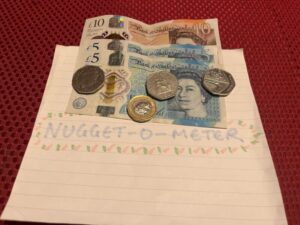 There's still a great offer running if you fancy treating yourself to some new fishing gear, use the exclusive discount code AgainstMenandFish10 to get 10% off when you shop online at Somerset Angling
I still have copies of my book available from eBay here or Amazon here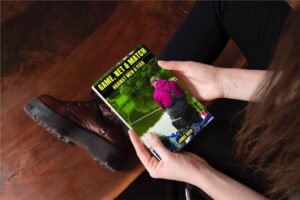 And if you could spare five minutes to leave a nice review on Amazon, it would be very much appreciated.
Next up – Summerhayes
Coming soon – Lots more match reports
Check Out – My last match (below)