I always try and fit a few matches in over the Xmas period so Summerhayes was my next destination. Nick very kindly supplied breakfast again so some more money went into the charity pot. Les B said he fancied fishing Summerhayes for the first time so met us in the car park and followed us there. I didn't think there'd be loads fishing today but there was a half decent turnout of 13 including  Heardy who I haven't seen for a while and Vic Bush.
Pete said today's match would be a rover on Longs which I was a bit disappointed with as I was hoping for a day on Sellicks. The golden peg was choice number 9 which Rob Dodd got and Glynn W had first pick, Nick was third, Les fourth and me fifth. The pegs along the track have been the most consistent in recent matches, so it was no surprise when 34, 32 and 30 had gone by the time it was my turn, I went for 28 which has also been pretty good recently.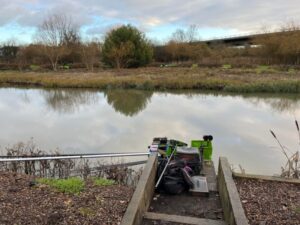 I set up a couple of 0.3 gram Guru AR's for 10 metres and across to the island. On the side tray I had two pints of maggots, disco pinkies plus Bait-Tech Special G F1 and Dark. As we were getting ready there were quite a few fish topping which hopefully would be a good sign. On the whistle I cupped in a smidgen of loose groundbait on the top two line to the right and then fed two lines at 10 metres left (half a pot) and right (full pot) before flicking a few maggots across.
I started short, not really expecting much but to allow the longer lines to settle and it lived up to expectations! No bites after ten minutes so I moved out to the more negatively fed longer line with the same result. The right hand line was next and finally a bite as a 4oz skimmer got me off the mark. It's twin followed and then a decent one of 8oz or so but it was short lived as the bites tailed off and I was just getting the odd small roach.
From what I could see, it was fishing quite hard, Vic on 19 hadn't had much and looked rather cold as that end is in the shade, Heardy over on 13 had landed a decent carp but I hadn't seen much else caught. I carried on catching the odd little roach on pinkie, swapping between the 10 metre lines and then hooked a big skimmer on double pinkie, it was under control and I was shipping back very gently only for the hook to pull out, which was far from ideal!
As I was busting for a pee, I fed both lines again before going to use the on site loo, on my way I stopped to ask how the others were doing. Les just had a few small fish, Nick was doing well and had five decent skimmers, three from his shorter line and when he went long he had two in as many chucks, Glynn on 34 was struggling and had a few smaller skimmers.
Back on the box after my comfort break, I decided to have my first look across where I'd been feeding maggots from the start, a couple of chunky roach was encouraging but then it was back to smaller, plippy ones. Going right across to 14.5 metres, I hooked a slightly better skimbob but it was only on briefly.
It got decidedly chilly and some rain showers helped to drop the temperature a bit as well, with a couple of hours to go Bill and Rob B over on pegs 2 and 4 called it a day. Bites across were now sporadic at best and I also hooked a carp that snapped me so went back to 10 metres with double red maggot hoping for a couple of better skimmers. I had a couple of roach quite quickly and then after a short wait, a positive bite resulted in lots of elastic coming out, this one stayed on and a nice skimmer of 1.5lb nearly doubled my weight.
With about 45 mins remaining, I've gone back across and the float settled and went straight under, this felt like a slightly better fish too and a 6oz hybrid was very welcome. Any hopes of a strong finish soon disappeared when I've hooked and landed three carp, one around 4oz that had me thinking it was a nice roach or perch!
I don't think anybody was too upset to hear the final whistle as it been hard going and very cold. While I was packing up, I somehow managed to chuck one of my expensive Guru plummets in the lake which pretty much summed up my day! I took my kit back to the car asking how people had got on as I walked past, Nick hadn't added anymore and Glynn had chucked back. Mark Leahy was first to weigh on peg 37 and had 23lb 1oz which included 7oz of silvers. Kev on 39 had gone as had Bill and Rob, then Toby B on peg 8 went into the lead with 52lb 1oz (which also included the top silvers weight so far with 9oz!).
Heardy on 13 was next and fell just short of Mark's weight with 21lb 9oz, Rob Dodd on 15 was the new silvers leader with 1lb 5oz until we got to Vic who had 2lb 12oz. Phil D on 26 had 4lb 5oz (including a nice skimmer of 1lb 12oz) and then it was me, I chucked my carp back and then my silvers went 4lb 5oz which put me in the lead but I knew it wouldn't be for long.
Les DNW'd and then Nick had 8lb 13oz of carp and his skimmers went 7lb 4oz to win the silvers and qualify for the final next year, well done mate.
1 – Toby Burrell (Army) – 52lb 1oz
2 – Mark Leahy (Summerhayes) – 23lb 1oz
Silvers
1 – Nick Payne (Ilminster) – 7lb 4oz
2 – Jamie Rich (Against Men and Fish) – 4lb 5oz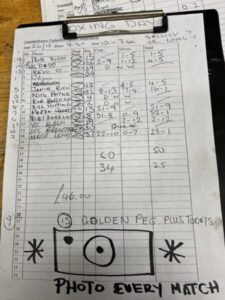 I ended up second in the silvers and picked up £25, Nick won the £3 side bets which added to the £10 breakfast money saw the Nugget-O-Meter rise to £37.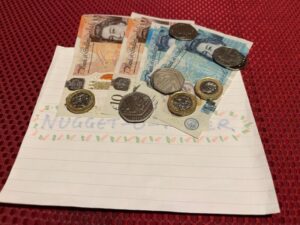 There's still a great offer running if you fancy treating yourself to some new fishing gear, use the exclusive discount code AgainstMenandFish10 to get 10% off when you shop online at Somerset Angling
I still have copies of my book available from eBay here or Amazon here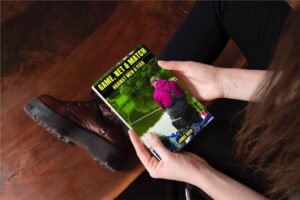 And if you could spare five minutes to leave a nice review on Amazon, it would be very much appreciated.
Next up – Revels
Coming soon – Lots more match reports
Check Out – My last match (below)