I really enjoyed this match last year, there was a brilliant turnout and despite the weather being atrocious, the weights were really close with just ounces separating several places. It was a case of deja vu as the forecast was just as bad for today. I met Nick and Harry at the Airfield for breakfast before heading to the venue, the rain was already pelting down which was rather ominous.
We went into the shop to pick up some bait and pay our pools, there were 24 booked in but due to the weather, we were down to 15 including Glynn W and Mark Leahy who were both fishing today. Jason said we'd be on Main, Middle, Dead Tree and Canal and with the horrendous wind which was getting worse by the minute, a sheltered peg would be a massive advantage.
As always, I really fancied Middle and was praying I might finally get to fish it, failing that pegs 2 or 20 on Main would do. The draw got underway, Steve P was on 22 on Main which would be relatively sheltered, Glynn and Nick both got Dead Tree, 47 and 49 respectively, Mark was on 70 on Canal but didn't fancy it, Harry got 6 on Main and then my name came out and I was on 4 on Main. It's a new peg for me and can be good for silvers although to do any good I'd need to beat 2 and 20 which is a big ask at the best of times!
Tony C had drawn 56 on Middle which was one away from where he was in the Simms Silvers match (drawing twice on there is just greedy mate!) and Bob Chrisp was over on 54, a nice sheltered peg that won this match last year. As I walked past Middle, I tried not to look too envious. My peg actually looked nice and although the wind and rain was coming straight at me, hopefully I'd be able to control the pole and get a modicum of decent presentation.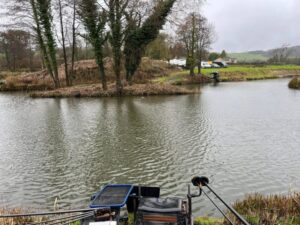 Harry was a bit more exposed on 6 and already resembled a drowned rat! Chris Burgess over on 20 had the wind off his back and looked nice and cosy under his brolly. I set up a two Drennan 0.4 gram Carp 1's and it was basically the same depth from top two plus two out to 11.5 metres. Only casters on the side tray today as my red maggots and disco pinkies were in my Bait-Tech bucket in a bid to try and keep them dry, groundbait was Special G F1 and Dark.
On the whistle I fed a line straight out at 10 metres with half a pot of groundbait and then a more positive line at the same distance angled to the right. I thought it might take a while to catch but within a couple of minutes, Ian Browncey on peg 2 was into a decent fish which turned out to be a nice hybrid around 1.5lb. Not long after I had my first bite on single pinkie which resulted in a 8oz skimmer, next chuck I had a little perch and then a roach and despite the weather, I thought we could be in for a good day.
Ian had another skimmer while I had a couple more small fish so tried double pinkie and my next fish was a chunky perch. Chris B was fishing the whip and catching lots of small fish and Harry was getting odd fish but the wind was being a nightmare for him. I got to around 14 fish for nearly 2lb after ninety minutes although I hadn't had anymore skimbobs. Harry came over and said he was struggling to fish and had already cracked his number four section, so was having an early bath.
I was switching between the two 10 metre lines but bites were starting to slow and then approaching the two hour mark, I hooked and landed my first carp. The wind was getting worse and swirling around, a few times I've had to drop my pole on the water and to add to the fun it was absolutely chucking it down. Water was now gushing out of the inlet pipe on my right which probably wasn't doing me any favours.
I was now soaking wet and to make matters worse, every bite was resulting in a carp, from small 12oz fish that had me convinced they weren't carp up to five pounders that were never going to be anything else. Ghosties, koi type things, I was catching some pretty fish but none of them counted. I started a new line at 10 metres to the left and missed a bite before catching a gudgeon but then the next fish was a carp, a short line resulted in two bites and two carp and I wasn't having much fun and all out of ideas.
The rain was relentless, the wind a nightmare and by the end I don't think anyone was too upset to hear the final whistle. The scores on the doors for me didn't make for pretty reading, 18 silvers (plus 14 carp hooked, 12 landed). When the scales reached us, the other ponds had fished really well considering the conditions, Tony was top on Middle/Canal with 8lb 11oz followed by Bob with 5lb 9oz, Paul Wyatt had 8lb 1oz on Dead Tree with Nick just behind with 7lb 8oz. Steve P was first to weigh on Main and had 1lb 15oz, Ian weighed 4lb 2oz, I had 2lb and then Chris B did brilliantly on 20 to win the match with 10lb 15oz.
Overall
1 – Chris Burgess (Revels) – 10lb 15oz
Main Lake
1 – Ian Browncey (Revels) – 4lb 2oz
Middle/Canal
1 – Tony Coubrough (Ilminster) – 8lb 11oz
Dead Tree
1 – Paul Wyatt (Revels) – 8lb 1oz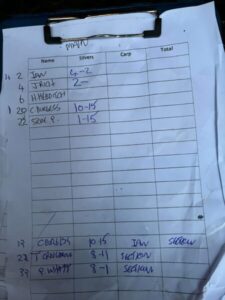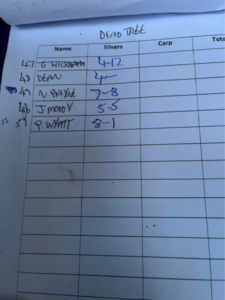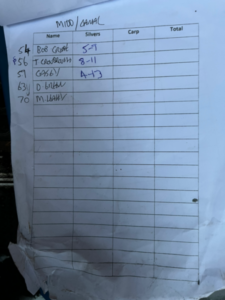 Nick won the £3 side bets today and with £2 from Tuesday, the Nugget-O-Meter climbed to £42.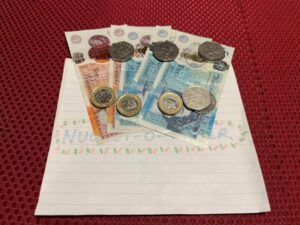 What a shame the year ended for me with a (very) damp squib but 2022 has been brilliant (yearly review coming) and I'd like to wish everyone who reads the blog a Happy New Year and hopefully you'll continue to follow my weekly musings over the next 12 months as well. I'm at Summerhayes on Monday for my last match of what has been a busy festive period.
Jason said he'd run another silvers open on Saturday 14th January if there's enough interest, I'm looking forward to it already (Middle lake please!).
There's still a great offer running if you fancy treating yourself to some new fishing gear, use the exclusive discount code AgainstMenandFish10 to get 10% off when you shop online at Somerset Angling
I still have copies of my book available from eBay here or Amazon here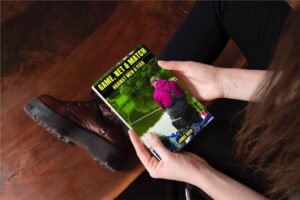 And if you could spare five minutes to leave a nice review on Amazon, it would be very much appreciated.
Next up – Summerhayes
Coming soon – Lots more match reports
Check Out – My last match (below)