After blanking last weekend, I was hoping for a few bites this week at Acorn on Saturday and Dilly the following day. I met Nick in Ilminster and we headed to the Bridge Inn for breakfast, I ordered the large one last time which proved too much for me, this time I went for the standard with added toast and black pudding and it was spot on.
The weather was pretty horrible again, cold and windy with rain forecast for later – lovely! Fourteen fishing today including some new faces in the shape of Sam Powell and Matt Parsons who were fishing Acorn for the first time. The draw got underway and I pulled out peg 36, an absolute bunghole and one I really fancied, it's been winning lots of matches recently but also capable of doing some great silvers weights. Nick got peg 6, a decent area while Matt was peg 1 on the island and Sam drew 33 to my right by the bridge.
I set up a Drennan 0.4 gram Carp 1 for top two plus two, a Drennan 0.4 gram Pencil for 11.5 metres to the left by the aerator on the inside plus a 0.3 gram Guru F1 Slim for 11.5 metres across where it was around five foot deep. All three rigs had size 18 SFL-B hooks to 0.11mm. On the side tray I had lots of red and white maggots, disco pinkies plus some Bait-Tech Special G F1 and Dark groundbait.
On the whistle I fed groundbait and a few maggots on the short line and across to the island and then the aerator line received a third of a pot of maggots. It was bitterly cold and I thought it might take a while to get bites but after five minutes the float flew under but of course I missed it, Rich L on 34 was into a carp quite quickly and Sam landed a big perch. My next bite resulted in solid resistance and after initially thinking I'd hooked a big carp, it soon became apparent it was foulhooked and after an age I netted a five pounder hooked in the flipper.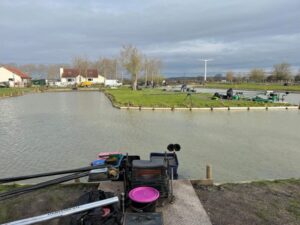 Shipping back across, I was expecting to catch quite steadily but then couldn't get a bite! It was a similar story for most as far as I could see apart from Martin Rayet and Allan Oram over on pegs 19 and 21 who both flew out of the blocks and were netting fish regularly. I decided to start another swim at 11.5 metres angled slightly to the left of the point of the island and at the bottom of the shelf in the deeper water.
I fed a small nugget of groundbait plus some maggots and left it for ten minutes before going on it, after a short wait I foulhooked a carp which came off but then next chuck I had a nice skimmer followed by a small stockie carp and it felt like there were a few fish there. Typically I then stopped getting bites here as well. Back on my original line I reversed a skimmer into the net after hooking it up the bum and then had a decent perch so my new plan was to swap between those two lines nicking a couple of fish at a time.
Well that failed miserably as well and I was waiting ages for very sporadic bites, Matt over on the island had a really slow start but was now beginning to catch some nice skimmers and Gareth on peg 3 was netting silvers regularly. I'd been pinging maggots on the top two plus two line and by the aerator since the start and with nearly half the match gone, I decided to have my first look and was still hoping for a strong finish.
On the short line I waited ages for a bite (which I missed) and then by the aerator which I thought was going to be solid, was no better (one missed indication). The pegs around me were also struggling and with around an hour or so to go, Sam started packing up. Rich Major over on peg 9, Paul Faiers on 11 and Chris Harrison (13) were all catching really well and would be there or thereabouts at the end.
Things never really improved for me, I never had another bite on the short line and spent the remainder of the match by the aerator and managed two small carp and a little tench. On the whistle I'd ended up with only seven fish in my silvers net (four skimmers, one roach, one perch and one tench) plus around the same number of carp.
Mark B arrived with the scales and started with Brian S on peg 31 who weighed 43lb 7oz, Sam had chucked back, Rich L on 34 had 29lb and then I had 34lb 13oz. Craig S on 38 weighed 8lb 10oz and then onto the island, Matt had 30lb 2oz which included a nice net of silvers (15lb 6oz), Gareth on 3 weighed 30lb 12oz (13lb 2oz of silvers) and Glenn C on 5 had 27lb 15oz.
Nick didn't weigh on 6 and then the last five pegs had all caught really well, Rich on 9 went into the lead with 79lb 1oz, Paul F (peg 11) weighed 57lb 6oz, Chris H on 13 had a brilliant 126lb, Martin weighed 58lb 5oz which included the best silvers net of 18lb 2oz and Allan had 61lb 4oz.
1 – Chris Harrison (Acorn) – 126lb
2 – Rich Major (Acorn) – 79lb 1oz
Sections
A – Paul Faiers (Acorn) – 57lb 6oz
B – Allan Oram (Acorn) – 61lb 4oz
Silvers
1 – Martin Rayet (Acorn) – 18lb 2oz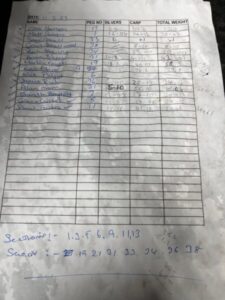 A really frustrating day, I drawn one of the best pegs on the lake and felt like I've messed it up and don't really know why. It's not like I've lost loads of fish (three foulhooked carp and two skimmers) or missed lots of bites but I'm sure it was worth a lot more than I've had out of it. Maybe I didn't fish far enough across into the shallower water or I fished too far away from the aerator, I also might have got a bit giddy with my feeding but it's all ifs, buts and maybes.
The weather was pretty awful again, very cold and windy but despite nobody around me bagging up and the top five weights along with the best silvers all coming from five pegs in a row (9, 11, 13, 19 and 21), I'm still sure others would have done a much better job on my peg than I did. In fact, it won the following day which did nothing to soothe my bruised confidence although it didn't do much in the Tuesday costcutter.
Another £3 went into the Nugget-O-Meter which has now reached £164 and continues to rise steadily.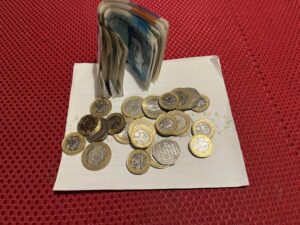 There's still a great offer running if you fancy treating yourself to some new fishing gear, use the exclusive discount code AgainstMenandFish10 to get 10% off when you shop online at Somerset Angling
If you like reading my weekly posts, why not check out my book, available from eBay here or Amazon here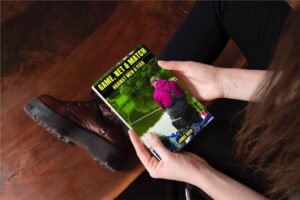 And if you could spare five minutes to leave a nice review on Amazon, it would be very much appreciated.
Next up – Dillington
Coming soon – Lots more match reports
Check Out – My last match