On Sunday it was back to Dillington for the final round of the winter league and it was forecast to be a few degrees warmer than the previous day so hopefully it would fish well. We met at the bowling club for breakfast and then it was time for the draw. There were fifteen anglers originally booked in for this one but we were one down due to illness. Rob left all the balls in the bucket and the favoured pegs were 23 (which had won comfortably last time) or peg 1 which was the other side of the bush and in for the first time in a while.
Dave Pope got peg 1 but with nearly all the balls gone and nobody admitting to 23, I delved into the bag of dreams and grabbed a peg but didn't look straightaway so Les B did for me. He opened his fingers and revealed a 2 which got my hopes up but the other digit was a zero although I was happy enough with peg 20 on the near side. 23 was actually left in the bag which meant Dave had the bush to himself and would be hard to beat today.
For company I had Tony C on my right (peg 18) and Dave Phillips was my neighbour on the other side. I set up a 0.4 gram Perfect Gloucester with a 0.10mm bottom to a size 18 Guru Pole Special hook and a 4×14 Chianti to with strung out shot to fish through the water. On the side tray I had casters, maggots, disco pinkies, hemp plus Bait-Tech Pro Nat Fine Lake Dark and Extra.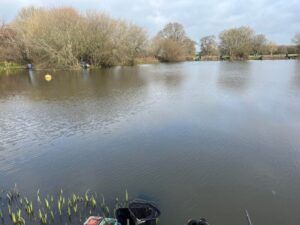 On the whistle I cupped in a single ball of groundbait containing some hemp, casters and pinkies at 13 metres and went over it with a single pinkie on the hook. It was a very slow start for everyone and after ten biteless minutes, I was just beginning to think it could be rock hard when the float sunk from view and pleasing amount of number six Slip elastic showed itself on the strike. It wasn't a big fish, probably a chunky 3-4oz perch but I'll never know as it came off!
Next chuck I had a little roach and started catching small fish quite well, Dave Pope was soon off the mark with a decent chub and even at this early stage, the writing was already on the wall and the rest of us were fishing for second place. After an hour I was up to 21 fish for a pound and doing okay as far as I could tell but then Dave (Phillips) next door hooked a better fish off the end of the wooden jetty which turned out to be a nice chub.
Going into the second hour, I was still catching little roach and perch but much like the last match I was expecting bonus fish to make all the difference but as yet I hadn't caught anything over a couple of ounces. I shouted across to Nick on peg 2 that perhaps we needed to change our names to Dave to catch a chub!
Les over on peg 5 hooked into and landed a decent perch on the feeder and then my float sailed away and I struck into solid resistance before a good fish moved off. I initially thought it was a carp or chub but then it stopped and as I began shipping back, I could see it was a good skimmer and managed to net a lovely 3lb+ bonus which got me right back into the mix.
Some better fish were starting to show now, Hainsey hooked a lost one that straightened his hook out, Dave Pope landed another chub and a nice perch but also got done by a couple of big fish under the bush and then Nick had a big skimmer on a golden nugget (grain of sweetcorn).
With around half the match gone, hardly any small fish were being caught and I couldn't get a bite. Apart from Mr Pope who could probably light a cigar, kick back and relax as he'd already done enough to win the match, it was still finely poised for the rest of us. Several people had a bonus fish but one bite could make all the difference today.
In a bid to try and make something happen, I chopped up a few worms and cupped them in with a little groundbait to bind them together. I'm not overly sure it worked but I did manage a couple more little perch. Leighton on peg 6 foulhooked a carp that went through Bagger Burton's swim and got tangled in his pole rig before coming off. He then cast back out and was into another straight away, this one he landed safely and as they average between 2-5lb, I was sure he'd gone ahead of me.
Dave 'Bombardier' Phillips let fly with a salvo of groundbait and after the fish had recovered from the shockwaves, he hooked a nice perch around 4-5oz which he tried swinging and it dropped off! I potted in another worm ball and had two more little perch but then 'Dambuster' Dave was into a bigger fish and landed his second chub which I was sure would get him in the frame places. On the whistle I'd ended up with 42 fish which I thought would give me 4-5lb.
After packing up, I went round with Rob to get some photos, Dave Pope had three chub and two perch plus a few bits for 10lb 12oz which would win comfortably, Nick had that decent skimmer/bream and some small fish for 5lb 2oz, Les had 1lb 13oz which included a nice perch and then Leighton had a small carp, a skimmer and a few roach for 3lb 11oz.
'Bagger' Burton on peg 7 weighed 3lb 3oz of roach and perch, Hainsey on 8 had 3lb 3oz of roach and perch and then Bish (peg 9) weighed…….. you guessed it, 3lb 3oz of roach and perch! Steve P on 13 chucked back and Rob Cox had 3lb 11oz on peg 14 including a nice skimmer.
Norts on 16 had a chub plus small fish for 4lb 5oz and then Fieldy on 17 didn't weigh, Tony had 13oz and then it was my turn, my fish went 5lb 12oz which put me second but there was still Dave to go and I thought he had 6lb+ but his chub were around 2.5lb apiece and he weighed a level 5lb (so that perch he tried swinging was costly!).
1 – Dave Pope (Stoke) – 10lb 12oz
2 – Jamie Rich (Against Men and Fish) – 5lb 12oz
3 – Nick Payne (Ilminster) – 5lb 2oz
4 – Dave Phillips (Ilminster) – 5lb
Sections
A – Leighton Cox (Ilminster) – 3lb 11oz
B – Chris Norton (Stoke) – 4lb 5oz
C – Tony Coubrough (Ilminster) – 13oz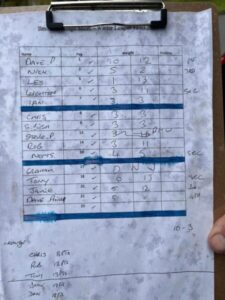 So with the exception of Dave Pope's weight, it was a very close match again with bonus fish needed to do well, it was also interesting that although there had been quite a few chub caught, it was the younger fish around the 2.5lb mark and not the old 4-5lb warriors. It'll be intriguing to see what the weights are like in the summer series and whether the bonus fish are as essential then.
I picked up £55 for second plus the £6 in nuggets which obviously went back into the charity pot that now stands at an excellent £170. So fingers crossed, by November we should have another tidy sum to go to a great cause.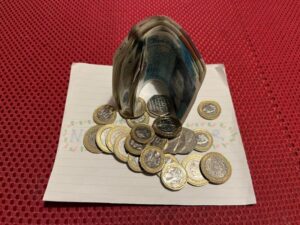 The final league table after five rounds (as per the licence all results count and a DNW – 10pts and DNF – 20 pts). Massive congratulations to Chris Haines for winning the league on his first attempt, I ended up fourth and blanking on the river ended mine (and a few others) chances of winning the league. Huge thanks also to Rob Cox and everyone involved in running the league.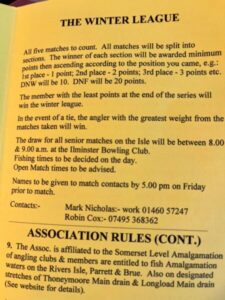 Chris Haines – 11 pts
Rob Cox – 14 pts
Tony Coubrough – 16 pts
Jamie Rich – 18 pts
Dave Pope – 19 pts
Nick Payne – 29 pts
There's still a great offer running if you fancy treating yourself to some new fishing gear, use the exclusive discount code AgainstMenandFish10 to get 10% off when you shop online at Somerset Angling
If you like reading my weekly posts, why not check out my book, available from eBay here or Amazon here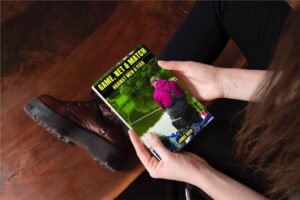 And if you could spare five minutes to leave a nice review on Amazon, it would be very much appreciated.
Next up – Acorn Fishery
Coming soon – Lots more match reports
Check Out – My last match