The weekend soon arrived and after an early start I was only a little late meeting Nick at the garage in Ilminster (sorry mate!). We made good time and went to the burger van again and had an excellent bacon, sausage and egg bap before heading to the fishery. Seventeen anglers eagerly awaited the draw and with Des holding the bag, Zoe asked Martin Rayet (who has been on a blistering run of form) which peg he fancied. He replied saying he wouldn't mind having a go on peg 5 today.
I actually ended up in the draw queue just ahead of Martin and after delving into the bag, only went and pulled out number 5! It's a brilliant peg and one I've drawn before, that match I tried fishing for silvers but ended up catching carp quite well and even though I had a nice little pick up, was left feeling I should have done better. Nick drew 34 again and Martin got peg 10, a decent area and he was happy with that.
It's funny how you sometimes keep drawing the same pegs, I've only fished Acorn eight times and drawn both pegs 5 and 34 twice, it's a similar story with Nick who's fished it seven times and doubled up on 4, 34 and 40. Going by that, I ought to have 34 as one of my lottery numbers, in fact when I get to seven different peg numbers, I'm going to get a lotto ticket!
I set up a Drennan 0.4 gram Carp 1 for top two plus two, a Drennan 0.4 gram Pencil for 11.5 metres to the left plus a 0.3 gram Guru F1 Slim for 13 metres across where it was around four foot deep. All three rigs had size 18 SFL-B hooks to 0.11mm. On the side tray I had several pints of red and white maggots, disco pinkies plus some Bait-Tech Special G F1 and Dark groundbait.
On the whistle I potted in some groundbait on the 13 metre and short lines while the 11.5 metre line received a third of a pot of maggots. I kicked off fishing across with single red maggot on the hook but it was a slow start. Walshy on peg 1 was into a carp straight away and Martin was off the mark not long after.
After around ten minutes, the float sailed away and I was into what felt like a nice skimmer but turned out to be a carassio and next chuck I've foulhooked a carp that I had on for ages before the hook pulled out, not the best of starts! My next fish was a nice roach and I was getting regular indications from more roach from 4-8oz along with quite a few decent skimmers around 12oz-1lb. I was catching steadily and so far, thankfully, carp hadn't been too much of a pain and I'd only foulhooked two with both coming off.
It looked like Lee Massey over on peg 14 was also fishing for silvers and he was netting fish on a regular basis. I was loose feeding maggots on all three lines but wanted to leave the other two as long as possible before trying them, especially as the last time, when I went on the 11.5 swim it had been solid with carp (although it did yield a few tench with one cracker of 4lb+).
With two hours gone I was really enjoying myself catching roach and skimmers although no tench as yet and only one small 2oz perch. In the carp net, I just had the one carassio and a 5lb carp I'd reversed in! I was starting to wait longer and longer for bites and with Lee still catching well, it was time to have my first look on the short line. As well as feeding maggots, I was also toss potting in a little loose groundbait here. After missing a couple of bites, I had a lovely roach, followed by a decent skimmer and then my first tench of 12oz or so.
I've had a lovely spell catching tench and skimmers plus a couple of big perch (and another foulhooked carp) before it began to slow with around an hour and a half left. I was going to go back across but decided to have a quick look at 11.5 metres first but was expecting it to be carp central there. First put in, the float buried and a net roach was the result so it was worth another go. To be honest, it was solid and I was getting a fish a bung, roach and then mainly tench with the odd skimmer.
The net limit for silvers is 40lb so when I got to 50 fish which I thought would be somewhere between 25-30lb, I decided to put another net in to be on the safe side. The last hour was just lovely and I had another 25 fish for probably 10-12lb plus two more carassio and a small carp (the first one I hooked in the mouth all day!).
I packed up and took some of my kit back to the car before going to see how Nick had done, Des was doing the weigh in and started with Rich Major on 31 who had 52lb 12oz, Stuart S on 33 weighed 49lb 15oz and then Nick had 51lb 4oz of carp plus 20lb 12oz of silvers for a 72lb total.
Jo on 36 had fished for silvers and had a lovely day catching some big skimmers and tench on worm to weigh 29lb 1oz, Darren Wilton was next on peg 38 and just pipped Nick with 72lb 6oz and then Ross Stewart by the bridge (40) had 19lb 4oz. Onto the island and Walshy (peg 1) went into the lead with 76lb 2oz, Steve on peg 3 didn't weigh his carp but his silvers went 12lb 2oz.
Then it was me, the carp went 15lb 10oz and then I tipped both my silvers nets in the weigh sling, Des's estimation skills were on fine form once again as he reckoned 38lb and the scales read 38lb 8oz. Nick took a photo for me and when I got home, I came across a great selfie he'd taken as well!
Young Ben Brooks on peg 7 had done well with 25lb 8oz which included 16lb 10oz of silvers and then as the scales carried on, I packed the rest of my kit away. Back at the results and that man Martin Rayet had done it again with 85lb 1oz, but only just this time as poor John McLennon on 12 had gone over in his carp net with 80lb meaning he lost that net and weighed 13lb 1oz of silvers. The ever consistent Brian Slipper was close behind as well with 84lb from peg 19 and Lee Massey had also weighed a brilliant net of silvers with 28lb 7oz.
1 – Martin Rayet (Acorn) – 85lb 1oz
2 – Brian Slipper (Acorn) – 84lb
3 – Walshy (Acorn) – 76lb 2oz
Sections
A – Darren Wilton (Acorn) – 72lb 6oz
B – Nick Payne (Ilminster) – 72lb
Silvers
1 – Jamie Rich (Against Men and Fish) – 38lb 8oz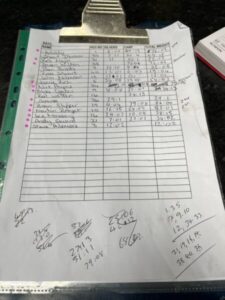 So I recorded my first Acorn silvers win picking up £30 and had a fantastic days fishing, as it warms up, the weights could be amazing although obviously the carp will become more active as well. I was really surprised I hadn't hooked more carp today (I think I foulhooked five plus one and three carassio in the mouth), especially as I'd fed a fair bit of bait today (between three and four pints of maggots).
Lots of close weights too with only a couple of carp between first and sixth place and four silvers weights over 20lb, great fishing.
There's still a great offer running if you fancy treating yourself to some new fishing gear, use the exclusive discount code AgainstMenandFish10 to get 10% off when you shop online at Somerset Angling
If you like reading my weekly posts, why not check out my book, available from eBay here or Amazon here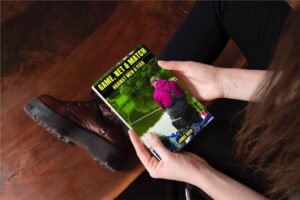 And if you could spare five minutes to leave a nice review on Amazon, it would be very much appreciated.
Next up – Summerhayes
Coming soon – Lots more match reports
Check Out – My last match