The second match of the weekend was on Longs at Summerhayes, we met at bowling club for breakfast first which was quite busy with lots of the Stoke lads off to Trinity for a pairs match. After we'd eaten we headed to Bridgwater, pulling into the car park, spaces were at a premium with twenty booked in for the open and there was also a match on Sellicks.
Draw time arrived and the golden peg this week was 29 and when my name was called out it was still in the bucket, I pulled out 25, close but no cigar! Mark Leahy got the bonus ball, Steve 'The Pole' was on 35 and Nick got peg 6 over on the end of 'Cyanide Straight'. My neighbours for the day were Zooner on 27 and Kev O the other side on 23.
A couple of 0.3 gram Guru AR's were assembled and on the side tray I had loads of red and white maggots, disco pinkies plus some Bait-Tech Special G F1 and Dark groundbait. Pete had to shoot off so I somehow ended up having the whistle responsibility, I got us underway and fed a small amount of gb and a few pinkies on a top two line, loose gb and maggots at 10 metres and fired some maggots across.
I gave the short line a biteless five minutes once again before moving out to 10 metres, no bites there and already it felt like it might be a bit of a struggle today. I tried going past the feed but after 90 minutes all I had to show for my efforts was a couple of small fish. Zooner hadn't had much either although I had seen Rob Birch on 31 land a couple of decent skimmers and Mark on the golden peg was getting the odd carp.
Jeff Sparkes on 21 got off the mark with a decent skimmer so with nearly two hours on the clock, I had my first look across at 13 metres. It certainly wasn't fast and furious but after a few tiny roach, I finally had a skimmer of around 8oz. The wind was strong enough to be a pain but I could just about manage to fish long for the time being. Jeff was sneaking in some nice skimmers and I was getting the odd one to stay in touch with him but he always seemed to be two or three ahead although he also got bitten off by a big eel.
Zooner was really struggling and at one stage, I looked round and he was waving a white flag (I think it was actually a hankie!), he proclaimed he was giving up on the silvers and was going to fish for carp. Typically his next fish was a nice perch and then he had a big 2lb skimmer so the fat lady certainly hadn't started singing yet!
With Jeff well in front of me, Bill on 15 catching some nice skimmers and Rob netting fish regularly, unless my catch rate improved drastically, I was already at the snookers required phase! I did have one purple patch where I had a nice roach and a decent leaping skimmer but also lost a foul hooker at the net.
A brief foray to 14.5 metres saw me hook a skimmer or carp that snagged me and came off but the wind made it nearly impossible to hold the pole. Presentation was becoming a nightmare so I began feeding at top two plus two but the sum total from that line was a small fish that came off and a lost carp. I wasn't really enjoying myself and even contemplated borrowing Zooner's white flag!
When I finally brought an end to the proceedings with the whistle, my final tally was 7 skimmers, 1 decent roach, a few bits and bobs plus five or six carp. It was supposed to be Jeff and me weighing in but he conveniently remembered an appointment he had to rush off for! Thankfully Adie started the weigh in with me as his glamorous assistant. Toby on 33 set the pace with an excellent 76lb 10oz and then Rob Birch was admitting to 3lb of silvers but was only slightly out when he weighed 12lb 5oz which included a big eel, a decent perch, skimmers and even a little tench.
Mark Leahy went into second place with 50lb 1oz but had lost some lumps, Jess had 40lb 5oz (including 4lb 13oz of silvers) and then I chucked my carp back before my silvers went 5lb 13oz which was just enough to claim a nugget from Zooner.
Kev had 21lb 12oz of carp, Jeff did well with 9lb of silvers, Dave Phillips had two lumpy carp and some silvers for 14lb 5oz and then Bill 'The Paste' weighed 8lb 4oz of skimmers. Liam on 14 had 28lb 10oz of carp, Adie weighed 4lb 3oz of silvers and then Alex Kerr went into second spot in the silvers with 11lb 4oz. Martin A weighed 24lb 1oz on peg 10 and then Steve Collins had 35lb 10oz.
Nick weighed 9lb 12oz of skimmers from peg 6 which was a great result from there and last but not least, Jim Jenner on peg 2 had 41lb 3oz which was enough for third place.
1 – Toby Burrell (Team Army) – 76lb 10oz
2 – Mark Leahy (Street) – 50lb 1oz
3 – Jim Jenner (Summerhayes) – 41lb 3oz
Silvers
1 – Rob Birch (Summerhayes) – 12lb 5oz
2 – Alex Kerr (Summerhayes) – 11lb 4oz
3 – Nick Payne (Ilminster) – 9lb 12oz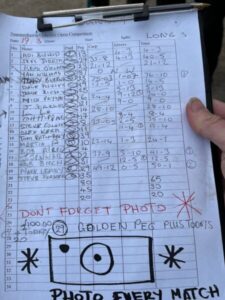 Some really close silvers weights once again but a disappointing day for me. The Nugget-O-Meter did well though with £2 each from me and Nick for Saturday and today plus pounds from Rob Cox and the Grand Wiz at breakfast and one from Zooner so the total rose by £7 and now stands at a very healthy £177.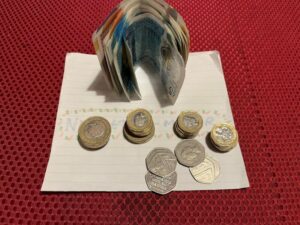 There's still a great offer running if you fancy treating yourself to some new fishing gear, use the exclusive discount code AgainstMenandFish10 to get 10% off when you shop online at Somerset Angling
Also I still have copies of my book available from eBay here or Amazon here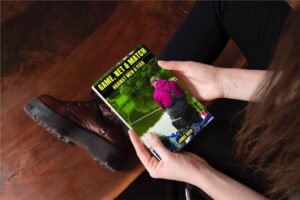 And if you could spare five minutes to leave a nice review on Amazon, it would be very much appreciated.
Next up – Acorn Fishery
Coming soon – Lots more match reports
Check Out – My last match