After a lovely day catching silvers last Saturday, I was hoping for more of the same today, of course as it was the weekend the forecast was for strong winds, fed up with it now! I was actually on time meeting Nick for once and then we headed up to Acorn via a breakfast pitstop which was very nice.
We picked up some bait along with the inevitable bits and bobs and waited for the draw. Looking at the lake, the pegs on the near side and the island would be relatively sheltered and I really fancied 38 and 40. A great turnout of 20 anglers including Dave Chidzoy, Marco Smith and Dave Romain who were fishing it for the first time in ages.
Brian Slipper was in charge of proceedings today and held aloft the draw bag of doom, I skilfully managed to avoid the sheltered swims but pulled out peg 10 where Mr Rayet had won from last weekend. Nick was in close proximity on peg 12 and Andy Guard was my neighbour on peg 9 so a good laugh was guaranteed. The wind was howling from right to left and Nick would be getting it straight in the chops all match.
I set up a Drennan 0.4 gram Carp 1 for top two plus two, a Drennan 0.4 gram Pencil for 11.5 metres to the left in the middle plus a 0.3 gram Guru F1 Slim for 11.5 metres across where it was around four foot deep. All three rigs had size 18 SFL-B hooks to 0.11mm. On the side tray I had several pints of red and white maggots, disco pinkies plus some Bait-Tech Special G F1 and Dark groundbait.
The whistle got us underway and I fed some groundbait and maggots across at 11.5 metres and the short line and then just maggots on the left hand open water line. I kicked off trying to fish across but after ten minutes of unsuccessfully battling the wind, I came to my senses and gave that up as a bad job for now.
The top two plus two line was next and after a short wait, a positive bite resulted in lots of elastic streaming from the pole tip, it didn't feel very carp-like and a lovely 3lb tench got me off to a great start. Next chuck I had one of 12oz followed by a nice perch and I was getting regular indications on single maggot. Andy was getting some decent skimmers and Nick had a couple of perch but the wind was already proving a nightmare for him.
I was getting some chunky perch and then had another cracking tench that was getting on for 4lb but going into the second hour, bites were beginning to slow. During the second sixty minutes, I continued putting odd fish in the net, including my first roach, but no skimmers as yet. I wanted to leave the left hand line until the last couple of hours so decided to have another look across. When I could actually hold the pole during brief lulls in the wind, I was getting bites and started getting some nice skimmers and roach but was also hooking quite a few carp.
The wind was being a real pain meaning my feeding with a catapult was a bit random and I also pulled out of three skimmers shipping back. Another look short resulted in a 4lb tench, a good skimmer and a nice perch before I hooked two carp in as many chucks so it was time to try the left hand line for the first time. After feeding it for four hours, I was expecting it to be solid but it took a while to get a bite which was from a nice skimmer.
Next put in I had a little 4oz tench but then I've hooked three carp on the trot with the last one snapping me so it was time to move again. A nice skimbob and a perch from the short line before the carp turned up so I went long for the last fifteen minutes and had a carassio, a nice roach and then just before the end, hooked a lumpy carp which I landed after the whistle.
Typically, after trying to blow us off the bank all match, the wind dropped towards the end and it was lovely! I ended up with 34 silvers plus around a dozen carp. I took my kit back to the car and went to watch the first few pegs weigh in, Mark B on 31 had 41lb 3oz, the chap on 33 chucked back and then Lee Massey on 34 had a brilliant 35lb 3oz of silvers. Istvan on 36 weighed 26lb 2oz and then Joanne on 38 had some lovely tench and skimmers for 29lb 15oz.
Marco on 40 had really enjoyed his first visit weighing 51lb 4oz, onto the island and Chris Harrison (peg 1) went into the lead with 84lb 1oz, Brian S on peg 2 had 44lb, Antonio weighed 62lb 7oz on peg 4 and then Dave Chidzoy edged into the lead with 85lb. Photo credit – Marco Smith*
Alan Gibbs on peg 7 had 49lb 4oz, Andy G had some quality skimmers for 13lb 8oz and then it was me, my carp went 38lb 15oz and my silvers added 27lb 14oz to give me a 66lb 13oz, a cracking days fishing but I didn't think it would do any good. I took the rest of my kit back to the car as the scales weighed in the last few pegs.
At the results, Dave had won on his first visit with Chris second and Dave R third, I won my section and picked up £20 but was only 5lb off third spot and I lost quite a few fish but then I'm sure everybody did.
1 – Dave Chidzoy (Weymouth) – 85lb
2 – Chris Harrison (Acorn) – 84lb 1oz
3 – Dave Romain (Colmic) – 71lb 6oz
Sections
A – Jamie Rich (Against Men and Fish) – 66lb 13oz
B – Antonio (Acorn) – 62lb 7oz
Silvers
1 – Lee Massey (Acorn) – 35lb 3oz
There's still a great offer running if you fancy treating yourself to some new fishing gear, use the exclusive discount code AgainstMenandFish10 to get 10% off when you shop online at Somerset Angling
Also I still have copies of my book available from eBay here or Amazon here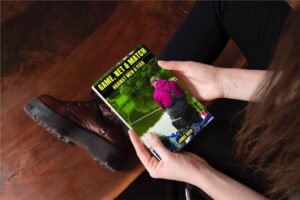 And if you could spare five minutes to leave a nice review on Amazon, it would be very much appreciated.
Next up – Summerhayes
Coming soon – Lots more match reports
Check Out – My last match