The next Stoke match at Avalon was once again very popular with 28 anglers fishing, after breakfast at the bowling club, we arrived at the fishery about ten minutes before the draw time and the car park was rammed. Norts welcomed everyone before the usual scrum ensued as people delved into the bag of doom. I was hoping to get a peg near the top end but pulled out number 9, an area I seem to draw a lot (and not do particularly well from!).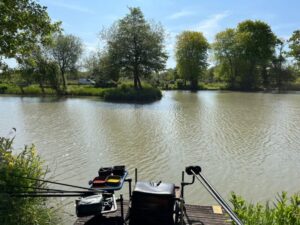 I would see plenty of fish caught though as I had Dan Squire on the next peg, fresh from winning the previous days match with 153lb of carp, he did say it had fished hard for silvers with 15lb of roach winning and only a few bream caught. The match got underway and I fed two balls of groundbait plus a big pot of corn and casters at 13 metres before kicking off on the top kit line. It took a little while to get a bite and I started catching some small roach and rudd.
Although it wasn't frantic, I stuck with it for nearly an hour to let my main line settle, Sam Hinton on peg 7 to my right, got off to a decent start with a couple of nice carp although he also did a bit of squirrel hunting! With sixty minutes on the clock, I've had my first look at 13 metres with corn on the hook, to be honest, I really struggled with the wind and just couldn't keep the rig still. After half an hour, I gave that up and decided to start again so fed a line at 11.5 metres and left it to settle for a bit.
Back on the top two, I continued catching small roach and rudd along with quite a few tiny motherless minnows which were being a bit of a pain. Dan was starting to catch carp swapping between the pellet waggler and pole while Sam had a 4lb bream on the bomb and pellet which he took great delight in showing me!
Despite trying the long pole line a couple more times, I've not had a bite on it and got my head down catching small fish. I began getting the odd better 4-6oz rudd in amongst the smaller samples but I was having to constantly change depths to keep bites coming. The highlight of the day was when a grass snake came swimming by and Dan managed to land it to show his young lad before safely returning it.
I was catching quite well until the last hour when my bites tailed right off, I tried fishing a section further out but never had a bite there and struggled on catching very odd fish to end up with 157 roach, rudd and perch (plus the motherless). At an ounce apiece I'd have 10lb but I honestly thought I had nearer 15lb as I'd netted quite a few rudd and roach to 6oz.
As soon as the whistle went, the fishery crew began the weigh in on the far side (so not many photos today). As the scales got round to us, Tom Mangnall was top with 68lb 6oz from peg 30 and Parker 'The Pole' had the best silvers weight with some nice bream for 12lb 6oz. The Grand Wiz weighed 63lb 11oz on 12 and then Dan went into the lead with an excellent 80lb 6oz.
Then it was me and my estimate was well out with my weight called at 10lb 5oz, proving once again, I'm crap as guesstimating! Sam had 38lb 2oz, Dave P weighed 14lb 5oz on 6, Derek had 30lb 4oz and then Stoke's 'Club Angler of the Year', Norts tipped 83lb 10oz on the scales to go into pole position and last to weigh was 'Bagger' Burton who had 20lb 11oz on peg 1.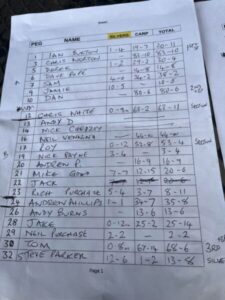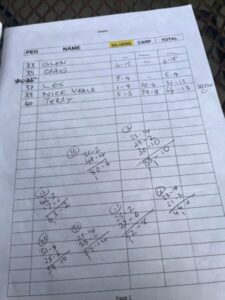 Overall
1 – Chris Norton (Stoke) – 83lb 10oz
2 – Dan Squire (Mosella) – 80lb 6oz
3 – Tom Mangnall (Stoke) – 68lb 6oz
Section A
Chris White (Stoke) – 63lb 11oz
Section B
Roy Worth (Stoke) – 53lb 4oz
Section C
Terry Morgan (Stoke) – 64lb 13oz
Silvers
Steve Parker (Stoke) – 12lb 6oz
A disappointing day for me but the Nugget-O-Meter did well rising to £256 thanks to pounds from Norts, Grand Wiz, Nick and me.
There's still a great offer running if you fancy treating yourself to some new fishing gear, use the exclusive discount code AgainstMenandFish10 to get 10% off when you shop online at Somerset Angling
Also I still have copies of my book available from eBay here or Amazon here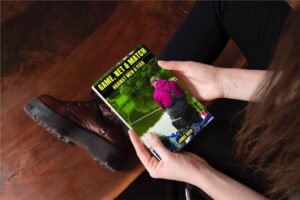 And if you could spare five minutes to leave a nice review on Amazon, it would be very much appreciated.
Next up – Hebditch's Pond
Coming soon – Lots more match reports
Check Out – My last match