For round two of Ruthie's Cup, we had a severely depleted turnout due to people having other commitments but the decision was made to go ahead as people had booked days off work and also a lack of other suitable dates. We met at the bowling club and had a lovely breakfast (thanks Drew). After a random open draw for the first match, the sections of three would rotate round the pond which meant Burnsey, Parker and me would be in the good section (pegs 3, 4 and 5). Normally I'd love a crack at 5 as I've still never drawn it but it doesn't normally compete with the other two and I convinced myself it would be sod's law that I'd be on it today.
The Grand Wiz handed us the envelope with the three cards in and Steve P spread them out on the table. I went middle for diddle and was too scared to look but when Burnsey opened his and threw it down in disgust, I guessed he was on 5. Opening my little card, I was on peg 4, the best swim on the pond (although 3 is still my favourite peg) and it's won more matches than any other. Saying that, I've only ever drawn it twice, I did win the first time but only managed a disappointing third on the other occasion. That left Steve on 3 which he was happy with as he'd never fished it before.
GW was on peg 7 but was guaranteed to win his section for the league as he was on his own and similarly so was Terry 'The Toast' on peg 11. At this point we have to say a huge thanks to Harry who'd been out strimming the grass and the access track had also been sorted out.
As I took my kit to the peg, you can see why it's such a flier, there's a big reed bed between pegs 3 and 4 which holds loads of fish (and there's another over between 7 and 8), also because it's an irrigation pond there are several pipes in the peg and a rope that goes across the lake at about 13 metres, so loads of features (and snags!).
It was a glorious day so I was hoping I'd be able to catch shallow in open water and not have to go into the lion's den (by the reeds). With that in mind, I set up a shallow rig, one for the margins to the right and lastly one for by the reeds. On the side tray I had lots of Bait-Tech 6mm Carp & Coarse pellets, micros, corn and some maggots.
The Grand Wiz musically tooted his whistle to get us off and running and I fed micros and corn by the reeds and to the right before starting shallow at 11.5 metres towards the buoy, regularly pinging 6mm's. After a few minutes, the float buried and elastic streamed from the pole tip before I netted a 3lb carp to get off to a great start. Andy and Chris both flew out the blocks landing early fish as well and it looked like we were in for a good match.
Any thoughts of a nice steady day catching shallow soon dissipated when over the next thirty minutes, I only caught a 6oz roach so had to bite the bullet and go by the reeds. Pinging pellets with a 6mm in the band, it didn't take long to hook a fish, the black hydro did it's job and carp number two was in the net.
I was catching really well and despite my Tourney taking on an alarming bend at times, it performed admirably and I was landing the majority of the carp I hooked. The Grand Wiz, Terry and Burnsey were all getting a few although I couldn't see how Stevie P was doing. As we approached the half way point, I had 16 carp plus a few little pasties and felt I was ahead of those I could see although Terry was starting to catch really well on paste.
Another look shallow resulted in a carp straight away but again it was a one off, I also tried the right hand margin but no bites so I went back by the reeds and carried on playing tug of war with the fish. As we approached the last hour, carp were starting to swirl for the pellets every time I fed so I began trying to feed away from the reeds bit and picked up the shallow rig and plopped a pellet in amongst the feed, it worked a dream and I landed five carp in quick succession.
I hooked number six which gave me a torrid time and went in the reeds, I eventually got it out but it snapped me and the rig went up the tree to my right and was a right mess. With only five minutes left, I picked up the deeper rig, that buried straight away and before I could strike, elastic ripped from the pole tip and the fish tore through the reeds before snapping me. That top kit got chucked up the bank to join the other one and I picked up my margin rig (the only top kit I had left) and put a grain of corn on, it didn't take long for that to get nailed and I was into carp number 30 which I landed after the whistle.
We started the weigh in with Terry who had done really well from 11 with 80lb 12oz, Steve P really struggled on 3 for 5lb 7oz and then it was my turn. After my three nets were totted up, my total was 98lb 11oz, my best weight ever at Hebditch's but agonisingly close to doing my first ever 100lb weight here. Burnsey also did well on 5 with 54lb 3oz and GWiz weighed 25lb 12oz.
1 – Jamie Rich (Against Men and Fish) – 98lb 11oz
2 – Terry Morgan (Stoke) – 80lb 12oz
So a little win, another pb match weight and I picked up £40, the Nugget-O-Meter gained another £2 thanks to The Grand Wiz and me and now stands at £258.
Another busy Bank Holiday weekend coming up with a trio of matches on three different venues including my first ever short pole match which should be interesting.
There's still a great offer running if you fancy treating yourself to some new fishing gear, use the exclusive discount code AgainstMenandFish10 to get 10% off when you shop online at Somerset Angling
Also I still have copies of my book available from eBay here or Amazon here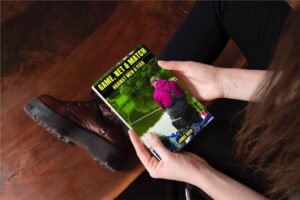 And if you could spare five minutes to leave a nice review on Amazon, it would be very much appreciated.
Next up – Summerhayes
Coming soon – Lots more match reports
Check Out – My last match