The first of three matches over the Bank Holiday was another silvers open at Summerhayes. The weather was glorious with 14 fishing today. Pete announced the draw, starting with the golden peg which was number 2 and when I got called up, I only pulled out the bonus ball again! It can be a great peg for silvers (and carp), normally when the wind is blowing into it but today it was flat calm.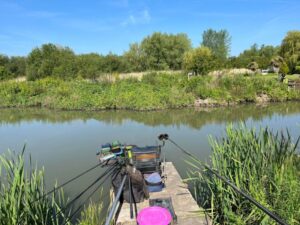 Bill 'The Paste' was next door, Nick was up on peg 6 and Parker 'The Pole' was opposite on peg 23. On the whistle I fed three lines (top two, 10 metres and by the island at 11.5 metres). Starting short, it was very slow, Bill had a nice skimmer but it took ages for my first bite, which of course was from a carp. After half an hour, that was the sum total of the action for me.
My next stop was 10 metres but it was a similar story there and it was beginning to have all the tell-tale hallmarks of a tough day. I didn't want to go across yet so came back in on the top two line. A few indications got me interested and I hooked a fish that didn't feel like a carp and was doing its best to burrow under the near bank before I finally netted a nice tench around the pound mark. Things got even better when I added a 6oz hybrid and then a 12oz perch.
Nick had gone long and was getting some nice skimmers but I wanted to leave my 11.5 metre line for at least two hours before going across so with no more bites short it was back to 10 metres. This line was still a complete non-starter apart from the inevitable vermin and I was landing more of them than I was losing.
The two hour mark finally arrived and with just three silvers in my net, I couldn't wait to go over to the island. First put in, the float buried and a little chublet was very welcome, next chuck I bumped off a nice roach and it felt like there were lots of fish there. I should've known better as the next bite resulted in a carp and the one after that, it was a carpy nightmare.
Nick was having no such problems as he put a succession of skimmers and big roach into his silvers net. In between playing carp, I did manage two more nice perch and one decent skimmer but unless things changed drastically, I wouldn't be taking home a big fat envelope today.
With around two hours to go, I was back on the 10 metre line but I still hadn't caught a fish that counted there and it was fizzing like crazy. Then the float buried and a big 2lb skimmer came flying out the water and I had two more in as many chucks. Any thoughts of pulling it out the bag soon disappeared when the next three fish I hooked were carp!
Another look across resulted in a big leaper but then it was back to hooking a carp every time the float went under. With 45 minutes remaining, I started a new line at top two plus two, it took ages to get a bite but a 2.5lb skimmer was worth waiting for. The next fish was yet another carp and I didn't add another silver to my net and must have hooked around 25 carp during what was a really frustrating day.
I was first to weigh and my fish went 10lb 11oz which I didn't think would be any good today, Bill had chucked back and then Nick had a lovely net of fish for 23lb 8oz. Tom R and Jim J didn't weigh on 7 and 9, young McKenzie weighed 8lb 2oz on 10 and then Jenny on 12 did well again with some big skimmers and a tench for 10lb 7oz.
The ever consistent Alex Kerr went into second place with 16lb 1oz on peg 14, Adie had 8lb 6oz on 16, Glynn, Rob B and Pete didn't weigh on 17, 19 or 20 and with just two left to weigh, I was hanging on to third spot. Roy Hughes on 22 was next though and admitting to 5lb so of course he weighed 11lb to push me out of the framing places and then Steve P on 23 had some lovely skimmers for 6lb 15oz.
1 – Nick Payne (Ilminster) – 23lb 8oz
2 – Alex Kerr (Summerhayes) – 16lb 1oz
3 – Roy Hughes (Summerhayes) – 11lb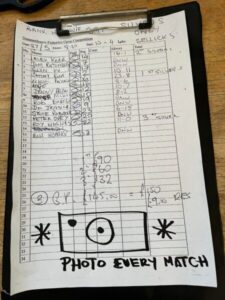 The top two weights were excellent and then it was very close with just 9oz separating the next three places but I needed more than double my weight to win today so was never really in danger of threatening the golden peg fund. Nick and me added £2 to the Nugget-O-Meter which now stands at £260.
There's still a great offer running if you fancy treating yourself to some new fishing gear, use the exclusive discount code AgainstMenandFish10 to get 10% off when you shop online at Somerset Angling
Also I still have copies of my book available from eBay here or Amazon here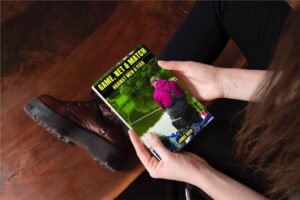 And if you could spare five minutes to leave a nice review on Amazon, it would be very much appreciated.
Next up – Dillington
Coming soon – Lots more match reports
Check Out – My last match