For round two of the IAA Summer League, it was our turn at Dillington. Everybody met at the bowling club for breakfast but we would do our draw at the pond due to a couple of factors. There was loads of that white willow fluff that is the bane of anglers lives at this time of year plus the Shindig festival was taking place on the estate so a decision would be made there on the pegs to use.
I drew 2 which is one of the best pegs on the pond but was up against Les in 1 and Bish on 23 in my mini section of three and they've been the pegs to draw in recent matches. There was a lot of that fluff in the pegs on the far bank but before the match had even started the wind changed and blew it all across the other side.
On the whistle I fed two balls of groundbait (Bait-Tech Pro Nat Dark and Special G F1 Dark) on a line at 11.5 metres just past some lilies angled slightly to the left and the same at 10 metres by the bush to the right. I started on a little strung out rig to hand as I'd seen quite a few small rudd on the top before the start. Of course they did a disappearing act as soon as the match began and the sum total of my efforts after ten minutes was a tiny perch that dropped off!
Next up was the longer line and after a couple of minutes, a positive bite resulted in a 2oz roach to get me off the mark. I shipped out again and the rig didn't even have time to settle as the float sailed away on the drop, I struck and was met with solid resistance before a decent fish (chub or carp) took off towards the middle of the lake at pace and snapped the 0.08mm bottom!
As I put on a new hooklength (0.10mm this time), I couldn't help feeling that fish might cost me today. A few minutes later, another positive bite and lots of yellow hydro came out on the strike, I shipped back gently and netted a lovely 1.5lb skimmer to settle the nerves. I was loose feeding casters and hemp on both lines (thanks to Les as I'd forgotten my hemp!) and getting regular bites. After an hour and a half, I had seven skimmers between 8oz and 3lb plus some roach and perch and I couldn't quite believe what was happening!
Les was catching some nice chub along with two eels and said Bish had landed a couple of decent fish too, the only other person I could see was 'Bagger' Burton over on 18 and he was swinging in some small fish. After my frenetic start, bites slowed up but I was still getting indications and over the next hour and a bit, I had another four decent skimmers and probably had getting on for 20lb already!
At the halfway point, it slowed right up so I fed another small ball of groundbait on the left hand line and had my first look by the bush. I had a couple of small perch and then hooked and landed three big skimmers in quick succession. No more bites for a while so I went back to the left but it was the same there and I was just starting to think that was my lot for the day when the float buried and I was into a decent fish that wasn't a skimmer!
Thankfully it headed out into open water and after the initial couple of runs, it didn't give me too much trouble and I got down to the top kit before using the pulla kit to safely net a 3-4lb carp. Les was now catching really well and had landed some decent skimmers to go with his chub and eels. Back by the bush I had two more skimmers and there was still over an hour to go, no more bites so I cupped in a full pot of maggots and casters and left it to settle while I went back to 11.5 metres.
The Grand Wiz turned up to see how we were doing and said most people were struggling and didn't believe me when I told him what I had! With an hour left, I felt my best chance of another fish was by the bush, a good bite saw loads of elastic come out and straight away I knew I'd hooked an eel and at 12oz it was very welcome. I was getting the odd indication and then with fifteen minutes to go, the float went and a good fish was on, I thought it was another eel but then a 2lb chub popped up! During that last period of the match, Les was flying and landed several good chub and it was going to be close between us. I still had time to miss two bites but didn't add anymore fish to my tally.
At the all out, I finished up with 16 skimmers, a carp, a chub, that eel plus probably 2lb of roach, perch (and a gudgeon). I wasn't sure what weight I had but hoped I'd done 30lb which would smash my previous best weight of 22lb 8oz which had stood for a long time.
The scales arrived and Les was first to weigh, he pulled his net out and he had a stunning net of fish, after two weighs his total was a brilliant 33lb 11oz. I was next and my first weigh went 19lb 12oz which meant I needed 14lb, the needle went round to 15lb 1oz which gave me 34lb 13oz, that was close!
Tony C had a decent skimmer and lots of small fish for 5lb 8oz, Dave Phillips weighed 4lb 5oz of eels and perch on peg 13, Leighton caught two nice skimmers and a chub for 7lb 8oz on the feeder from peg 14 and Nick had 1lb 10oz of small fish but had lost four chub in peg 17. Bagger Burton on 18 weighed 2lb 6oz of roach and and perch and then Bish had 16lb of chub, carp and perch from peg 23 for third place.
At Coombe Andy Saunders had the top weight on peg 1 with 25lb 4oz which included a big carp, Jake was second with 24lb 7oz of crucians and skimmers on peg 9, Danny on peg 10 was close behind with 24lb 2oz and Terry was fourth with 22lb 1oz on peg 8. Thanks to Chris Norton for the photos*
Norts weighed 20lb 10oz on peg 7, Dave Pope had 13lb 10oz on 4, Big Frank weighed 10lb 12oz, Fieldy on 5 weighed 10lb 2oz and Rob had 6lb 12oz on 3.
Dillington
1 – Jamie Rich (Against Men and Fish) – 34lb 13oz
2 – Les Braunton (Sharp MG) – 33lb 11oz
3 – Steve Bishop (Sharp MG) – 16lb
4 – Leighton Cox (Ilminster) – 7lb 8oz
Coombe Farm
1 – Andy Saunders (Sharp MG) – 25lb 4oz
2 – Jake Woodard (Ilminster) – 24lb 7oz
3 – Danny Blunn (Ilminster) – 24lb 2oz
4 – Terry Morgan (Ilminster) – 22lb 1oz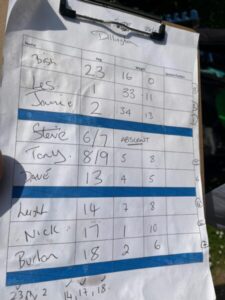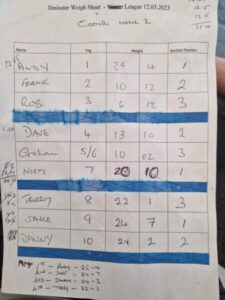 After two rounds, there are only two anglers with two section wins (Leighton and Jake), you can drop your worst result but obviously this doesn't really come into play until round three when the league will begin to take shape.
Jake Woodard – 2pts
Leighton Cox – 2pts
Dave Pope – 3pts
Les Braunton – 3pts
Frank Woodard – 3pts
Jamie Rich – 3pts
Chris Norton – 3pts
Andy Saunders – 3pts
I picked up £50 for winning the lake and had a lovely days fishing, it was interesting to see quite a few skimmers of various sizes showing at Dillington and the fish were in really good condition. With pounds from Norts, Nick and me, the Nugget-O-Meter total now stands at £263.
There's still a great offer running if you fancy treating yourself to some new fishing gear, use the exclusive discount code AgainstMenandFish10 to get 10% off when you shop online at Somerset Angling
Also I still have copies of my book available from eBay here or Amazon here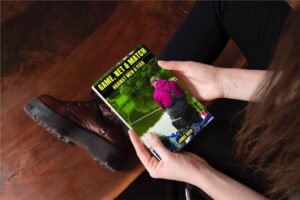 And if you could spare five minutes to leave a nice review on Amazon, it would be very much appreciated.
Next up – Acorn Fishery
Coming soon – Lots more match reports
Check Out – My last match