Something a bit different for me on Bank Holiday Monday, a short pole match at Acorn. Several venues run short pole leagues and matches but I've never fished one before. The length of pole varies (oh matron!) from top two only to top kit plus a couple of sections, today it would be top two plus three.
After a nice breakfast, we headed to the fishery and one of the first people I bumped into was Tony Rixon, always great to see him and it didn't take long for the piss taking to start in earnest (see his blog for more details! – Tony's Blog). Chris announced the draw and explained the rules before the melee for pegs began, Jenny drew for Tony and 36 meant a chilly day ahead as he'd be in the shade. I really fancied peg 10 which has been doing some massive silvers weights but was well happy with 21 which was where I was in the last match (so the tradition of drawing the same pegs continues!). Nick drew 6 which isn't the best for silvers but you can never tell at Acorn as those big tench can turn up anywhere and make a huge difference.
Lewis W was on 22 (and not happy about it as he said he had no chance) and I had Joanne on my right on 19 who would be fishing for silvers as well. It was pretty windy so we probably couldn't have fished long even if we were allowed to! Nice and simple today, one line at top two plus three straight out and the other a section shorter angled towards the bridge where I caught really well last time.
We got underway and I fed both lines with some groundbait and maggots before starting at top two plus three with single maggot on the hook. It took a while to get my first indication and to be honest I didn't get off to the best of starts, missing bites and bumping fish which I think was because my elastic was a bit too pingy so I changed top kits which helped. I was catching a few without really bagging and a lovely 3lb+ tench salvaged a poor first hour to put me on around 7lb.
Lewis was fishing shallow with caster and catching carp really well while Jo was fishing a top kit plus one and landing a skimmer every put in. My second hour wasn't brilliant either and although I was getting the odd skimmer and roach, it already felt like I needed big tench to do any good and I was pinning my hopes on the shorter line where I'd caught several last time.
After two hours, I had my first look on the top two plus two line but it's not really happened there either with just a couple of skimmers. Back on the longer line, I did have a lovely tench that was 5-6lb but also hooked a big fish that I was sure was a tench and I had it on for ages only for the hook to pull out! I was toss potting maggots as well as loose feeding and both lines were blowing like crazy.
Another big tench put me on around 25lb after three hours so I started my second net but at this rate I wouldn't be doing a big weight today. I just couldn't seem to string more than a couple of fish together whereas Jo was getting one a bung so I plumbed up a new line at top kit plus one and kept trying it but only hooked one small carp there and that came off! Lewis was still bagging and on for a huge weight, he was catching some decent silvers too but having to chuck them back as he needed his nets for carp!
I did have a nice 3lb bream from my longer line but I was also foul hooking the odd carp which were being a pain so tried just toss potting while I was fishing a line while loose feeding the other and this seemed to work to a certain extent. With around an hour and a half to go, I thought I had around 33lb (so 8lb in my second net) which I was sure would be miles off doing any good.
Kev Perry turned up for a walk round and when he said Nick on 6 and Sue Faiers (peg 9) were admitting to 30-35lb, I wasn't that far away so all was not lost if I could have a decent last ninety minutes. I stuck double maggot on and concentrated on the longer line, a 2lb tench was nice and next chuck I had one of 1.5lb followed by a decent roach and I thought I might be on for a good finish.
The next two fish were carp which I played carefully thinking they were tench and my late charge was faltering already! Then I struck into a fish and it was solid, if this was a tench, it was a good one. The longer I had it on, the more convinced I was and started to get the old jelly wobbles on again, it came to the top and was a lovely fish getting on for 6lb. With ten minutes left, I had another 12oz tench and then hooked one just before the all out and landed a pound tinca after the whistle!
Tony arrived with the scales and Lewis had expertly split his nets and after five weighs, his total was a massive 218lb. My second net went 21lb something and my first net was 25lb odd to give me 46lb 6oz, I was sure Jo had beaten me so would have to wait and see what the other weights were like. After spreading my nets out to dry, I wandered down to see how Jo had done and was gobsmacked when she weighed 35lb 9oz, a lovely net of skimmers but none of those big tench and in the last hour she'd been carped out.
When I got round the other side, Nick had weighed 29lb 9oz and I began to think I might actually have won but Sue had caught a lovely net of fish with some big tench for 58lb 2oz so I finished second and picked up £30. Overall, Gareth Boycott won with a staggering 250lb 1oz from peg 10, Lewis was second and section wins went to Mark Walsh, Alan Hurley and Glenn Calvert.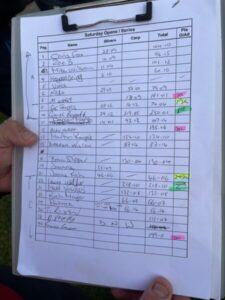 1 – Gareth Boycott (Acorn) – 250lb 1oz
2 – Lewis Walker (Acorn) – 218lb
Sections
A – Mark Walsh (Acorn) – 181lb 1oz
B – Alan Hurley (Acorn) – 135lb 6oz
C – Glenn Calvert (Acorn) – 199lb 11oz
Silvers
1 – Sue Faiers (Acorn) – 58lb 2oz
2 – Jamie Rich (Against Men and Fish) – 46lb 6oz
Another lovely day and Nick and me added another £2 to the Nugget-O-Meter which is still climbing steadily and now stands at £265.
There's still a great offer running if you fancy treating yourself to some new fishing gear, use the exclusive discount code AgainstMenandFish10 to get 10% off when you shop online at Somerset Angling
Also I still have copies of my book available from eBay here or Amazon here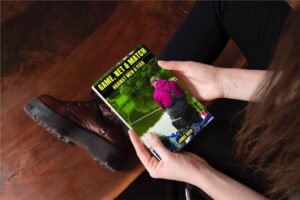 And if you could spare five minutes to leave a nice review on Amazon, it would be very much appreciated.
Next up – Summerhayes
Coming soon – Lots more match reports
Check Out – My last match