For the latest silvers open at Summerhayes, it was back on Longs with nine of us booked in. Today's golden peg was number 4 on 'Cyanide Straight' which wouldn't have been first choice for most but with loads of room it can be good. When it was my turn to draw, I pulled out peg 20 on the bottom bank which is my favourite area, Nick was on 18 and Glynn drew the golden peg.
It was going to be scorching hot today but one of the nice things about the pegs on the bottom bank is that you're in the shade for the first couple of hours. On the whistle I potted in a little loose groundbait on the top kit line plus the same at 10 metres straight out and angled to the left on open water, I also began pinging maggots across.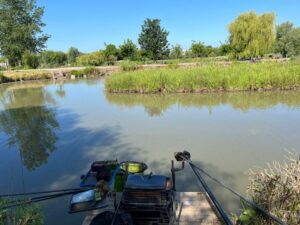 Starting short a small roach soon got me off the mark and I was getting regular bites, a 4oz skimmer was a good sign and then I hooked a decent one that leapt straight out of the pond and onto the bank! Thankfully, it flipped again and went back in the water before I netted a nice skimbob around 12oz.
Normally, it doesn't take long before a carp muscles in but the silvers kept coming, more small roach along with several 4-6oz skimmers and then a gorgeous 12oz crucian. Bites began to tail off after around an hour so I went out to 10 metres and swapping between the two lines, had a really good spell catching small skimmers with the odd better one.
Nick went across and started catching some decent skimmers but we were both now hooking some carp as well. I did hook one fish that tore off but turned out to be a 10oz perch which was very welcome. There was also that unmistakeable sound of splintering carbon and poor Alex over on peg 32 had just landed a fish so his pole was across the track and a car drove over it, wrecking three sections – ouch!
As we approached the half way point I was still catching quite well but did have three fish on the trot come off as I was shipping back! With Nick catching well over, I couldn't wait to go across where I'd been pinging maggots since the start but to be honest it was a massive anti-climax and I only had a couple of small roach.
Back on the 10 metre lines and it wasn't really happening there either, my cause wasn't helped when the float went under and big leaper came straight out the water, about four foot in the air and proceeded to jump another three times and was still on, only to slip the hook as I shipped back! With around an hour to go, it was really close between Nick and me and if anything he was catching more consistently so I needed to try something else and fed a new line at 5 metres.
After a few minutes, the float sailed away and I was into yet another carp and when the next bite resulted in the same, that was enough of that. I decided to spend the last thirty minutes at 10 metres, with just 15 minutes remaining, I had a 1.5lb leaper and then next chuck had it's twin, this was getting interesting! I had another of a pound followed by a little 2oz blade and there was still five minutes left.
Nick had a couple more smaller skimmers and then just before the all out I hooked another of 12oz to round off a frantic last period. I finished up with 32 fish on the clicker (a crucian, a perch and 30 skimmers) plus probably the same number of small roach I hadn't counted.
The scales began with Glynn who had a nice net of skimmers for 14lb 14oz, Adie was very close with 14lb 8oz, Alvin had been carped out on 14 and then Nick weighed 13lb 1oz. My fish went 18lb 13oz (with probably 5lb of that in the last 15 mins!).
Tom R chucked back on 29 and then Alex on 32 had caught really well on the short pole (not that he had a choice!) to go into second spot with 16lb 4oz of skimmers and a tench. Zooner on 34 and Mark L on 36 didn't weigh.
1 – Jamie Rich (Against Men and Fish) – 18lb 13oz
2 – Alex Kerr (Summerhayes) – 16lb 4oz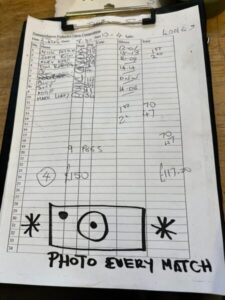 I had a nice pick up of £70 and the Nugget-O-Meter went up by another £3 (pounds from me, Nick and Zooner), the new total is £268.
There's still a great offer running if you fancy treating yourself to some new fishing gear, use the exclusive discount code AgainstMenandFish10 to get 10% off when you shop online at Somerset Angling
Also I still have copies of my book available from eBay here or Amazon here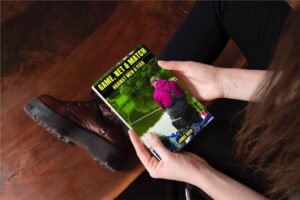 And if you could spare five minutes to leave a nice review on Amazon, it would be very much appreciated.
Next up – Thorney Lakes
Coming soon – Lots more match reports
Check Out – My last match