The next Stoke match was at Thorney and very well attended with 26 anglers fishing. It was forecast to be a scorching hot day so The Grand Wiz and Mark (the owner) decided we would split the fish between three nets (silvers, small carp and larger ones), any carp over 10lb would be weighed and returned straight away and there would also be a half time weigh in.
GW was in charge today and runs a tight ship so after everybody had arrived, pools paid etc, he called us to attention and explained there would be three teams of two to do the half time weigh in. Four sets of scales would be dotted around the pond for any big carp caught and Bob Pamplin and Mark very kindly volunteered to be on hand to doing any weighing.
The draw was announced and I was hoping for a peg on the left hand side, preferably on the island as it's a bit deeper and I've had some nice bags of silvers there. My dinosaur had an off day as I pulled out peg 27 on the right and couldn't have been any further away from the pegs I fancied. All was not lost though as that area does produce some decent nets of big skimmers. Mike G also hastily organised a £5 silvers superpool which six of us entered and he'd pay the top two.
Bizarrely, nearly all of the Breakfast Club drew on the right hand side, Terry was on end peg 28 by the reeds, Parker 'The Pole' on my left on 26, then Nick next to him. Me and 'The Toast' were the designated weighing team for our section.
Plumbing up it was around 2.5 ft deep at 13 metres and was the same depth a section further out. I actually had some worms with me and on the whistle I fed one line with chopped worm and caster and the other with groundbait and maggot. Leaving the longer lines to settle, I began short by some lilies on the right at five metres, I thought I might get a few small fish but after ten minutes I hadn't had a bite.
Out on the groundbait line, I had a 2oz rudd first chuck on double maggot so I switched to double caster to try and catch those big skimmers. Mark and Bob turned up and while they were with me, I had a lovely positive bite and it felt like a decent fish but came off shipping back! Next put in I had a 4oz skimmer and then hooked a better fish which turned out to be a gorgeous little crucian but they count as carp in the Stoke matches so wouldn't help my cause much!
Terry was soon into a decent carp on paste, Mark weighed it straight away and at 7lb 15oz he was off to a good start. The Grand Wiz opposite was hooking a few fish on the feeder but the Thorney carp were beating him up a bit. I carried on getting the odd little skimmer but it was quite hard work.
Parker 'The Pole' latched into a carp on his silvers rig and despite yellow hydro all over the place, he did well to land a 4lb plus carp. I tried half a worm and had a slightly better skimmer around 12oz and then landed a proper one around 3lb which hopefully would be followed by a few more. Terry was still catching carp and doing well to get most out of the reeds, Steve P hooked another carp but this one did him under a bush! Nick P was struggling on 25 due to loads of that white fluff in his peg.
Just before the half time break, I had a nice hybrid of a pound on double maggot but it had been a struggle and I'd only caught about a dozen fish. Terry was first to weigh and had 26lb 2oz of carp (plus the one already weighed) and 1lb 15oz of silvers. My crucian was 9oz and my silvers went 5lb 3oz, Steve's carp went 4lb 7oz and he had 3lb 2oz of silvers and then Nick weighed 1lb 13oz of silvers.
Round the other side Priv had 3lb 10oz of carp and Neil P weighed 4lb 8oz of silvers which included a nice bream. Mike G had struggled for 5oz of little rudd, The Grand Wiz had 7lb 14oz of carp and the last peg in our section was Craig L who weighed 12lb 1oz.
Word from the other sections was that Les was way out in front in the silvers with 13lb+ and there was a 30lb weight of carp. The Grand Wiz got us back underway for the second half and as it was now scorching hot with the pole almost too hot to handle, I was expecting it to be rock hard. I did manage a couple of quick skimmers which was probably down to the swim being rested.
It was business as usual for Terry as he resumed battle with the carp and the reeds, The Grand Wiz continued where he left off, hooking carp, losing a few and landing the odd one while Nick was still fluffed out and if anything it was getting worse. As the temperature continued to rise, some rather large carp could be seen cruising around and there were lots of what looked like decent roach and rudd in the upper layers. I did have a go for them with a little light rig but they just weren't interested and all I had to show for my efforts was two tiny rudd.
Terry hooked into another carp but this one made the sanctuary of the reeds and this time there was only one winner as for the second time in as many days, the air was filled with the sickening sound of carbon snapping as his number four section gave way. He had no option but to strip off to his boxers and go in the lake to retrieve his sections and at this rate (after his double pike with twist at Trinity and boat trip at Summerhayes), he'll have spent more time in the water than out of it!
Luckily for you lot, I wasn't quick enough with the camera to get any photos, especially as he then proceeded to take off his wet undies and we were all treated (!) to the full rear view of his extremely lily white bottom. The remainder of the match was a struggle for most of us, Terry carried on catching using his margin pole, GW landed a couple more carp to make the score a bit more respectable while Craig 'Calm Down, Calm Down' Lyttle was doing okay, despite missing the net with a carp.
I managed a handful of skimmers including one of a pound, Steve P had a few small fish and Nick's fluff nightmare continued, he even tried setting up a feeder but the white stuff just clogged up the rings on his rod. The final whistle of the day (and there had been many) signalled the end to proceedings and we began the second weigh in of the day.
Terry amassed another 27lb 10oz of carp to give him a total of 63lb 10oz which would be there or thereabouts today, I added 3lb 5oz to my earlier 5lb 12oz, Steve had 14oz of silvers (8lb 7oz in total), Nick had gone and Priv didn't add to his tally.
Neil had a nice carp of 8lb 9oz and Mike caught some small skimmers for 13oz, GW weighed 11lb 15oz (total of 19lb 13oz) and Craig did well with 31lb 6oz (total 43lb 7oz).
Back at the results and Josh Tucker had the top weight on the day with 67lb 11oz from peg 18, Rob Wylde was third with 59lb 7oz from peg 3 and Les won the silvers with an excellent 24lb 11oz which included a tench of 1lb 14oz.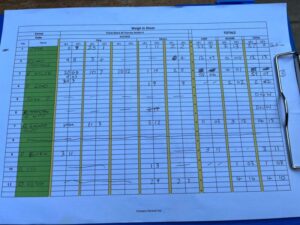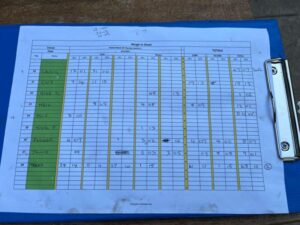 Overall
1 – Josh Tucker (Stoke) – 67lb 11oz
2 – Terry Morgan (Stoke) – 63lb 10oz
3 – Rob Wylde (Stoke) – 59lb 7oz
Section A
Jake Berkley (Tackleuk) – 37lb 5oz
Section B
Steve Bishop (Sharp MG) – 31lb 6oz
Section C
Craig Lyttle (Stoke) – 43lb 7oz
Silvers
Les Braunton (Sharp MG) – 24lb 11oz
Some really close weights overall with just one fish between the top three, the silvers wasn't such a keenly contested affair with Les a comfortable winner, I did pick up £20 from the silvers superpool though and was actually second in the silvers on the day! The Nugget-O-Meter did well with £5 added to the pot thanks to £2 from Rob Cox and pounds from Craig Lyttle, Nick and me, the new total is £273 so a massive thanks to everyone who is contributing to what is a fantastic cause.
I've also got the various spreadsheets from Norts for the club competitions that run throughout the year, so here are the top three for each after four matches.
Championship
Terry Morgan – 48 pts
Jamie Rich – 45 pts
Neil Purchase – 45 pts
Rose Bowl
Terry Morgan – 3383 pts
Jamie Rich – 3134 pts
Chris Norton – 2754 pts
Silvers Bowl
Jamie Rich – 60 pts
Nick Payne – 53 pts
Neil Purchase – 49 pts
There's still a great offer running if you fancy treating yourself to some new fishing gear, use the exclusive discount code AgainstMenandFish10 to get 10% off when you shop online at Somerset Angling
Also I still have copies of my book available from eBay here or Amazon here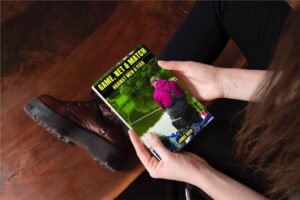 And if you could spare five minutes to leave a nice review on Amazon, it would be very much appreciated.
Next up – Hebditch's Pond
Coming soon – Lots more match reports
Check Out – My last match