Loads more reports on the way with a double header this weekend, a midweek match coming up and then yet another Bank Holiday with three more matches! First up, a silvers only match on Sellicks at Summerhayes.
Only eight of us again today so loads of room, as Pete and Sally were away, Adie was in charge and spread us out with four on each side of the lake. The golden peg was number 19 today and when I got called up, it was still in the bucket but I drew peg 14 on the far side towards the top end. It looked nice but was a long way to the island and shipping back would be a bit awkward, I had to set my rollers as high as they would go and at an angle to the right behind me.
Rob B was 17 to my left and Alex Kerr was on 11, as for the rest of the breakfast posse, Steve P was on 3, Nick on 6 and Jenny was down on 22. Adie was on the golden peg and Tom R was on 9. I plumbed up lines for the top kit to the left, two lines at 11.5 metres and then across at 14.5 metres which was still short of the island by more than a metre.
On the whistle, I fed all my lines before starting on the top two line, first put in the float settled and then flew straight under as carp number one tore off! After landing that one, my next fish was a roach and I had two more and a little chublet before bites tailed off which made me think there was another carp lurking about so I went out to 11.5 metres.
It wasn't solid but I began catching the odd decent skimmer (along with the inevitable carp of course). I stuck with it as from what I could see, only Alex was catching silvers regularly and I didn't want to go across too early, also the wind was hacking up the pond towards me and it would be hard work trying to wrestle 14.5 metres.
As we approached the half way point, I hooked another carp which wasn't giving me too many problems until it went under some crap on the inside and the elastic snapped! I chucked that top kit up the bank and had my first look across. After a couple of minutes, a positive bite resulted in a nice skimmer and then next chuck I had a decent roach and I began catching really well. The next hour was really good with skimmers, roach, several more chublets and even a little brown goldfish/crucian type thing (that count).
Alex had slowed up and I had visions of closing the gap but then I started hooking more and more carp. I did hook one fish when the float went under as I was feeding and pulled the elastic out, I initially thought carp but that changed when I saw the line see-sawing and a 2lb eel was a nice addition to the net.
The last ninety minutes was a real struggle although in between hooking carp I did manage a nice skimmer along with a smaller one and a 10oz roach to end up with 44 fish. After packing up I went round to watch the weigh and get some photos. It had been a struggle on the early pegs, Steve P didn't weigh, Nick had 3lb 5oz and then Tom weighed 7lb 2oz.
Alex went into the lead with an excellent 21lb 5oz which would be more than enough to win today, I had 16lb 8oz, Rob weighed 4lb 8oz and Adie had 9lb 13oz. Jenny was last to weigh and had some lovely big skimmers for 11lb 14oz and third place on the day – well done Jenny!
1 – Alex Kerr (Summerhayes) – 21lb 5oz
2 – Jamie Rich (Against Men and Fish) – 16lb 8oz
3 – Jenny Payne (Ilminster) – 11lb 14oz
I picked up £30 for second and the Nugget-O-Meter had £2 added by Nick and me to take it to £252.
There's still a great offer running if you fancy treating yourself to some new fishing gear, use the exclusive discount code AgainstMenandFish10 to get 10% off when you shop online at Somerset Angling
Also I still have copies of my book available from eBay here or Amazon here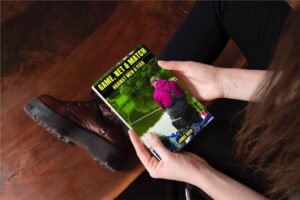 And if you could spare five minutes to leave a nice review on Amazon, it would be very much appreciated.
Next up – Avalon
Coming soon – Lots more match reports
Check Out – My last match