For my seventh match in nine days, it was back to Summerhayes which was pretty busy with a match on both lakes. We were on Longs with a good turnout of 22 anglers fishing and it was nice to see Paul Homewood and Steve Kedge for the first time in ages. When I got called up to draw, I pulled out number 30 which was also the golden peg! Adie Bishop was on 31 and of course regular neighbour, Martin Addicott was on my right. Nick was over on 17 with Zooner on 14 and Roy on his usual 19.
On the whistle, I fed a little groundbait with a few maggots on the throwaway top two line and then fed the same on two lines at 11.5 metres before flicking a few maggots across to the island. I started short to let the other lines settle for ten minutes but to be honest I wasn't expecting much as the top two line has been a bit of a flop so far this year. It was actually quite good and I had three chunky roach followed by a little 2oz skimmer and then hooked a better fish which turned out to be a 8oz perch. The next fish was another perch, this time 1lb+ and then I had a third which was probably 1.5lb, a brilliant start!
Adie was also fishing down his edges and had a nice tench along with a couple of perch, my next bite resulted in a carp so I moved out on the longer lines while Adie went to five metres and had a decent skimmer followed by yet another perch. I had a nice skimmer and began catching some little 4oz skimbobs as well. At this stage with around an hour or so gone, me and Adie had both started strongly and I didn't think there was much between us.
I then had a nice leaper and the next put in, hooked a better fish and shipping back carefully netted a 2.5lb skimmer which put a little bit of daylight between me and Adie for now. We were both getting odd fish but what was slightly worrying (for me) was that the wind was beginning to be a bit of a pain which didn't bode well for my long line to the island.
Adie had phone calls from Zooner and Jacko who both said they were struggling and also that nobody was really catching silvers. Another look short resulted in my fourth perch, this one around 12oz but Adie was starting to catch quite well on the waggler as he could get decent presentation whereas my catch rate was definitely going in the wrong direction.
With around two hours to go, I went across for the first time but the wind was making it very difficult, my first bite resulted in a carp which wasn't ideal while Adie had a big perch and a couple of decent skimmers to go ahead by a couple of pounds. I did have one 4oz skimbob but it just wasn't happening. Back on the 11.5 metre lines, I've gone over depth to try and achieve a modicum of presentation which worked to a certain extent as I had one nice skimmer and then a run of three or four little 2oz skimbolinos although Adie was still catching well.
I was really struggling to get presentation on the longer lines and I kept thinking I should start a new line at five metres where I'd be able to keep the rig still. With about fifteen minutes left, Adie well ahead and nothing to lose, I plumbed up a new line and toss potted in some maggots. After a few minutes, the float sailed away and I was into a fish that I knew wasn't a carp and a lovely big 2lb plus skimmer gave me a glimmer of hope. Next chuck I hooked a carp which I landed after the whistle. I was sure Adie had well beaten me but he reckoned it would be closer than I thought.
The scales started with Steve B on 37 who weighed 40lb 9oz before heading to 'Cyanide Straight', Kev O on peg 2 weighed 21lb 5oz, Roger C had 21lb 14oz on 4 and then Rob B had done well on 6 with a level 10lb of skimmers. 'Hollywood' on 8 weighed 34lb 8oz of mainly carp, Karl (and his porn star moustache) had 23lb 13oz on 10 and then Rich S went into the lead with 50lb 3oz on peg 11.
Toby B wasn't far off with 47lb 13oz on 12, Craig L (peg 13) had 33lb 2oz and then Zooner had chucked back and conceded a nugget. Nick was next and edged ahead in the silvers with 10lb 3oz of skimmers. Roy on 19 was fairly close to his estimate with 8lb 4oz and then Paul H went into the lead with 59lb 10oz on peg 21.
Big Bad Bob on 24 weighed 40lb 9oz before Steve K went into the lead with an excellent 88lb 6oz of mainly carp. Martin chucked back and then my fish went 14lb 12oz which I knew wouldn't be enough. Adie was next and when he pulled his net out it was going to be very close and Pete called it at 15lb 10oz. Dan R didn't weigh on 33, Dan P went into third place with 53lb 1oz on peg 34 and Jacko had chucked back on 36.
1 – Steve Kedge (Somerset Angling) – 88lb 6oz
2 – Paul Homewood (Summerhayes) – 59lb 10oz
3 – Dan Pither (Summerhayes) – 53lb 1oz
Silvers
1 – Adie Bishop (Summerhayes) – 15lb 10oz
2 – Jamie Rich (Against Men and Fish) – 14lb 12oz
3 – Nick Payne (Ilminster) – 10lb 3oz
I picked up £35 for second and missed out on the golden peg by 14oz although to be honest I wasn't that gutted as I'd resigned myself to Adie beating me and that last gasp skimmer made it close in the end. It did get me thinking if I'd fished shorter earlier would I have caught enough to win or would I have just hooked more carp? I'll never know now but it's food for thought for next time. The number of perch also surprised me (I think Adie and me had nine between us) but I did see on a video recently that after spawning, perch quite often have a munch.
The Nugget-O-Meter also did really well (pounds from Rob C and the Grand Wiz at breakfast, one from Zooner plus mine and then Paul Homewood and Craig Lyttle both very kindly donated nuggets) so the new total is a brilliant £250, thank you so much everyone!
So my seven matches in nine days fishy marathon went pretty well, I picked up six times with a couple of silvers wins and a new pb match weight along the way, now for a lie down!
There's still a great offer running if you fancy treating yourself to some new fishing gear, use the exclusive discount code AgainstMenandFish10 to get 10% off when you shop online at Somerset Angling
Also I still have copies of my book available from eBay here or Amazon here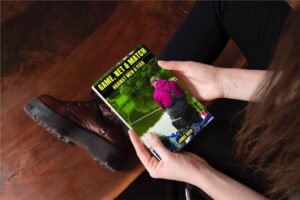 And if you could spare five minutes to leave a nice review on Amazon, it would be very much appreciated.
Next up – Summerhayes
Coming soon – Lots more match reports
Check Out – My last match