After two days of actually not fishing it was back to Acorn for one of Chris Fox's excellent matches. We made the usual stop for breakfast which was lovely and then to the fishery. 23 fishing today including 'Bunghole' Bob Gullick who I haven't seen for ages. Chris held aloft the bag of fate and after a spate of drawing the same pegs, I was hoping for a change of scenery today.
I delved in and pulled out peg 21, well happy with that. If I could have chosen a peg, that's the one I'd have gone for as Paul Faiers won the silvers there on Tuesday with a brilliant 76lb. Bizarrely, Paul drew number 34 so we'd swapped peg numbers from the last match. Nick was on 13 which is also a decent silvers area.
The usual rigs were assembled and the side tray was nice and simple with loads of maggots and a little Bait-Tech Special G F1 Dark. The match got underway and I fed 11.5 metres and top two plus two with groundbait and maggots while on the 10 metre line I just big potted maggots. I started on the long line but a naughty wind was hampering presentation.
It took a few minutes to get my first bite from a small carp, next put in I hooked something more substantial which turned out to be a gorgeous 4lb tench. I was getting regular bites from skimmers along with the odd roach and probably had around 10lb in the first hour. Lovely fishing but as I could see Paul catching lots of skimmers, I felt my catch rate would need to improve if I was going to do well today.
Dropping in on the short line, it was really good with lots of tench between 8oz and 1.5lb plus a couple of beauties around 5-6lb and several skimmers. With three hours gone I probably had around 40lb and was starting to think a really big weight was on the cards. It had been fairly overcast but the sun came out, it got bright and quite a bit warmer and all of a sudden, my bites slowed up. Moving out to 10 metres, I had a nice run of fish, tench and skimmers with another big tinca that I took my time with (unlike the last match!).
I did manage another cracking tench from the short line and with two hours remaining, I chucked back the four small carp I'd caught to use that net for silvers. I'd been trying to add up my weight as I went along and started a new net when I reached 25lb but thought I'd been a little conservative so hopefully had between 25-30lb in each net so far.
I was having to swap between all three lines to keep putting fish in the net as we approached the latter part of the match. The last 15 minutes were spent on the short line and I had a couple of tench and then just before the all out, hooked another good one. I really wanted to make this one count and it was all a bit deja vu as my legs went a bit wobbly again but thankfully no schoolboy errors from me this time and I safely landed another four pounder after the whistle.
Another incredible days silvers fishing, I had 65 fish which was a few more than last time and six big tench (compared to four on Tuesday) although I did have some smaller skimmers so had no clue what weight I had (no change there then!). Hopefully I had somewhere between 70-75lb but I still didn't think it would be enough to beat Paul who'd been putting a constant stream of skimmers, big perch and some decent tench into his nets.
There were two sets of scales today and our set took a while to get round to us as there was some big weights led by Gareth Boycott who had 218lb 7oz on peg 6. Nick had a nice net of silvers for 38lb 11oz plus a few carp, Josh on 15 had 20lb 5oz, Martin R weighed 75lb 8oz, Tony W had 104lb 5oz on 18 and peg 19 chucked back.
Then it was me and I weighed my last net first which went 16lb odd, then my second net was 23lb something so I'd underestimated that one and my first net was 25lb plus which was also a little less than I thought. My total of 65lb 14oz was a new personal best for me but I was sure Paul had done 70lb+ again and they were only paying one silvers today.
As I drove back round to the car park, the first person I saw was Paul who said he'd weighed 57lb of silvers, another awesome net of fish which included loads of perch.
1 – Gareth Boycott (Acorn) – 218lb 7oz
2 – Mark Broomsgrove (Acorn) – 180lb 12oz
3 – Phil Weaver (Acorn) – 175lb 1oz
4 – Chris Fox (Acorn) – 166lb 10oz
5 – Brian Slipper (Acorn) – 146lb 4oz
Silvers
1 – Jamie Rich (Against Men and Fish) – 65lb 14oz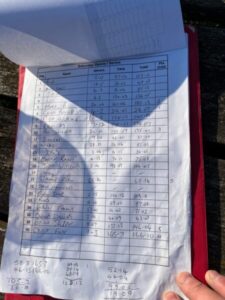 Chris announced the results and I won the silvers picking up £46, what a lovely day. The Nugget-O-Meter had another £3 added (£2 from Nick for today and tomorrow plus my pound) and the new total is £244.
There's still a great offer running if you fancy treating yourself to some new fishing gear, use the exclusive discount code AgainstMenandFish10 to get 10% off when you shop online at Somerset Angling
Also I still have copies of my book available from eBay here or Amazon here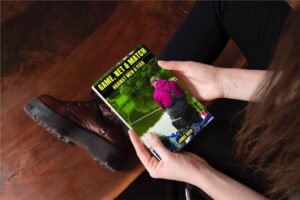 And if you could spare five minutes to leave a nice review on Amazon, it would be very much appreciated.
Next up – Summerhayes
Coming soon – Lots more match reports
Check Out – My last match