For match day five, it was the first round of Ruthie's Cup at Hebditch's Pond. Fished for the first time last year, Ruthie's Cup is a series of matches in memory of The Grand Wiz's daughter who was cruelly taken far too early by cancer. With a trophy very kindly donated by Steve Chant, it was keenly contested with Chris Norton crowned the inaugural winner after the three rounds. We also have plenty of laughs along the way and raise some money for charity too.
We met at The Ranch for breakfast which was really good and then did the draw, everybody was hoping for the favoured pegs 3, 4 or 8. I managed to skilfully avoid those but pulled out peg 12 which can be okay. Nick got 3 while Terry 'The Toast' was on 8, peg 4 was actually left in the bag as Harry couldn't fish today.
After torrential rain the previous day, the track was a bit of a quagmire and Parker 'The Pothole' managed to get his van stuck so was off to a good start. The pond has been fishing hard but with lots of fish moving about, hopefully it would fish better today. I set up a couple of rigs to fish 11.5 metres and off the edge of the bush to my right. On the side tray I had Bait-Tech 2mm micros which I soaked plus maggots and corn.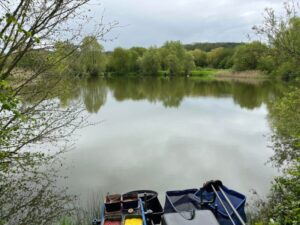 GW got us underway and I fed micros and corn straight out at 11.5 metres, then just maggots at the same distance but angled to the left and by the bush I potted in micros and corn. I started on the longer lines but after half an hour I hadn't had a bite and as far as I could tell, nobody else had caught either.
In a bid to try and get a bite, I put a single maggot on and went by the bush at top two plus two, an indication first chuck resulted in a small roach. Next chuck I had a 4oz skimmer and I was interested again. The elastic and hook was all wrong and although I was catching okay, I was also bumping far too many fish. A quick go at top two to hand resulted in a chunky roach but I was waiting too long for bites so I got another top kit out with yellow hydro and put on a smaller hook.
This was much better and it was a fish a chuck from small roach and rudd, they weren't quite an ounce apiece and I set myself a target of 160 fish which I thought would give me 7.5lb. With a couple of hours gone, the odd carp was being landed but I decided to just stick at what I was doing.
At this point, it looked to be between Burnsey on peg 2 (who had turned up late and given the rest of us a head start!), Nick on 3 who was hooking lots but losing quite a few in the reeds and The Grand Wiz on peg 5 although I couldn't really see how Parker 'The Pole' on peg 1 or Terry 'The Toast' in 8 were doing.
Going into the last hour, I started catching a few tiny little carp and also hooked two bigger fish, landing one about 4lb. I finished up with 197 silvers (roach, rudd and one skimmer). After packing up, Norts soon arrived with the scales, my carp went 4lb 7oz and the silvers weighed 9lb 8oz. Steve P had 4lb 11oz and then Burnsey had done well (considering he gave us all a head start) to weigh 22lb 3oz.
Nick went into the lead with 28lb 13oz, The Grand Wiz had 21lb 3oz, Rob C weighed 6lb 7oz, Norts had 21lb 1oz and then Terry had an excellent 65lb 15oz on paste to take top spot.
1 – Terry Morgan (Stoke) – 65lb 15oz
2 – Nick Payne (Ilminster) – 28lb 13oz
3 – Andy Burns (Stoke) – 22lb 3oz
Silvers
1 – Jamie Rich (Against Men and Fish) – 9lb 8oz
I picked up £25 for winning the silvers and the Nugget-O-Meter went up by £6 thanks to £2 from Rob (one for Sunday) plus pounds from Nick, Norts, Grand Wiz and me and the total is now £241.
There's still a great offer running if you fancy treating yourself to some new fishing gear, use the exclusive discount code AgainstMenandFish10 to get 10% off when you shop online at Somerset Angling
Also I still have copies of my book available from eBay here or Amazon here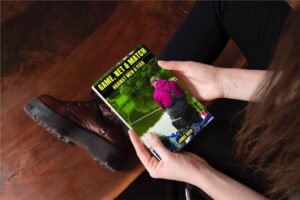 And if you could spare five minutes to leave a nice review on Amazon, it would be very much appreciated.
Next up – Acorn Fishery
Coming soon – Lots more match reports
Check Out – My last match