Match day four and it's my birthday (I know, I know, hard paper round!), I always try and fish a match and this year I booked into the costcutter at Acorn. After an early start I stopped at the burger van for breakfast which was lovely and then onto the fishery. I picked up some bait, paid my pools and waited for the draw. 23 fishing today so a good turnout for a Tuesday.
Eddie called us up to draw in the order we'd booked in and when it was my turn, I pulled out 34 for the third time to continue my run of drawing the same pegs! Ray Cooper was on 33 and I had Glenn Bailey to my left on peg 36. My peg is by a bridge and there was a bubbler on by the far bank. On the whistle I fed four lines, by the bridge, top two plus two, 11.5 metres in the deep water and across at 13 metres.
I started across but the 0.3 gram rig wouldn't sit right due to the bubbler so after ten minutes with no bites, I chucked that top kit up the bank, not to be used again! The top two plus two line was next and my first bite resulted in a lovely little tench, I then hooked a big fish which plodded around before coming off and there was a little scale on the hook, so possibly a tench? I was getting regular bites from decent skimmers and lots of little tench from 8oz to a pound and then hooked another lump which turned out to be a 5lb plus tench!
Paul Faiers was opposite me on peg 21 and I could see him bagging on silvers fishing towards the bridge. After half an hour I had a look by my bridge but never had a bite there. Back to my short line, I was still catching well including some big skimmers to 3lb. I was trying to keep track of what weight of silvers I had and when I got to 25lb, I started my second silvers net.
With a couple of hours gone I had a look on the 11.5 metre line which I'd been pinging maggots on from the start. It took a little while to get my first bite there which was from a skimmer but toss potting in maggots every chuck, it got stronger and stronger and then I hooked a big fish which didn't feel like a carp. I got down to the top kit and a rather large tench rose to the surface like a green submarine! It went in the net and had to be getting on for 6lb!
It was just brilliant fishing and I could see Paul landing some big tench too, I was mainly catching skimmers and tench with hardly any roach although I did have one around a pound. I did keep trying by the bridge but never had a fish there (in three matches, I've only had one small carp so I'm obviously doing something wrong!). Two more big tench added another 8-10lb to my second net so with ninety minutes remaining, I tipped back three carp and started my third silvers net!
I then hooked a lump that didn't feel like a carp but was almost like a dead weight, I had it on for ages and kept thinking it had to be a large carp and was too big to be a tench. After about ten minutes, I'd got down to the top kit and was stood up when a monstrous tench came to the top and my legs went to jelly, it was bigger than anything I'd caught so far, possibly 7lb. It went off on another run and stopped, rising to the surface again, I stabbed at it with the net and it bolted and the hooklength snapped against the rim of the landing net – devastated! I felt sick.
If that wasn't bad enough, the rig was in a bit of a mess and I didn't know whether to chuck it up the bank and fish short for the remaining time or try and untangle it. In the end I wasted ten minutes sorting it out and went back long but of course all I could think about was that lost fish. I did manage a couple more fish but it wasn't as good so with about twenty minutes left, I came back on the short line and had several more skimmers plus a little carp I chucked straight back and on the whistle I'd finished up with 60 fish. What an epic days fishing although I was sure Paul had beaten me as he'd caught more big tench than I had (and not lost seven pounders at the net!).
The scales arrived starting with Neil Robins on peg 31 and he weighed 91lb 4oz, Ray had 105lb 9oz and then it was me, my third silvers net went 10lb odd, the second net was 26lb something and my first net (in the photo) was over 27lb to give me a total of 64lb 3oz, my best silvers weight so far. I finished packing up and loaded the car as the scales went to weigh the rest.
Back at the results and Paul had won the silvers with a brilliant 76lb 2oz, he'd had seven big tench and also several large perch along with skimmers, I was second and picked up £17. There were several other fantastic silvers weights as well, Mike Chapman had 44lb 12oz on peg 19, Ant P on 40 weighed 40lb 6oz and Eddie Wynne had 35lb 2oz on 17. Richard Heatley had the top weight overall with 144lb 14oz and the top six all recorded over 100lb.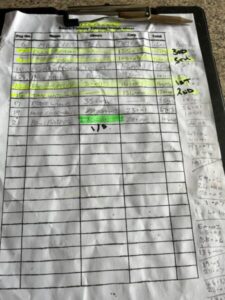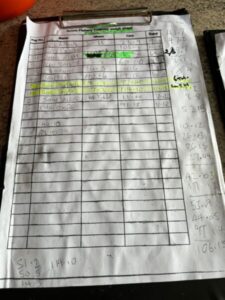 1 – Richard Heatley (Acorn) – 144lb 14oz
2 – Tony Witcombe (Acorn) – 134lb
3 – Dave Stephenson (Acorn) – 125lb 13oz
4 – Bob Smith (Acorn) – 121lb 13oz
5 – Adrian Davies (Acorn) – 110lb 5oz
6 – Steve Williams (Acorn) – 106lb 15oz
Silvers
1 – Paul Faiers (Acorn) – 76lb 2oz
2 – Jamie Rich (Against Men and Fish) – 64lb 3oz
What a lovely way to spend my birthday, that massive tench would have been the icing on the cake but it didn't cost me on the day, Paul lost fish as well. The silvers fishing is just amazing there with lots of weights hovering around 70-80lb and it's only a matter of time before somebody does 100lb. I do wish I'd weighed the biggest tench as it would have been a new pb.
There's still a great offer running if you fancy treating yourself to some new fishing gear, use the exclusive discount code AgainstMenandFish10 to get 10% off when you shop online at Somerset Angling
Also I still have copies of my book available from eBay here or Amazon here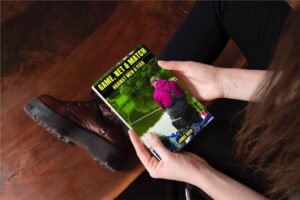 And if you could spare five minutes to leave a nice review on Amazon, it would be very much appreciated.
Next up – Hebditch's Pond
Coming soon – Lots more match reports
Check Out – My last match