Match day three saw me and Nick back at Summerhayes, we went to the Obridge in Taunton for breakfast and it was really good. The match was scheduled to be on Longs again today but Zooner had phoned me yesterday to say it had fished really hard and Pete had moved it to Sellicks which was good news.
Another great turnout of 18 and todays golden peg was number 15 which is a really good area for silvers. When it was my turn, I pulled out peg 12 again and wasn't too upset as I'd done well last time although the wind had been blowing down that end then, today it was in the opposite direction, towards peg 1. Nick got the golden peg and Zooner was down on number 3 with an empty peg to his left which is never a bad thing when nearly every peg is taken. My neighbours for the day were Alvin on 11 and Martin A on my left.
Pete got us underway and I fed it exactly the same as last time (groundbait and maggots at 10 and 11.5 metres and just maggots across). Starting at 10 metres I had a carp first chuck but thankfully the next fish was a nice skimmer and much like last time, by swapping between the two lines and just loose feeding maggots I was catching quite well. Nick was also landing some nice skimmers while Alvin and Martin were both regularly into carp.
Going into the second hour, I was still getting regular bites and even had a Bob Nudd although carp were beginning to be a pain. I did hook one small carp but as I got down to the top kit, it was jagging about and a bonus 1.5lb tench was gratefully netted. A decent leaper followed but I also lost one and pulled out of a couple. As we approached the halfway point, there wasn't much between Nick and me but I thought I was just ahead.
I had my first look across and was getting the odd roach without it being fast and furious, I did pull out of a skimmer which didn't help. Nick was now catching skimmers regularly and had probably gone ahead but a 12oz perch was a nice addition to my net. Then I hooked a big fish which kept going to ground and sending lots of bubbles up so I knew it was good eel but was worried about the light hooklength. I managed to land it at the second attempt without too much trouble and at 2lb, by my reckoning, I was back in front of Nick as our nip and tuck battle continued.
He then landed a big crucian which was probably 3lb plus and the pendulum swung in his favour again. With an hour to go, I had another look on my shorter lines and had a big skimmer but then the float disappeared and a big leaper flew out the water but wasn't attached to my line! Nick emptied out his carp net and began using it for silvers so the golden peg was in serious jeopardy today. I had another skimmer but when the next fish was lumpy carp that took me an age to land, I spent the last ten minutes across for not a lot while Nick had another decent crucian to finish with a flourish.
After packing up I took my kit back to the car, as I passed Zooner, he said he'd started a second silvers net as well! The scales started with Mark Leahy on peg 2 who weighed 94lb 6oz, then Jess's two silvers nets totalled a superb 30lb 12oz but would it be enough to stop the golden peg going?
Bob on peg 5 had 44lb 13oz, Kev O weighed 51lb 7oz on peg 6, Adie R chucked back on 7, Toby B went into the lead on 9 with an excellent 113lb 11oz. Pete Sivell didn't weigh on 10 and then Alvin went into second place with 95lb. My fish went 18lb 1oz and then Martin had 85lb 5oz, Steve S on 15 weighed 48lb 11oz and then it was Nick, his two nets gave him a total of 24lb 1oz, another brilliant silvers weight but just short of a bumper payday.
Karl on 16 had 27lb 12oz, Pete didn't weigh on 17, Ian 'Hollywood' Williams had 55lb 7oz, Glynn weighed 9lb 2oz of silvers on 20, Oscar had 40lb 1oz and last to weigh was Adie B on 23 who had 73lb 15oz of carp.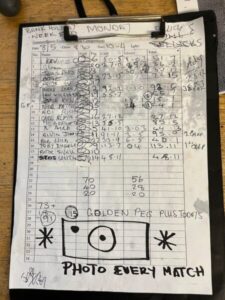 1 – Toby Burrell (Team Army) – 113lb 11oz
2 – Alvin Jones (U-ZIT Bait Innovations) – 95lb
3 – Mark Leahy (U-ZIT Bait Innovations) – 94lb 6oz
Silvers
1 – Jess Jordan (Summerhayes) – 30lb 12oz
2 – Nick Payne (Ilminster) – 24lb 1oz
3 – Jamie Rich (Against Men and Fish) – 18lb 1oz
Another lovely days fishing with some really close weights, I picked up £20 for third in the silvers and the Nugget-O-Meter went up another £2 (pounds from Nick and me) and now stands at £235.
There's still a great offer running if you fancy treating yourself to some new fishing gear, use the exclusive discount code AgainstMenandFish10 to get 10% off when you shop online at Somerset Angling
Also I still have copies of my book available from eBay here or Amazon here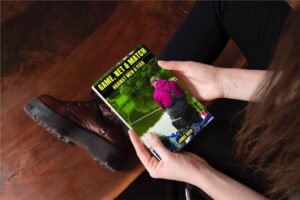 And if you could spare five minutes to leave a nice review on Amazon, it would be very much appreciated.
Next up – Acorn Fishery
Coming soon – Lots more match reports
Check Out – My last match